Displaying present location in the site.
NEC Storage DynamicDataReplication
NEC Storage DynamicDataReplication creates replication of business volumes defined per logical disk and separates the replicated volumes at any time. This product provides fundamental functions to support 24*7 operations and the extension of online business hours. For example, it supports efficient processing of an ever-increasing amount of data and enables online business concurrent with batch and backup operations after business hours.
A replicated volume can be separated at any time to be used for a different purpose.
For reconnection, the update differential management function enables quick resynchronization.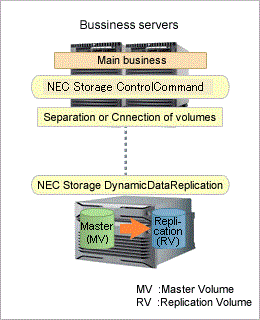 NEC Storage DynamicDataReplication Express (DDR Express) provides functions for data replication and snapshot within the same disk array, using NEC Storage Manager Command. DDR Express allows backups that are achieved by stopping application servers at a low cost.
Disk arrays are shipped with the DDR license unlocked.
DDR Express supports NEC Storage M100 series disk array.
DDR Express has the following restrictions as compared to NEC Storage DynamicDataReplication, but other functions are the same in both NEC Storage DynamicDataReplication and DDR Express.
It is necessary to stop operations at backup operation.
Manual recognition is necessary at tape backup.

It is necessary to stop (shut down) the cluster at backup in a cluster environment,.