Displaying present location in the site.
MasterScope JobCenter - Version Information
R15.2 highlights are available at the following page
R15.1 manuals and highlights available at the following page
R12.10 manuals available at Support page
R12.9 Key feature enhancement
Definition Helper (Batch definition using Excel)
This feature has been added as an option and can be used to define the job network parts, schedule, and operating day calendar by Excel. This feature enables to efficiently create and change job network definitions by using Excel features. It is also possible to graphically display the job network flow in Excel.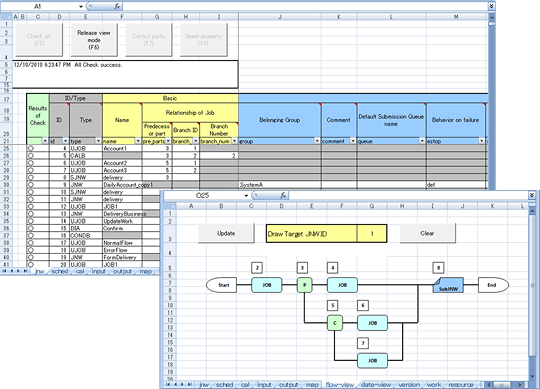 The operating day and time in the schedule and operating day calendar can also be checked.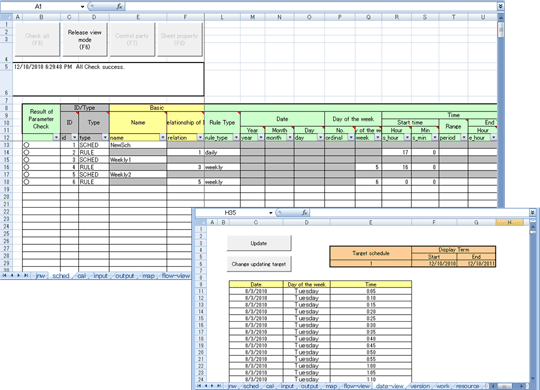 Distributed development feature in Definition Helper
Additionally, Definition Helper enhanced following features. Efficiently divide and integrate the definitions of the job network, schedule and calendar when multiple people participate in creating these definitions in a distributed development environment. This also makes it possible to efficiently build a large operation.
Backup and restoration feature for configuration information
A feature has been added to back up and restore the configuration information of JobCenter. This enables rapid recovery from failure.
Group display on schedule list screen
A group display feature has been added to the schedule list screen. In addition, the schedule can be set enabled or disabled on CL/Win.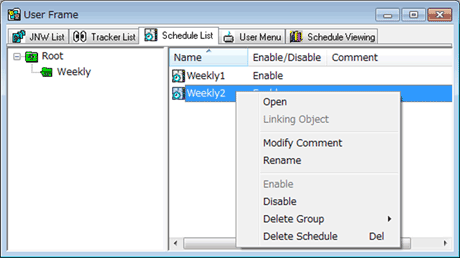 The archive setting feature for the tracker has been expanded so that the absolute time can be specified in addition to the relative time from the termination of the tracker. Furthermore, data can be now archived by operating the tracker.
Forcible normal termination feature
New feature has been added to change the status of a unit job to the normal completion status. This feature enables more flexible operation. For example, users can change the status of an abnormally terminated job to the normal completion status if no problem is found.
Remote submit feature (jnwsubmitcmd)
The remote submit feature (jnwsubmitcmd) enables to submit the job network on a remote machine.
Expanded specification of the unit job exit code
The exit code of a unit job can now be specified more flexibly. For instance, it is possible to specify multiple ranges or to always use the normal, abnormal, or warning statuses in addition to the range specification.
Support platform expansion
The following platforms are now supported:
Solaris x64/x86(MG/SV)
SUSE Linux 10 SP3 x64(MG/SV)