Displaying present location in the site.
MasterScope JobCenter - Product Overview
MasterScope JobCenter is a job management tool that automatically runs routine jobs and batch processing, and manages your schedules. JobCenter enables to easily monitor and control job execution on the GUI, substantially reducing the management workload and operation costs. In addition, this open product supports hardware from other vendors.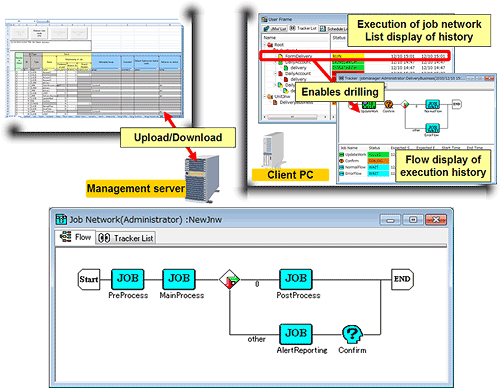 "Easy definition" of complicated operation flows
Job flows can be easily created by using the GUI (CL/Win) or the job definition feature (Definition Helper option) in Excel.

This reduces the work required to create operations, improving productivity and reducing the time taken to change an operation flow.
"Automatic execution" of operations reliably according to schedule and flow
The automation of complicated operations prevents procedural errors by operators and enables operations to be executed reliably. JobCenter supports multiple platforms, realizing flexible job execution control and management in a heterogeneous environment.
"Integrated monitoring" of operation running statuses
Integrated monitoring enables users to understand the job running status at a glance, leading to early detection of execution errors, as a result enables to respond to errors rapidly.
Pricing according to machine rank
JobCenter is priced according to machine rank (tiered pricing). Therefore, JobCenter is available at an affordable price even if the system is only one CPU, and even when CPUs are added.