Displaying present location in the site.
MasterScope Invariant Analyzer - CA Service Assurance
CA Service Assurance Solution
Predictive Analytics for CA Service Assurance.
Enhanced Service Assurance with Invariant Analyzer.
NEC Invariant Analyzer with CA Application Performance Management (APM)
NEC's Invariant Analyzer (IA) enables a new generation of analytics-enabled solution for performance management. The long time partnership between NEC and CA Technologies has enabled the joint development of advanced APM solution based on the power of CA Technologies' APM Introscope and NEC's IA to deliver enhanced predictive service assurance for early performance problem detection and avoidance.
Consolidate performance metrics data from multiple system monitors
Discover and analyze performance metric relationships
Predict emerging and potential performance problems
Simplify performance problem triage and troubleshooting
Integrate with existing workflows for easy usability and greater value from CA investments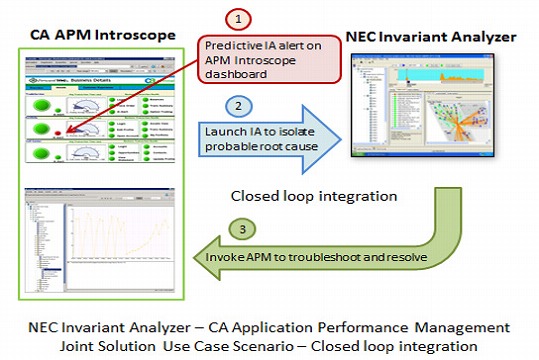 CA Service Assurance Solutions
NEC has developed and intends to further develop IA integration with key CA Service Assurance solutions including CA Operations Insight (SOI) and CA eHealth to provide an enhanced and more complete understanding of service dependencies based on automated discovery of system behavior relationships. These joint solutions are designed to minimize service and user impact based on predictive performance anomaly detection and analysis, and can also help prioritize tickets and trigger data center or cloud automation based on business service impact.
Predictive Analytics & Service Assurance – NEC & CA Technologies
Improves application performance level assurance
Increases performance management productivity
Provides application performance incident avoidance
Delivers business service quality, availability and risk management
Optimizes IT operations and business efficiency