Costing
FlexProcess Costing allow to streamline cost management processes beginning with the cost planning.
With the use of activity-based costing techniques, and with resource cost roll-up using standard / actual unit costs and quantities, manufacturing costs can be analyzed by various perspectives (products, product groups, production lines etc.).
Cost-Rollup (Direct / Indirect Costs)
The FlexProcess Costing rolls up costs by resource and by its cost elements.
The Costing provides methods to allow direct assessment of manufacturing activities for major cost elements which were previously summarized in groups as indirect costs or fixed costs. This allows a clearer grasp of the profitability of each product or production line and enables decision making based on accurate data.
Improved Cost Control Applicability
The Costing uses the production model in order to accurately reflect the manufacturing realities, by including recycling, waste, co-products and by-products.
Cost Allocation
Indirect costs and fixed costs can be allocated to resource cost elements based on activity reported over a particular time period. Production quantity, labor, line operation hours, etc., can be used as the drivers for allocation, to provide operation based cost roll-up and its analysis.
Cost Roll-Up Simulations
Roll-up costs can be simulated by using any unit costs, yields, quantities, etc.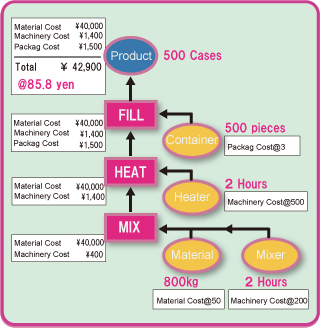 Simulation scenarios


see the effect of changes on rolled costs by changing the unit costs of raw materials
evaluate costs for the product manufactured with a new recipe
see the effect of using new equipments
calculate the expected costs to produce certain amount of products for the period
anticipate changes in supply sources