Information Security Report
Today's advanced information communication technologies are making our society more sophisticated by enabling us to use information and IT systems in many ways. The information security problems such as information leakages and system failures caused by cyber attacks are increasing, however which may affect our daily lives. In the meantime, businesses need to be able to communicate information both internally and externally and therefore, information security is becoming one of the most critical business challenges today.

In the NEC Group, we are committed to protecting the information assets entrusted to us by our customers and partners, and pledge to provide reliable products, systems, and services that will help realize a secure information society while delivering value to our customers.

We invite you to read this report to find out the measures the NEC Group is implementing to maintain information security, as well as the actions we are taking to improve our corporate activities by communicating thoroughly and openly with all our stakeholders, with the goal of maintaining our position as a company trusted by society.
Information Security Report 2017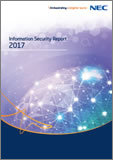 <Contents>
NEC's Approach to Information Security
Information Security Promotion Framework
Information Security Governance
Security Aspects That the NEC Group Is Focusing On
Security Elements That Are Being Maintained and Improved
NEC's Cyber Security for Customers
Third-party Evaluations and Certifications
Corporate Data
Archives
Information Security Report 2016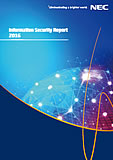 Information Security Report 2014