Displaying present location in the site.
Buyback of personal computers from individual customers
NEC buys back used NEC personal computers at their appraised value.
NEC refurbishes computers bought back from customers and sells them as NEC Refreshed PCs.
Outline of buyback service
Models eligible for buyback and buyback price limit
Find out by entering the model number of your PC on the "

Check Eligible Models and Buyback Price Limit (Max.)" web page of 121Ware.com.
A parcel-delivery company designated by NEC comes to your home to pick up your PC.

You do not have to prepare a box or pack your PC. All you have to do is prepare the PC and the accessories you wish NEC to repurchase.

NEC will notify you of the assessed value of your PC via a postal method by which the mail is delivered only to the addressee. If you agree with the assessment, NEC will deposit the money in your account. You may use the account of a bank, credit union, credit association, industrial bank, agricultural cooperative, or fisheries cooperative. NEC will pay the transfer fee.

Even if you have attempted to delete your personal data, NEC will reliably delete any remaining files on the hard disk using dedicated software so you do not have to worry about data leakage after selling. NEC's data deletion method complies with the guidelines of the National Security Agency of the US Department of Defense.

NEC has made license agreements with each software manufacturer to overcome issues concerning copyright and license agreements when a license is transferred to a refurbished PC.
Please direct inquiries to the "Personal Computer Purchase Office (Refreshed PC Center)".
Business hours: Monday to Friday 9:00 to 18:00
*

Closed on Saturdays, Sundays, National holidays and NEC designated holidays
Direct phone number: 0120-977-919
Collection of personal computers from individual customers
NEC collects used NEC personal computers and displays. (Models not eligible for collection)
After they are collected, devices are either recycled or reused as maintenance parts (except HDDs).
Models eligible for collection and collection fee
Eligible models consist of personal computers and displays made by NEC. For details, go to the "Models Eligible for Collection and Recycling" web page on 121Ware.com

Personal computers that bear the PC Recycle Mark are collected free of charge.
A fee is required for the collection of personal computers that do not bear the PC Recycle Mark.
For how to check whether your personal computer has a PC Recycle Mark and find out the collection fees for personal computers that do not bear the PC Recycle Mark, go to the "Models Eligible for Collection and Recycling" web page on 121Ware.com.
Refurbished PCs NEC Refreshed PCs
- NEC buys back and refurbishes used NEC PCs and sells them as NEC Refreshed PCs. –
Overview of NEC Refreshed PCs
Highly reliable PC refurbished using NEC's diagnostic and inspection technologies
The machine surface has been cleaned and the data in the internal hard disk has been erased.
Quality guaranteed by NEC
NEC will provide a six-month or one-year manufacturer's guarantee* (free-of-charge repair) for each Refreshed PC.
*

Damage caused by dropping, other such mishandling, or acts of nature is not covered.)
You can use support services from the 121 Contact Center in the same way as customers who purchase new products.
Original OS and licensed software
The original OS and software licensed by each software manufacturer are installed.
There are no problems concerning copyrights or license agreements when licenses are transferred.
Six-month-guarantee models are shipped with restore media (CD/DVD) for reinstalling installed software, including the OS. One-year-guarantee models store this data in a dedicated area on the hard disk.
Models with a new edition of Microsoft® Office installed also available
If your Refreshed PC does not come with Microsoft® Office products, NEC will install a new edition of Microsoft® Office Personal 2007 or Microsoft® Office Personal 2010.
Electronic hardware user's manual
User's manuals* for your Refreshed PC will be installed as PDF files on the hard disk in the case of six-month-guarantee models, or supplied as a CD-ROM or hard copy in the case of one-year-guarantee models.
*

The manuals supplied with the original PC.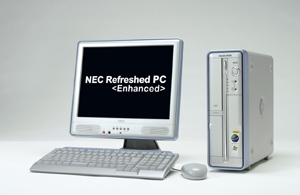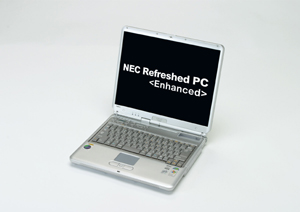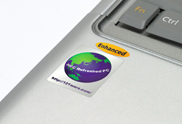 -This is a PC manufacturer's repurchasing service that does not require the purchase of a new PC.-