CyberWorkBench is our C-based integrated environment for System LSI design. It has all the tools needed for efficient C-based design: a behavioral synthesizer, simulator, and formal verifier.
Introduction Video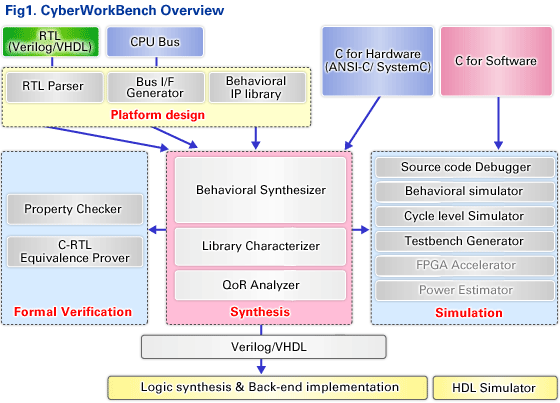 All the tools listed in Fig. 1 work together in our integrated design environment, for easy synthesis, analysis and verification.
C language contract design
Customers from C description you have, is the contract design services for the synthesis of the optimized RTL (Verilog · VHDL) to FPGA / ASIC.
Compared to design house to design in RTL,

· At a low price,
· A short period of time to

We design.
In addition, it is also possible to deliver the big different RTL of performance at the same time.In this case also, very inexpensively compared to the design house to design in RTL, can be provided in a short period of time.
As performance, image compression (JPEG2000 equivalent of high-definition video compression 120fps), image sharpening (denoising, Deheizu, HDR), various detection, encryption system, communication circuit, CODEC, etc. There is a variety of circuits.
---