Cloud Infrastructure Service
NEC offers cloud infrastructure service "NEC Cloud IaaS" in the Japanese market and will globally expand cloud infrastructures based on its building and operating experiences.
NEC Cloud IaaS has been available in Japan since April 2014 and has already won hundreds of enterprise customers. By using self-service portal interface customers can provision resources such as servers, storage and networks, as well as operate and manage their networked environment both within and outside of NEC Cloud IaaS.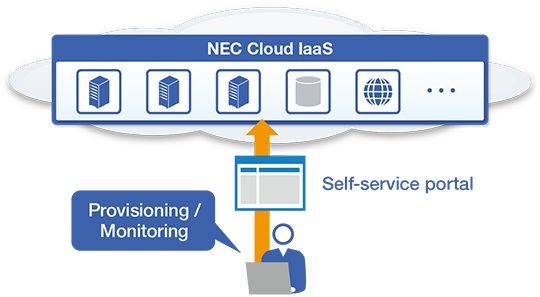 NEC Cloud IaaS offers Standard (STD) and High Availability (HA) services. Customers can choose to employ one or both services depending on their business requirements and purposes.
Provision of on-premises cloud infrastructure
Utilizing knowhow earned from NEC Cloud IaaS, NEC provides on-premises cloud infrastructure for overseas data center providers and customers.
Use cases of NEC Cloud IaaS

Meiji Fresh Network Co., Ltd.
Meiji Fresh Network's core business systems are transitioned to NEC Cloud laaS NEC's total support power capability is highly evaluated.

Sumitomo Life Insurance Company
Sumitomo Life Insurance uses NEC's Cloud Infrastructure Service to standardize IT environments across the entire group and strengthen IT governance.

IHI Transport Machinery Co., Ltd.
Using cloud computing to achieve stable operation of a remote surveillance/maintenance system supporting more than 1,100 automated vertical parking lots throughout Japan.