NEC Kobe Data Center
NEC is pursuing "Safety & Security", "Efficiency" and "Hybrid" by our original updated technology and know-how. NEC Kobe Data Center is a flag ship data center in western Japan which corresponds to various needs by these features.
Introduction video
NEC Kobe Data Center - Top-class energy saving and hybrid cloud achieved by NEC's advanced technologies
Safety & Security
Safe and convenient location
Convenient : About one hour from Osaka Station.
Safe : A safe location not susceptible to natural disasters.
Full business continuity support
Nearly full compliance with JDCC Tier 4* standard.
Base isolated building dampens earthquake effects.
The risk of system stoppage is reduced by securing power from two substations through main and sub power lines.
A redundant UPS configuration and private power generator capable of running for 72 hours without refueling ensures a steady power supply and server cooling during blackouts.
Power is continuously supplied to air conditioners in server rooms as well.
Highly sensitive smoke detectors and nitrogen gas fire extinguishing system.
*

JDCC Tier 4: The highest level of reliability in domestic data centers according to facility standards set by the JDCC (Specified Nonprofit Organization, Japan Data Center Council). Some features are Tier 3 compliant.
Airtight security and smooth entry/exit via proprietary NEC face recognition technology
NEC's highly secure and convenient NeoFace® face recognition engine delivers the world's fastest, most accurate* authentication during entry and exit.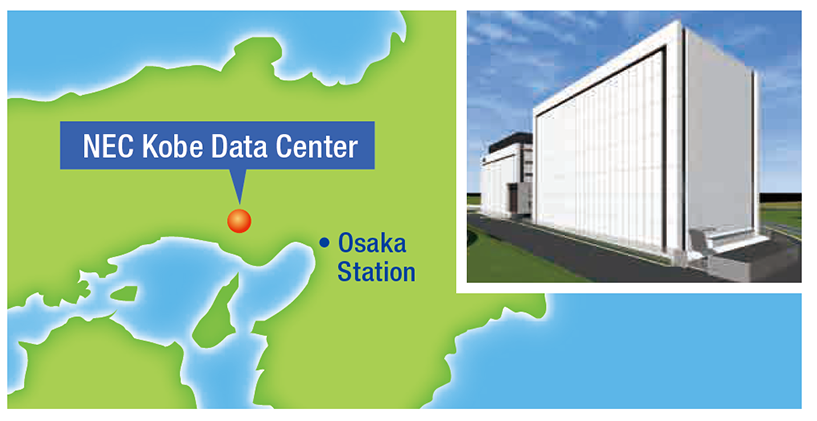 Larger viewWalk-through setup enables smooth entry preventing tailgating and without noticing the camera.
High security standards and internal control
Airtight security and compliance with leading standards
- Solid entry security via surveillance cameras and biometric authentication.
- Solid information security via Security Operation Center in collaboration with specialized NEC security organizations.
Compliance with stringent data center security standards
- High-level security meets financial institution demands (compliance with FISC* Security Guidelines).
- SOC 2 compliance for internal control (Type 2 report*).
*

FISC: Center for Financial Industry Information Systems

*

SOC 2 (Service Organization Control 2) report: Internal control report of commissioned business appointed by the American Institute of Certified Public Accountants (AICPA)
Efficiency
NEC air conditioning realizes a PUE of 1.18*.
Effective use of NEC's proprietary Phase-Change Cooling Units along machine room (cloud area) walls
Free cooling with outside air during cold season
About 40% lower machine room air-conditioning power consumption
Machine room air-conditioning system
(1)

Exhaust heat from server racks is cooled by a Phase-Change Cooling Unit, dry coil outside the machine room and free-cooling.

(2)

Cooled air enters the room by ceiling fans.

(3)

The right amount of cooled air reaches each rack depending on its temperature.
*

PUE (Power Usage Effectiveness): Data center energy efficiency calculated by dividing total power consumption by IT equipment power consumption. The lowest and best possible value is 1.0.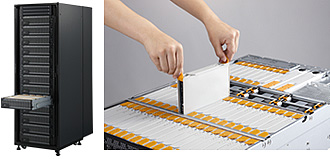 Energy-efficient, high-density server Scalable Modular Server DX2000
Natural methods further boost efficiency
Solar power generation, an energy storage system and an underground cooling system further reduce power consumption
- Solar power generated during the day is stored in an energy storage system and used for lighting, etc. within the data center.
- Outside air is naturally cooled in an underground base isolation layer and fed to the electric room to reduce air-conditioning power consumption by about 50%.
- Stored solar energy powers the underground layer's intake and exhaust fans at no cost.
Power-saving equipment such as LED lighting and free cooling
Hybrid
Integrated cloud and housing (colocation) in a hybrid environment
Cloud and housing environments
- Cloud infrastructure service "NEC Cloud IaaS" and a housing service are offered within the data center with LAN connection.
Data center utilization as a BC/DR measure
- NEC Kobe Data Center and NEC Kanagawa Data Center - NEC's two flagship data centers - are connected by an inter-data-center network and can be used for BC/DR purposes.
- Flexible networking between data centers is realized through Software-Defined Networking (SDN).
- Secure hybrid cloud via third party cloud connection services.
High-quality services for integrated operation
NEC Kobe Data Center and NEC's other core data centers are centrally operated and monitored by Integrated IT Service Management Center, which is built on the ITIL* framework.
24/7/365 operation managed by specialists.
Consistent operational quality via optimized operational design, standardization and systemization based on vast NEC experience.
Customers can monitor their incident status on the web portal.
*

ITIL® (Information Technology Infrastructure Library):
A publicized framework with compiled best practices (based on success stories) for IT service management. (ITIL® is a Registered Trademark of AXELOS Limited.)