The NEC Storage HS8-50* scale-out grid storage platform provides flexibility of independently scaling performance and capacity within single system for the life of your data. It further optimizes storage efficiency with Global Deduplication across entire grid with high backup throughput, multi-generation support and greater data resiliency.

*NEC Storage HS series is sold as HYDRASTOR® in the United States of America.
The NEC Storage HS8-50 offers

Massive linear scalability from 1 to 165 nodes, 18TB - 11.88PB.
Supports: Veritas OpenStorage API-s, VEEAM, CommVault and mixed backup/archive environments.
Inline Deduplication of all data across all nodes, reducing storage capacity requirements by 95% or more.
Greater protection with lower overhead and a faster data rebuild than traditional RAID with NEC Storage HS Distributed Resilient Data™ (DRD).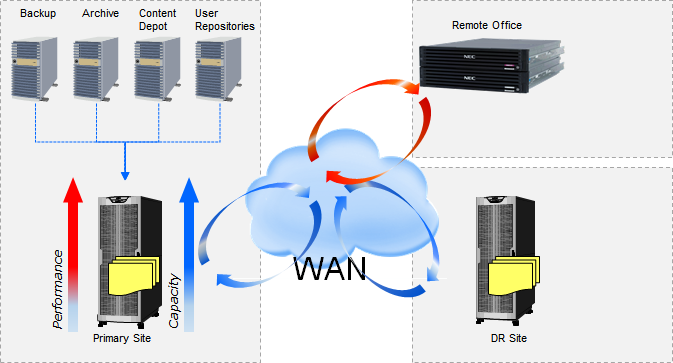 Other Features Include

Virtualization of all available storage resources into a single common pool shared by all file systems and applications.
Supports multiple generations of nodes/hardware in the same grid system for continous longevity, enabling online expansion with no data migration or application downtime.
A web-based graphic administration console proactively monitors and integrates with weekly system reports, email alerts and notifications as well as with Simple Network Management Protocol (SNMP).
DRD (Distributed Resilient Data) protection can tolerate up to six (6) concurrent drive or node failures while maintaining normal computing input and output.
It can also recover data faster than traditional RAID by reconstructing only lost data rather than the entire drive, as well as reconstructing the data across multiple drives instead of a single hot spare.
Elective software for the NEC Storage HS Series include:

RepliGrid - WAN-optimized replication
NEC Storage HS OpenStorage - Advanced integration for backup and archive applications
WORM - Write-Once Ready-Many
Encryption - AES 256-bit inline encryption

Explore NEC's storage solutions further