Displaying present location in the site.
MasterScope supports our customers' business innovation by simplifying the operation of various ICT systems.
ICT systems as the backbone of business are expected to contribute to business performance by adapting quickly to rapidly changing business environments. To meet this requirement, the adoption of hybrid cloud is increasing. With hybrid cloud, workloads can move seamlessly between on-premise, private and public clouds as needed. Today's business demands agile, scalable, and flexible ICT systems that help business grow and innovate in a dynamic and competitive business environment.
MasterScope offers comprehensive support for the overall system lifecycle including ICT infrastructure, applications, and processes with simplified operation to meet customers' needs.
Adapt Quickly to Ever-Changing Business Environments
Visualize and automate the overall system lifecycle, offering a highly efficient and flexible ICT system that helps change rapidly in response to dynamic business environments.
Provide various tools that help develope new businesses and services.
Optimize Operational Costs
Provide seamless integration between on-premise, private and public clouds.
The licensing scheme is designed for customers to meet their specific requirements for resource utilization.
Secure, Safe, and Reliable Operation
Ensure system stability by leveraging our know-how in operating mission-critical systems.
Assure long-term support for constantly evolving IT systems.
MasterScope products are divided into three categories "Management", "Automation", and "Monitoring."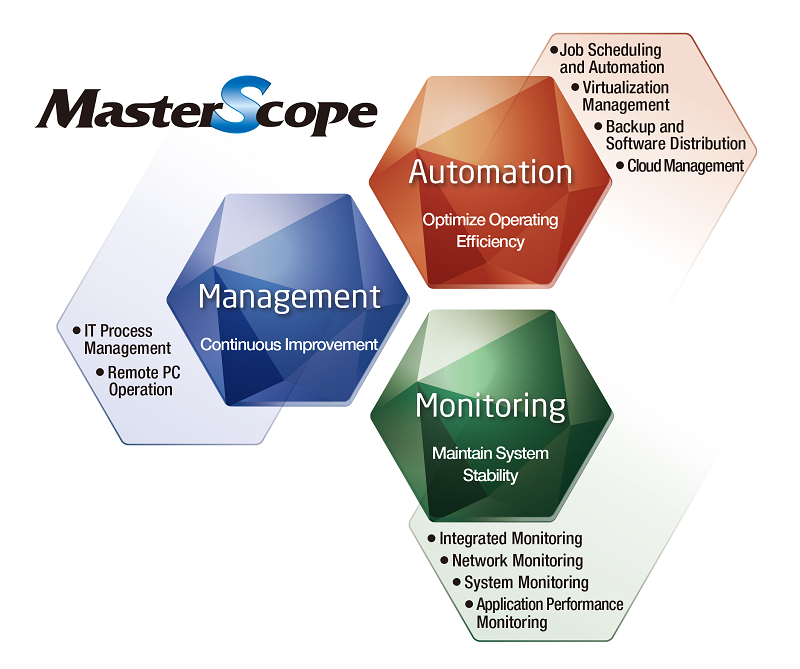 Management - Continuous Operation Improvement by Enhanced Management Processes
Visualize day-to-day operations and standardize IT service processes to achieve continuous improvement in operations and business processes. Provide features to enforce corporate policies.
Automation - Improve Efficiency and Quality
Promote operational efficiency and optimize system utilization by automating operations.
Implementing a cloud environment offers agility, efficiency and flexibility, allowing a business to react more quickly to changing market and customer needs.
Monitoring - Maintain System Health
Provide integrated monitoring for both on-premise and cloud resources, including servers, storages, network devices, processes and applications.
Unified monitoring streamlines daily monitoring operations and offers fast failure detection and recovery.