Approach to the Creation of Value and Initiatives
Priority Management Themes from an ESG Perspective Support NEC's Growth,
Society's Development and Maximize Value
Since its foundation, NEC has conducted business with consideration for the environment and society, aiming to achieve sustainable development for society and the NEC Group. In formulating our Mid-term Management Plan 2020, we identified "materiality" comprising of new priority management themes for sustainable management from environmental, social, and governance (ESG) perspectives in order to connect our non-financial initiatives more closely with our business strategies so that they can be translated into growth not only for NEC but for society. NEC identified candidate themes making reference to global megatrends, the sustainable development goals (SDGs), and other items that the Company is observing to achieve its goal of "Orchestrating a brighter world." We then conducted dialogues with external experts in the fields of sustainable management, civil society, and medium- to long-term investment, to determine themes with a strong awareness of connecting them to our mid-term management plan. By working through a PDCA cycle for the mid-term management plan, we will check on the progress of our initiatives as we move forward.
Priority Management Themes
from an ESG Perspective—Materiality
We identified nine priority management themes based on issues that have a powerful impact on both NEC and society, arranging them in three layers.
1. Sustainable Growth Enablers
We will engage on these themes to minimize risks to NEC and society, and to maximize the social value that NEC generates.
We will engage in these themes as engines for maximizing economic value and social value as well as minimizing risks to NEC and society.
3. 2020 Growth Focus to Create Social Value
The growth areas of the Mid-term Management Plan 2020 are defined as the themes that management should place priority on from ESG perspectives.
Vision for the Company and Non-Financial Indicators
For each of the following nine themes, NEC has established a vision for the Company and non-financial indicators for measuring progress.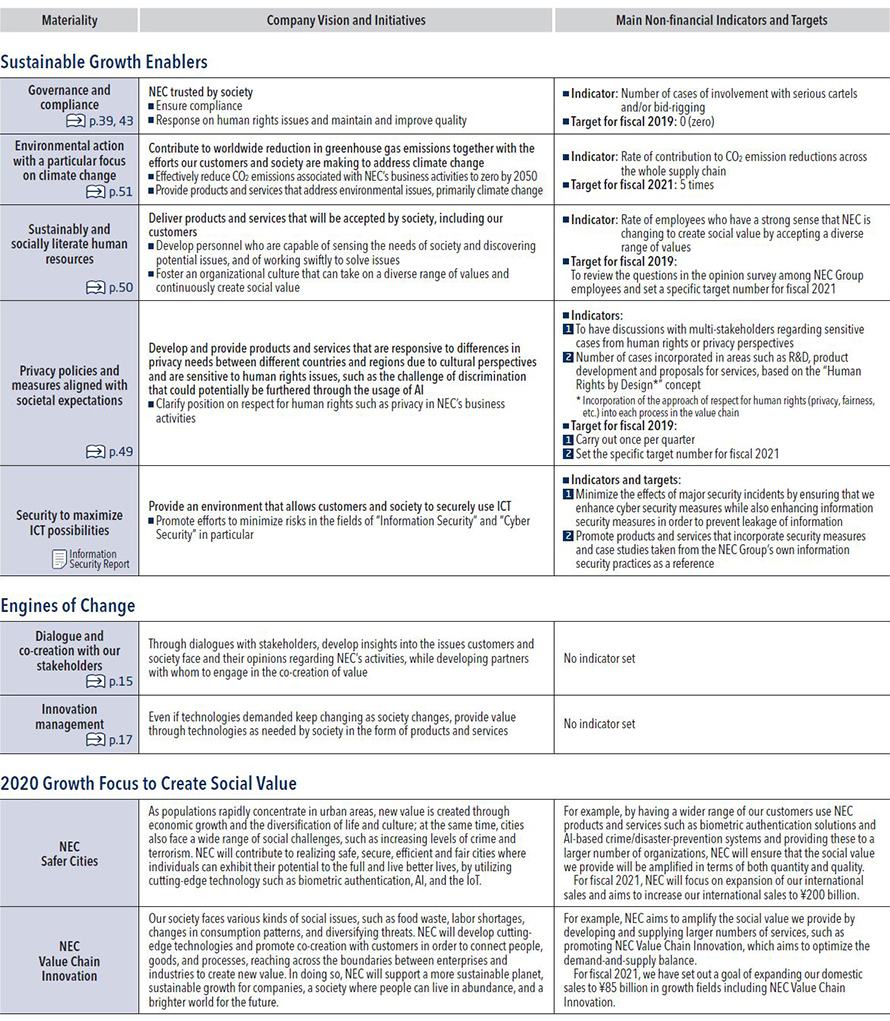 NEC Initiatives for Contributing to the Achievement of the SDGs
Since information and communications technology (ICT) has the potential for responding to a variety of issues, we believe that we can contribute in various ways to all the goals outlined in the SDGs by engaging in dialogues and co-creation with customers and stakeholders.

For example, looking only at the targets among the areas defined as growth fields in the Mid-term Management Plan 2020, "NEC Safer Cities" and "NEC Value Chain Innovation," there are various SDGs initiatives to which NEC wishes to contribute on its own, namely No. 3, No. 7, No. 8, No. 9, No. 11, No. 12, No. 16 and No. 17. There are a large number of targets that could potentially be set out as goals.

Meanwhile, it has been pointed out by some external experts that narrowing down the range of SDGs to pursue brings the risk of narrowing the scope of our business expansion and the possible range of social value that could be delivered by our products and services as well.

To demonstrate NEC's approach of contributing to the SDGs on a wider basis, we have categorized the targets of materiality into the two following areas: "Targets to which NEC wishes to contribute on its own initiative and/or positively," and "Targets to which NEC is able to contribute or wishes to contribute in the future," for each of the SDGs.

Going forward, we will promote educational activities on the SDGs within the Company to ensure that the SDGs are used proactively for expanding the fields where NEC can contribute and as indicators for measuring the social value that is generated by NEC's business.
Fields that NEC Contributes to SDGs