Performance in Fiscal 2018
The NEC Group recorded consolidated revenue of ¥2,844.4 billion for fiscal 2018, an increase of ¥179.4 billion (6.7%) year on year. This increase was mainly due to increased sales in the Public business. Operating profit improved by ¥22.0 billion year on year to ¥63.9 billion, mainly due to the increase in consolidated revenue. Net profit attributable to owners of the parent was ¥45.9 billion, an increase of ¥18.6 billion year on year. As a result, return on equity (ROE) was 5.3%, improving by 1.9 percentage points from the previous fiscal year. Although net profit attributable to owners of the parent was higher than planned, in consideration of capital requirements for achieving the Mid-term Management Plan 2020, NEC declared an annual dividend of ¥60 per share of common stock as announced at the beginning of the fiscal year.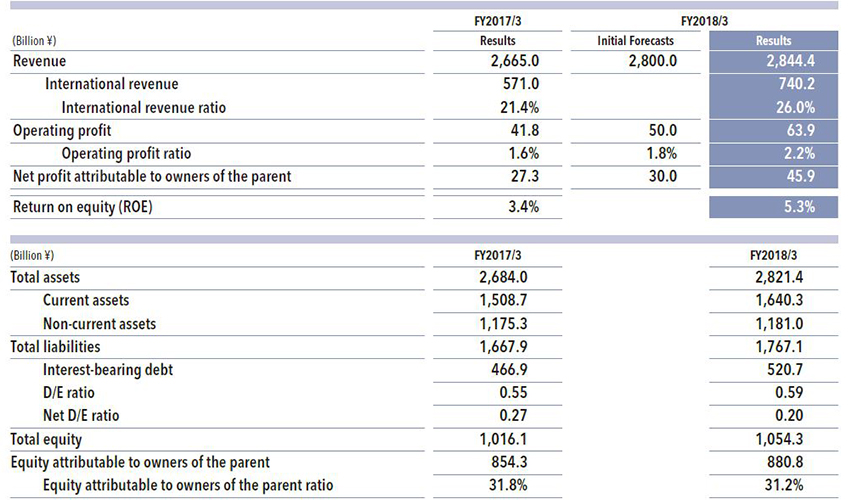 We regard fiscal 2019 as the first step on our envisaged growth trajectory for fiscal 2021 and beyond. We will execute structural reforms and consolidate our base for realizing transformation.

We are planning to achieve consolidated revenue of ¥2,830.0 billion, approximately level year on year, as expected declines in the System Platform Business and Network Services Business are offset by an increase in the Global Business. We anticipate consolidated operating profit of ¥50.0 billion after factoring in restructuring costs of ¥40.0 billion, growth investments, and others. Our planned net profit attributable to owners of the parent is ¥25.0 billion. For annual dividends, we regret to announce a decrease in the dividend to ¥40 per share of common stock due to a projected year-on-year decline in net profit.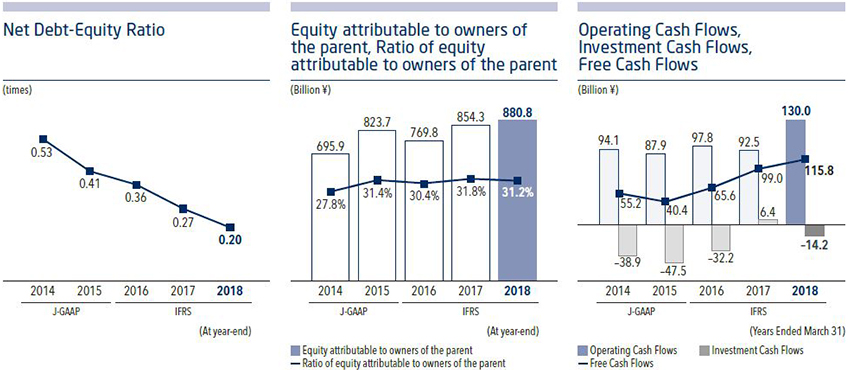 Strengthening Earning Capability to Realize the Mid-term Management Plan 2020
Over the past few years, NEC has been actively working to strengthen its financial structure, such as its cash conversion cycle. As a result of these efforts, we have succeeded in building a more stable financial base, as shown by marked improvements in indicators such as our free cash flow and net D/E ratio.

We will maintain this financial base while allocating our current cash reserves to strengthening our earning capability in preparation for realizing the Mid-term Management Plan 2020 and growth beyond that. Specifically, we will improve our profit structure even further by executing structural reforms. In addition, we will execute growth investments such as M&As aimed at developing new businesses and increasing operating cash flow.

With regard to M&As, we will maintain the investment budget of ¥200.0 billion set under Mid-term Management Plan 2018. NEC acquired Northgate Public Services Limited in January 2018, and we will continue to examine further M&As to follow this. We will endeavor to execute deals that will increase our earnings, as well as enabling us to leverage NEC's existing strengths, in areas such as biometrics and AI. For investments in excess of our total ¥200.0 billion budget, we intend to give careful consideration to our financial structure based on our cash flow status before executing them.

As CFO, I will work to lift our earning capability and increase our corporate value over the long term.




Message from the CFO (220KB)