NEC Super Tower
The smart skyscraper of the future
Take a tour of the future – NEC Super Tower
Welcome to the NEC Super Tower. This 180-metre tall skyscraper in Tokyo is the company's global headquarters and home to some of its brightest minds. Today, we're going to take you on a little tour inside so you can see how this workplace has embraced the most advanced technologies, and become a beacon for the future of smart buildings.
Put your best face forward. That's how we get around.
Firstly, all you need to do to enter the building is show your face to the smart camera. We've already registered you on the database so you'll get full access today. This gives an added boost to the headquarters' security because anyone the system doesn't recognise isn't allowed to enter.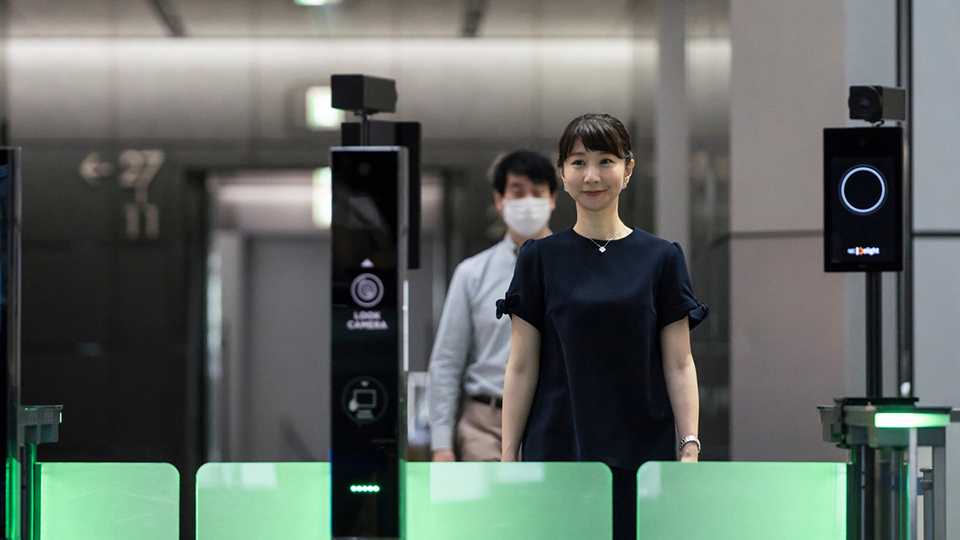 Don't worry. You can keep your face mask on. NEC I:Delight is the world's most accurate face recognition system, so even if your face is partially covered, or if employees enter as a group, it will be able to accurately identify, cross-check, and authenticate everyone instantly. The system is also equipped with automatic temperature sensors, so if someone has a fever, our response team can be notified immediately and take appropriate action. These are just a few ways our technology keeps our employees and you safe during and after the Covid-19 pandemic.

Suppose someone from outside NEC is here for a meeting. In that case, our employees can also help them register beforehand, and they'll automatically receive a personalised greeting from the system and be directed to the right meeting room. The NEC team involved in the meeting will also be automatically notified when their guest is here. So guests don't need to wait in the lobby for someone to escort them in.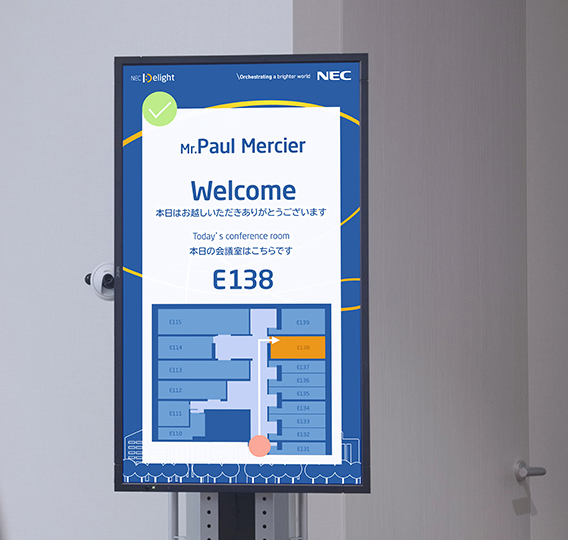 A smile gets you very far with NEC's face recognition technology
Let's grab a snack before we move on. The NEC Smart Store is also equipped with walk-through face recognition and image analysis technology. Simply grab your favourite energy bar and go. You don't even need to stop for authentication. Payments are automatically deducted from employees' salary. What's more, we can also do the same at the company cafeteria.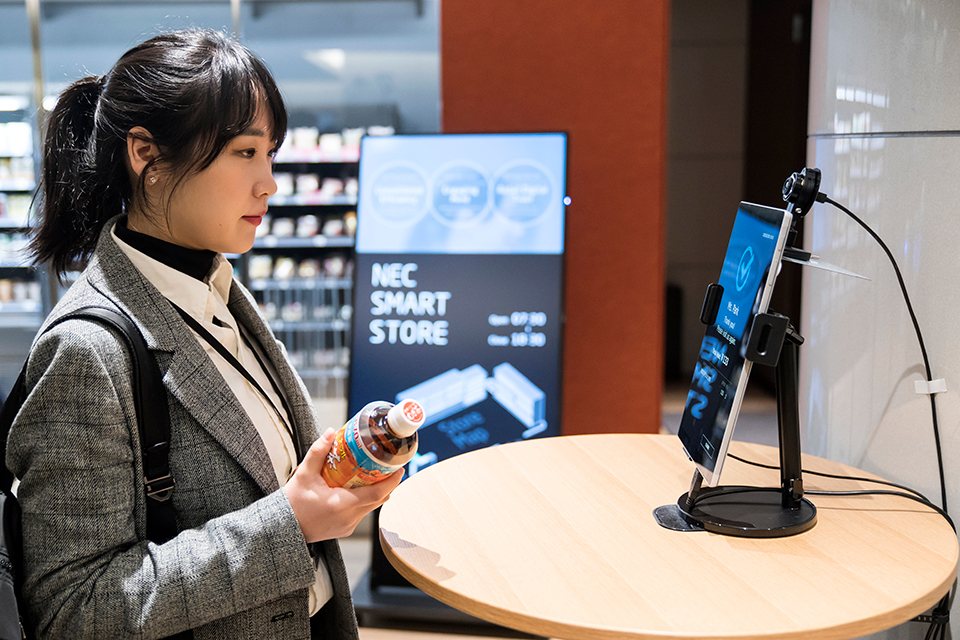 Now, your workstation. We understand that not all employees like to sit at a fixed workspace every day, so you can use any workstation you want. Once you log in with your face ID, the system will retrieve all your desktop settings and documents from the cloud. No password required. There's also no need for any keys, because all you need to open your locker is your face.
Avoiding crowded spaces? Check your phone
If you're heading to the cafeteria, you might want to check the crowd map first. Our team has installed smart cameras throughout common areas in the building and translated the footage into a real-time crowd monitoring system, so you can choose to avoid congested areas. This innovation has helped our employees adhere to safe distancing measures during the pandemic, and it continues to be a useful tool for the future.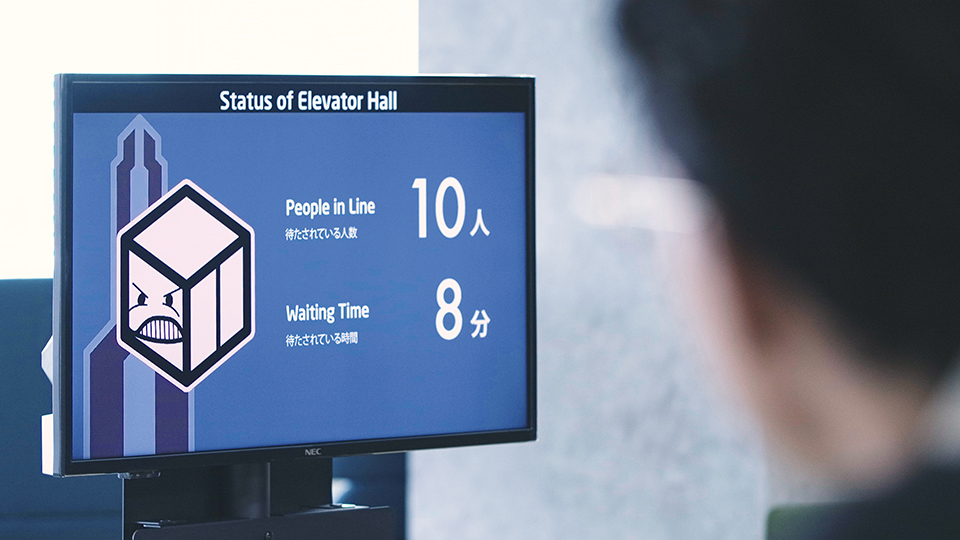 Data security. We've got you covered
At NEC, the privacy of our employees and the protection of their data are of utmost importance. All information in our face recognition system is encrypted into a geometric sequence unique to each employee. So whenever you stand in front of a camera integrated with face recognition, the screen will not display sensitive details such as your name.

Exciting? We're just getting started
Now that you've seen how the innovations in the NEC Super Tower has made work safer, more convenient, and more efficient for our employees, we'd like you to imagine a more connected world built on the same technologies. Airports, hospitals, stadiums, hotels, malls, and even theme parks could benefit from artificial intelligence (AI) and face recognition. Shoppers, workers, and commuters can all live in safer, more convenient, and more efficiently-run communities.

Well, the future is actually not so far away. In 2022, NEC supported the development of the

Digital Cities Index (DCI) white paper by Economist Impact. 30 modern cities were evaluated and ranked for the extent and impact of digitalization. In this study, four key pillars were considered – digital connectivity, services, culture and sustainability – and the results were very encouraging.

The top ranking cities were Copenhagen, Amsterdam, Beijing, London, and Seoul. And these top cities are great examples of how governments, municipalities, private businesses, and everyday citizens, could effectively use artificial intelligence (AI), the Internet of Things (IoT), cloud computing and 5G connectivity to make cities smarter, safer, cleaner and more inclusive.

These top cities are already using intelligent sensors for public lighting, empowering citizens with online health monitoring and internet banking services, and connecting everyone through 5G. In short, there's a lot to look forward to, and NEC is here to stay as a driving force towards the future.
Putting The First Woman On The Moon