Putting The First Woman
On The Moon
How can AI help us conquer the next frontier?
The world has been waiting for decades for man, and womankind, to return to the moon. Since the Apollo missions in the 1960s and 70s, making a second trip to the moon has been considered too expensive and risky for space agencies to attempt. But humanity will once again make history in 2024 with NASA's Artemis Project, and this time, we're going to see the first female astronaut step foot on the lunar surface.

To ensure this mission is a success, the spacecraft will be loaded with the planet's most advanced computers, with artificial intelligence (AI) playing a pivotal role on and off the moon. That's where NEC comes into the picture. The company's AI-powered monitoring system is currently used extensively to perform thousands of checks during the testing and production phase of the Orion spacecraft, the same one that will be taking our brave astronauts to the moon.

Since 1956, NEC has been closely involved in space exploration projects, when Professor Hideo Itokawa, the "Father of Japan's space development", was sending "Kappa" rockets into space. NEC built the onboard observational data transceivers for the project, ensuring seamless transmissions throughout the flights. This time though, NEC is aiming for the moon.
Analysing 22 billion relationships between data points – in just 4 hours
The Orion spacecraft is equipped with nearly 150,000 sensors to make sure that every variable is taken into consideration during its testing phase. This data is collected all at the same time, and the sheer amount of computing power necessary to accurately analyse this information is impossible without the help of AI. NEC's System Invariant Analysis Technology (SIAT) is the answer to this.

Together with Lockheed Martin Space's T-Tauri AI platform, the SIAT analytics engine takes the data from the 150,000 sensors and creates a model incorporating over 22 billion data relationships. The model is then analysed to find any irregularities which could lead to a possible malfunction of any of the spacecraft's systems. All this data was generated only from a single thermal vacuum test of the Orion capsule, and it took the two platforms just four hours to complete the task.

How is SIAT helping NASA?
For years, SIAT has proven its capabilities in numerous energy, manufacturing, and transport operations. Major industry players have trusted the system's speed and efficiency for their most important processes. What makes SIAT stand out from other AI solutions is its transparency – the system doesn't just show you the results from the analyses but the exact steps that led to the conclusions. This means that users can accurately identify the source of a problem and come up with specific solutions.

SIAT's speciality is in examining the relationship between data, not the data values themselves, as implied by the name "invariant analysis technology". By analysing these relationships, it could accurately pinpoint the causes of an abnormality, or what other functions are affected at the same time. This is especially important in NASA's mission since any error could spell disaster in space.

NEC's SIAT has helped save thousands of man-hours and detected possible errors that even experts would not have noticed.

"The advantage is that users can easily see and understand the results. Our highly skilled support team is another big plus", says Tomoya Soma, Senior Data Analyst at NEC.

"The power of AI is leveraged across our entire enterprise, and with a trusted partner like NEC, we gain the resources to expand its abilities at scale across our internal operations," agreed Rick Ambrose, Executive Vice President of Lockheed Martin Space. "By proactively analysing telemetry data we are able to deliver our systems even faster and streamline the work that our employees do every day."

To continue exploring the possibilities of SIAT and T-Tauri, NEC and Lockheed Martin have signed a collaboration agreement so they could apply their joint expertise to other areas beyond the moon mission.

"I'm really proud of what the NEC team has accomplished here. AI tools like SIAT that help manage data and complexity will be key enablers for future space missions. I look forward to what we can accomplish with great partners like Lockheed Martin," added Haifeng Chen, Head of Data Science and System Security Department, NEC Labs America.
In Japan, SIAT is employed in several important industries, helping to detect potential faults and creating safer operations. One railway operator uses SIAT to monitor the air suspension system of its train carriages, a crucial factor for maintaining the stability of its trains. The SIAT system analyses the data in real-time and predicts any potential faults so that the train operator can send the train for maintenance or repairs before the problems pose any dangers.

Another Japanese power station uses SIAT both for training and malfunction simulations. The power station feeds the SIAT monitors data from over 3,500 sensors. The sensors measure temperature, pressure, and other variables at hundreds of readings every second. SIAT instantly makes sense of this data and predicts any potential system failure way before engineers can, keeping the power plant operating at maximum efficiency and safety.

With about 30 other AI technologies besides SIAT, NEC's cooperation with NASA is just one part of the company's mission to make lives better for future generations. Perhaps, it's "one small step for a woman, and one giant leap for AI."
The Flying Taxi Has Landed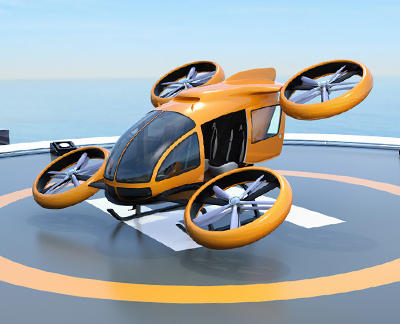 Is AI Taking Over Our World?