Encounter technological advancements
that will shape the future
Co-creation begins with understanding NEC's history and vision. Learn about 8-bit computers born at the dawn of the digital era, and submarine cables that wrap the globe seven and a half times over.
Experience NEC's beliefs and DNA that move society forward, such as the development of AI and biometric authentication technologies.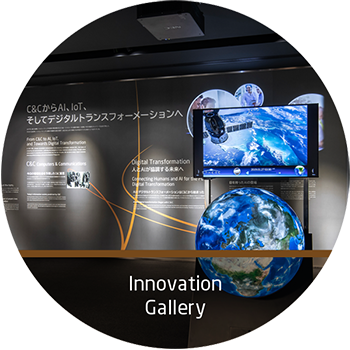 Innovation Gallery
Technological evolution and the history of innovation
NEC has been moving technology forward and driving social transformation since it was founded. See milestones that defined the evolution of digital society, from technologies that resolved social issues and created new value to artificial intelligence and biometric authentication technologies.
Theater/Social Innovation
A fusion of the real and digital. Here we introduce NEC's ambition to co-create new innovations together with our customers.