NEC participates in South By Southwest 2019
- Unveil the diverse attributes of individuals and explore the potential uses of biometric data -
Tokyo, March 4, 2019 - NEC Corporation (NEC; TSE: 6701) today announced its participation in South By Southwest (SXSW), one of the world's largest events dedicated to the interactive, film and music industries, from March 8–17, 2019 in Austin, Texas.

From March 10-13, NEC will host an innovative exhibit, "CODE," that converts the unique biometric information obtained from the iris of a person's eye into graphic patterns. The expression of these patterns is different for each person, and represents the individuality and diversity that people naturally possess, as well as the beauty of these differences and the potential of biological information.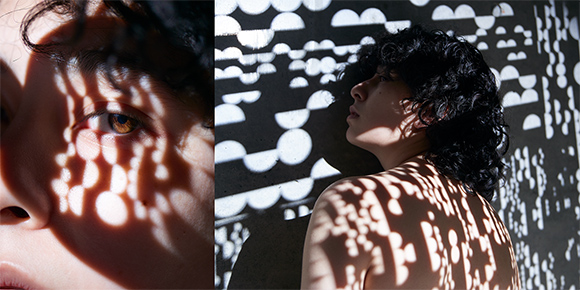 NEC "CODE" exhibit at SXSW 2019
NEC will also exhibit specialized products during the event, including materials made with traditional Japanese hand-dyeing techniques from Yuichi Hirose, contemporary jewelry from "adachiyukari." and products from the heat-resistant glass manufacturer HARIO Lampwork Factory, each of which demonstrate the Japanese process for high-quality development and manufacturing, "monotsukuri."

SXSW attendees can participate in the NEC CODE exhibit from March 10-13 at the Austin Convention Center, Hall 2-5-923.

For more information about the "CODE" exhibit, please click here or contact the following email: info@ndesign.jp.nec.com
***
About NEC Corporation
NEC Corporation is a leader in the integration of IT and network technologies that benefit businesses and people around the world. The NEC Group globally provides "Solutions for Society" that promote the safety, security, efficiency and equality of society. Under the company's corporate message of "Orchestrating a brighter world," NEC aims to help solve a wide range of challenging issues and to create new social value for the changing world of tomorrow. For more information, visit NEC at https://www.nec.com.

LinkedIn: https://www.linkedin.com/company/nec/
YouTube: https://www.youtube.com/user/NECglobalOfficial
Facebook: https://www.facebook.com/nec.global/
Twitter: https://twitter.com/NEC_corp

NEC is a registered trademark of NEC Corporation. All Rights Reserved. Other product or service marks mentioned herein are the trademarks of their respective owners. © NEC Corporation.