Scientific Satellite
| Name | Date of launch | Major objectives | Remarks |
| --- | --- | --- | --- |
| SUISEI (PLANET-A) | August 1985 | Observation of Halley's Comet, making its first appearance in 76 years (International Cooperation Project) | Japan's first escape from the Earth's gravitation. With the SAKIGAKE satellite, dubbed the "Halley Fleet". |
| Name | Date of launch | Major objectives | Remarks |
| --- | --- | --- | --- |
| AKEBONO (EXOS-D) | February 1989 | Aurora observation satellite | |
Name
Date of launch
Major objectives
Remarks
HITEN
(MUSES-A)
January 1990
Development of accurate orbit standardization and control, and highly efficient data transmission technologies, experiments on lunar swingby and aerobraking in the Earth's atmosphere, and lunar orbit insertion of a satellite, etc.
Successful experiments on global first double-lunar swingby synchronous orbit technology, and orbital changes using the Earth (aerobraking). Japan's first lunar orbiting satellite HAGOROMO was placed into the lunar orbit, but crash-landed in the lunar crater Furnerius in 1993.
| Name | Date of launch | Major objectives | Remarks |
| --- | --- | --- | --- |
| YOHKOH (SOLAR-A) | August 1991 | High-precision observation of solar flares at Solar Maximum | Selected by U.S. astronomy magazine "Sky & Telescope" as one of the best ten astrophotographs of the 20th century |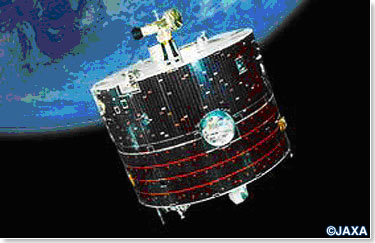 | Name | Date of launch | Major objectives | Remarks |
| --- | --- | --- | --- |
| GEOTAIL | July 1992 | Earth observation satellite for research into Earth's magnetotail structure and dynamics | One of a number of Japan-U.S. international cooperation projects arranged under an agreement between then Prime Minister Nakasone and President Reagan |
Name
Date of launch
Major objectives
Remarks
ASCA
(ASTRO-D)
February 1993
Observation of X-rays in stars and galaxies, and study of X-rays from the farthest reaches of space including galaxy clusters
The satellite allowed the world's first precision spectroscopy and photography of cosmic X-ray.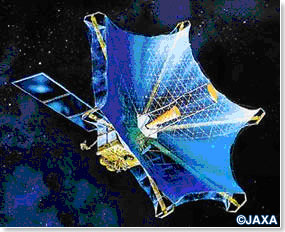 | Name | Date of launch | Major objectives | Remarks |
| --- | --- | --- | --- |
| HALCA (MUSES-B) | February 1997 | Study of large-scale precision deployment structure and mechanism, tests of phase synchronization required for VLBI, etc. | Radio telescope satellite performing the world's first space VLBI observation with resolution 300 times that of the Hubble Space Telescope |
| Name | Date of launch | Major objectives | Remarks |
| --- | --- | --- | --- |
| NOZOMI (PLANET-B) | July 1998 | Study of the composition, movement and in particular mutual action of solar winds in the upper atmosphere of Mars | Japan's first space probe, approaching Mars in December 2003 with the names of 270,000 people aboard |
| Name | Date of launch | Major objectives | Remarks |
| --- | --- | --- | --- |
| HAYABUSA (MUSES-C) | May 2003 | Scientific observation of Asteroid ITOKAWA | The world's first space probe to succeed in landing on and taking off from an extraterrestrial celestial body, at present undertaking full-scale cruising for its return trip to Earth in June 2010 |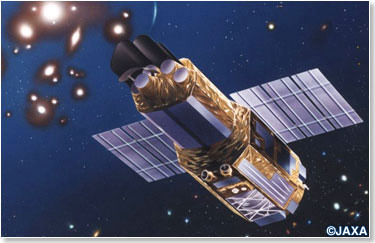 | Name | Date of launch | Major objectives | Remarks |
| --- | --- | --- | --- |
| SUZAKU (ASTRO-E2) | July 2005 | X-ray astronomy satellite | Equipped with instruments for observing high energy cosmic phenomena such as black holes and galaxy clusters |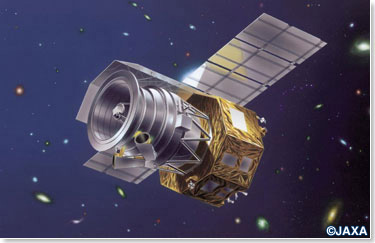 | Name | Date of launch | Major objectives | Remarks |
| --- | --- | --- | --- |
| AKARI (ASTRO-F) | February 2006 | Observation for creating an all-sky map in infrared light, taking over from the first global infrared astronomy satellite "IRAS" | |
Name
Date of launch
Major objectives
Remarks
Hayabusa2
December 2014
Scientific observation of a C-type asteroid "1999 JU3".
Future plans

Scheduled arrival at destination: 2018
Scheduled return to Earth: 2020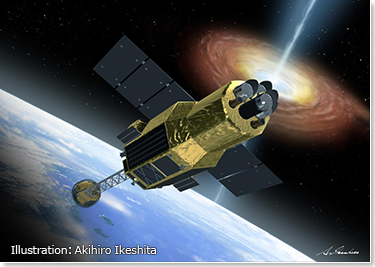 Name
Date of launch
Major objectives
Remarks
Hitomi (ASTRO-H)
February 2016
X-ray Astronomy Satellite
Observation of high-energy celestial bodies such as black holes

X-ray observation using multiple payloads, including the micro-calorimeter detector
Fully adopts SpaceWire and RMAP for communications networks between internal satellite equipment