NEC establishes new green data centers in Kanagawa and Kobe
Tokyo, September 13, 2022 - In response to the growing demand for data centers, NEC Corporation (NEC; TSE: 6701) will establish two new green data centers that utilize 100% renewable energy. The "NEC Kanagawa Data Center: Phase 2 Building" is scheduled to open in the second half of 2023, and the "NEC Kobe Data Center: Phase 3 Building" is slated to begin operations in the first half of 2024.

In recent years, the data center market has experienced qualitative changes as demand has increased. Specifically, there is a need to achieve highly efficient electricity and to make use of renewable energy in order to realize a carbon-free society, and to ensure connectivity and security by accelerating the use of public cloud services in line with the promotion of DX by corporations and governments.

NEC has set a target for FY2030 to reduce greenhouse gas by 55% compared to FY2017, and the target has been validated at the SBT 1.5°C level from the Science Based Targets initiative (SBTi) (*1).

In order to contribute to the achievement of this goal, as well as the reduction of greenhouse gas emissions by customers, NEC will establish two new green data centers that utilize 100% renewable energy.

In addition, in order to realize better services, NEC will continue to strengthen its data center business from three perspectives: "safety and security," which supports disaster resistance and high security; "efficiency," which includes energy savings; and "connectivity," which enables connections to various cloud services.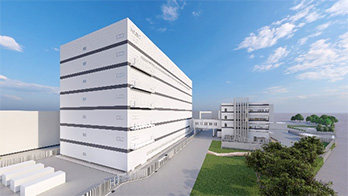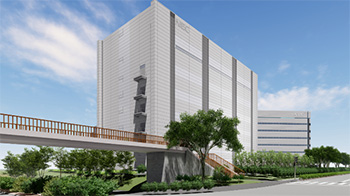 New data center features:
(1)

High availability through disaster resistance and high security (safety and security perspective)
Excellent disaster resistance to earthquakes, floods, power outages, and network disruptions.

(2)

High power efficiency and the use of renewable energy (efficiency perspective)
Comprehensive energy-saving measures, such as separation of cold and heat and air flow control according to heat generation conditions.

In addition, 100% renewable energy will be utilized by combining self-generated electricity from solar power sources (*2), a green power certificate (*3) and a non-fossil certificate with tracking (*4).

(3)

Connections to various cloud services (connectivity perspective)
There will be a connection base for the NEC Public Cloud Connection Service (*5), which enables secure closed-area connections with various cloud services.

In addition, NEC will provide optimal environments based on the customers' desired locations and cloud service connection requirements, including services from NEC Inzai Data Center, which has connection points to cloud operators.
Going forward, NEC will continue to contribute to the expansion of customers' businesses and the promotion of DX by providing total support, including data center services, cloud services, system integration and operations.

In addition, the NEC 2030VISION sets forth the goal of "protecting the future in harmony with the earth," and NEC will promote decarbonization through the use of cutting-edge digital technologies, thereby contributing to the realization of a sustainable society.
(*1)

SBT 1.5

°C

level:

Mechanism under which the Science-based Targets initiative (SBTi) certifies that a company's greenhouse gas reduction targets are consistent with a globally shared goal of keeping pre-industrial temperature increases below 1.5°C

(*2)

NEC Kobe Data Center only

(*3)

Green power certificate:
Certificate of environmental added value of electricity generated by natural energy

(*4)

Non-fossil certificate:
Certificate of the environmental value of electric power generated by non-fossil power sources after tracking where the electric power was generated

(*5)

NEC Public Cloud Connection Service:
A service that securely uses various cloud-based systems to connect the public cloud, such as Amazon Web Services and Microsoft Azure, with the NEC Kanagawa Data Center and NEC Kobe Data Center through a closed network
About NEC Corporation
NEC Corporation has established itself as a leader in the integration of IT and network technologies while promoting the brand statement of "Orchestrating a brighter world." NEC enables businesses and communities to adapt to rapid changes taking place in both society and the market as it provides for the social values of safety, security, fairness and efficiency to promote a more sustainable world where everyone has the chance to reach their full potential. For more information, visit NEC at https://www.nec.com.

NEC is a registered trademark of NEC Corporation. All Rights Reserved. Other product or service marks mentioned herein are the trademarks of their respective owners. © NEC Corporation.