NEC's AI Drug Development Business
We are challenging various activities related to drug development, such as personalized cancer immunotherapy using broader IT technologies including AI.


Our Challenge for the best cancer immunotherapy
We develop the personalized Neoantigen vaccine utilizing our cutting-edge AI.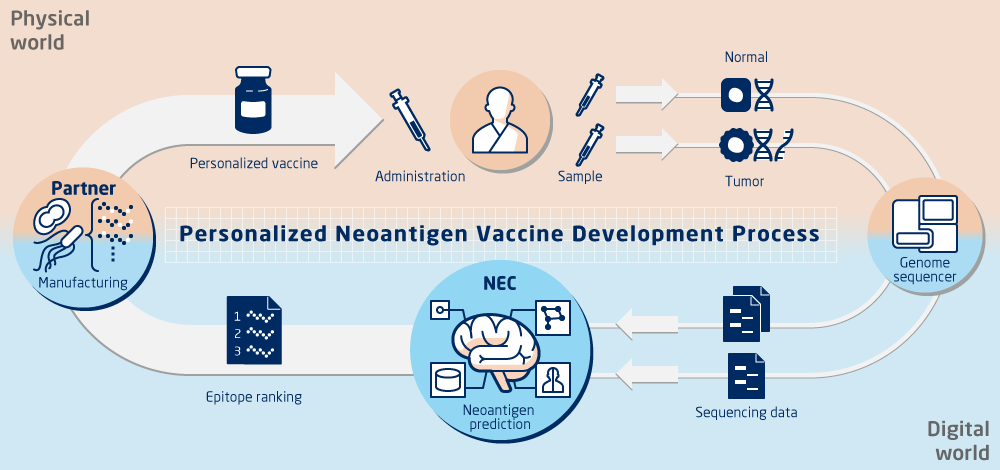 World top class Neoantigens prediction

We are developing a personalized cancer immunotherapy pipeline using the NEC Immune Profiler, which combines the technologies of both NEC and NEC OncoImmunity.
NEC Immune Profiler
NEC OncoImmunity AS offers software solutions powered by a prediction engine using artificial intelligence known as the NEC Immune Profiler, that predicts from next generation sequencing data true neoantigens for personalized cancer immunotherapy and cancer immunotherapy biomarkers.
Target Indication: Ovarian cancer, Head and neck cancer
Transgene and NEC are collaboratively working on developing the personalized cancer immunotherapy, TG4050, with combination Transgene's myvac® and NEC's Neoantigen prediction system. Two clinical trials is underway.
NEC has made a Series A strategic investment in BostonGene, a pioneer in the use of biomedical software for advanced patient analysis. BostonGene has discovered, developed, and patented a holistic approach to cancer treatment by defining the optimal therapy combination for individual patients, with a particular focus on immuno and targeted therapies.
Target Indication: Betacoronavirus
NEC and CEPI are working to advance the development of vaccines that provide broad protection against SARS-CoV-2 and other betacoronaviruses.
Target Indication: Hepatitis B
Shionogi and NEC Enter into Strategic Research Collaboration for Novel Hepatitis B Therapeutic Vaccine.
NEC becomes the first Japanese company to join the Parker Institute for Cancer Immunotherapy's international TESLA consortium. This global bioinformatics collaborative includes scientists from more than 35 of the leading neoantigen research groups in academia, nonprofit and industry. The goal is to find the most effective ways to use algorithms for predicting which cancer neoantigens encoded in DNA and RNA can be recognized by and stimulate an immune response.
CONNECT is a landmark public-private initiative, the Norwegian Precision Cancer Medicine Implementation Consortium. The aim is to ensure infrastructure and collaboration on diagnostics, clinical trials, implementation of advanced precision medicine and use of health data, e.g., for health economics analysis. By joining the network of this consortium and leveraging advanced real-world data, NEC hopes to reinforce and accelerate its personalized cancer immunotherapy activities.