Open vRAN
Open virtualized RAN CU/DU
NEC Open Networks

NEC Open Networks
Open vRAN
Open virtualized RAN CU/DU
Open virtualized RAN CU/DU – built to grow as your network grows
NEC's Open vRAN CU/DU (vCU/vDU) leverages our long history of technological leadership and our commitment to simplifying and improving RAN functions in an open radio access network environment.


Cloud-native, containerized, and microservice-based, the Open vRAN CU/DU is versatile and flexible and quickly becomes part of any network architecture. And it's built to grow as your open radio access network expands with new capabilities like 5G-Advanced and, eventually, 6G.


The high-performance, power-efficient Open vRAN system enables full control over resource allocation in your RAN and is infused with AI to dynamically optimize network performance at the edge.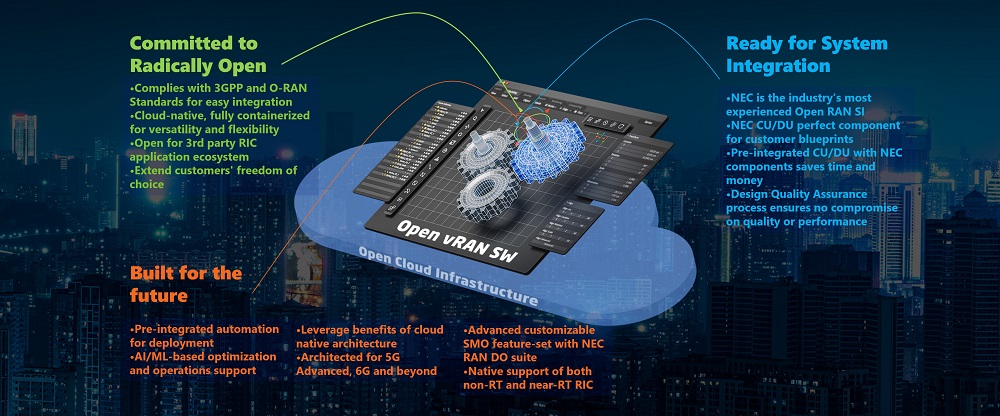 The Open vRAN CU/DU platform is built with the advanced functions you'd expect from a cloud-native system – horizontal and vertical scaling, auto-healing, redundancy and more. What you may not expect is the sophisticated feature set that gives your network the flexibility it will need as AI/ML technologies continue to enhance how networks are designed and operated.
Advanced, customizable SMO features expand your ability to manage and automate your network with NEC's RAN Domain Orchestrator.

The key building block in NEC's pre-integrated RAN, Core and Transport blueprints, the Open vRAN CU/DU is certified with a range of 3rd party radio units.

NEC's Open vRAN CU/DU supports the O-RAN standard defined RAN Intelligent Controller (RIC) natively, complementing the baseline logic of the CU/DU with sophisticated optimization algorithms and implementing customer specific adaptations in both near-real time and non-real time.
Equally at home running in an on-site server or deployed in multi-tier datacenters, NEC's Open vRAN CU/DU fully supports a cloud native approach and is part of the NEC Open Networks solution suite. That means easy, seamless integration with the radio unit and other components of your wireless ecosystem through NEC's world-class System Integration services.
NEC is committed to being radically open
NEC is committed to being radically open. To giving network operators the freedom to choose where their components come from, to think creatively, and to drive the innovations that will deliver on the promise of tomorrow's next-generation mobile networks.
As with every component in the NEC Open Networks portfolio, the NEC Open vRAN CU/DU stays true to that vision. The solution is built in compliance with 3GGP and O-RAN standards and is easily integrated into any Open RAN ecosystem.
NEC's commitment to openness and interoperability gives you the ability to choose from the largest collection of pre-integrated Open RAN components available, whether they're developed by NEC or another vendor.
System Integration? NEC is READY
The nature of Open RAN architectures makes the need for someone to ensure component interoperability and integration more important than ever.
NEC is not only a leading network product and solution provider, we're also an experienced system integrator, dedicated to helping you quickly and seamlessly implement and operate your Open RAN solutions.
With our commitment to being radically open, and to guiding operators on their paths to Open RAN 5G, NEC is the most experienced Open RAN system integrator in the industry.
Open RAN is about choice. Being radically open is about ensuring you're able to exercise that choice without sacrificing quality or functionality and NEC is delivering this with its Open Networks portfolio.