What's the Latest on NEC's Outer Space Utilization Forefront?
How satellites equipped with microwave-utilizing Synthetic-Aperture Radars are gathering data for infrastructure maintenance and disaster risk mitigation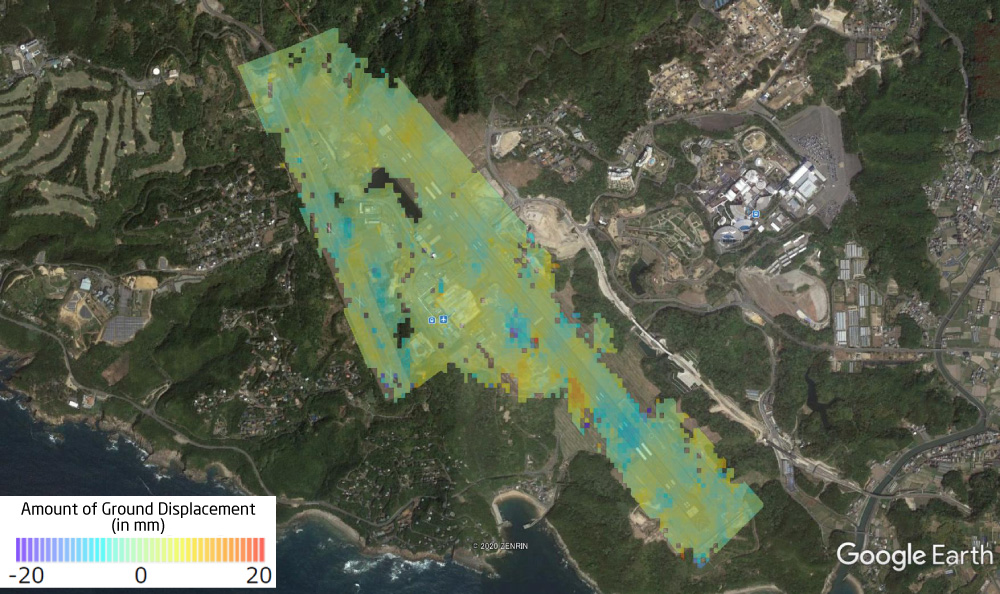 Today, much global attention is focused on "outer space." Space rocket launches, which used to be possible only at the state level, are now frequently carried out by the private sector. In December 2021, the International Space Station hosted Japanese civilians for the first time, immediately capturing the public eye.

As is widely known, satellite observation data have been actively used in the field of weather forecasting. And while the analytical precision of such data is improving, satellite data utilization is beginning to spread into previously unimaginable areas. Satellite observation data can now be leveraged for maintenance management of a wide range of infrastructure, as well as for risk hedging to prevent and mitigate natural disasters.
The Amazing Advantages of "SAR Satellites"
NEC boasts a history of more than a half-century in the space-related business. It has been engaged in the development of about 80 satellites, as well as supplied some 8,000 units of equipment to about 300 satellites around the world. Drawing on the technology and experience gained in this process, NEC became the first private Japanese company in January 2018 to successfully launch an earth observation satellite, the ASNARO-2.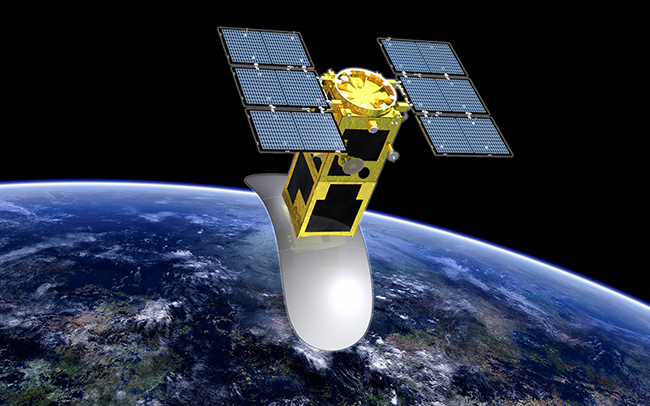 The satellite's main feature is that it is equipped with a synthetic-aperture radar (SAR).

SAR is a technology that beams microwaves from the satellite to the Earth's surface, and uses the reflected waves to create terrestrial images. Microwaves can penetrate clouds of any density and not be affected by levels of light at all. This means SAR has the advantage of gathering information in any kind of weather and at any time of day and night.

Another remarkable feature of SAR is that it can "virtually" create a radar with a huge aperture. A satellite normally has a radar aperture of limited size that transmits and receives signals. But, as the satellite transmits and receives signals at numerous points while in orbit, the onboard SAR can virtually integrate and synthesize the collected data as if it is a colossal radar itself. This allows it to create high-resolution images, hence the name "synthetic-aperture radar."

A SAR satellite can collect all kinds of data on the Earth's surface. It has the advantages of observing an area as wide as hundreds of kilometers, transcending boundaries, and moving in cycles. In addition, it is particularly operable in all weathers and able to make observations even at night -- properties unseen in conventional weather satellites. Furthermore, with its ability to measure the distance between itself and the ground, SAR is such an epochal technology that it can detect subtle millimeter-scale displacements in the ground surface and buildings.
Monitoring Case I: SAR-Aided Maintenance of Infrastructure Facilities
-- Verified by a Proof-of-Concept Experiment
Let's take a look at how SAR satellite technology can be practically applied. NEC has already succeeded in a proof-of-concept experiment combining SAR satellite technology with AI technology in maintenance management of infrastructure facilities. The test took place at Nanki-Shirahama Airport in the western Japan prefecture of Wakayama.

The maintenance of runways is one of the biggest concerns for airport infrastructure managers. Just a small crack on a runway can cause a serious impact on the takeoff and landing of aircraft, possibly hampering safe operations or leading to a major disaster. It is a common problem at airport facilities around the world.

In recent years, the rise of the Internet of Things (IoT) has led to technologies such as drones and sensors being actively utilized, and in addition to other measures, more tangible efforts are being made to meet the demand for more efficient airport maintenance management.

To that end, the airport and NEC jointly launched the proof-of-concept trial, dubbed "Kurumie for Cities," in March 2020. This unique NEC solution uses footage from on-board dash cams inspecting every inch of the runway. The footage is analyzed by AI to detect deterioration in runway surfaces.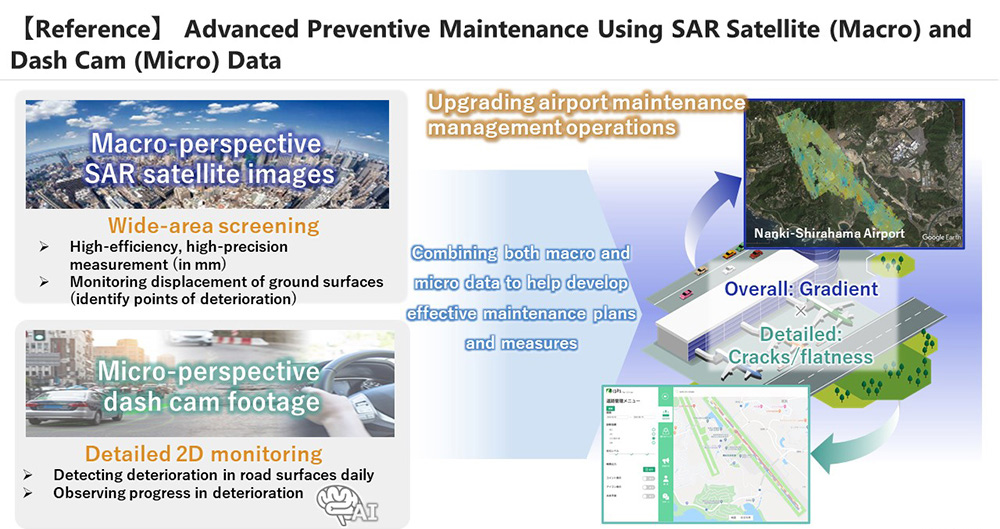 The solution enables detection of a range of anomalies. Yet, some anomalies remained elusive. For example, it was still impossible to detect ground subsidence, which may cause a major impact. Then, an epiphany was had at NEC, one which theorized that data gathered from the SAR satellite could help.

In November of that year, they moved forward to utilize its SAR satellite in infrastructure maintenance.

Specifically, "micro" image data from dash cams were analyzed on the basis of "macro" information from the SAR satellite in space, taking full advantage of SAR's properties, while continually receiving data to grasp millimeter-scale interannual deterioration of the same locations.

As a result, it was proven possible to:
Detect millimeter-scale, minute ground subsidence of the runway (dynamic observation),

Detect subtle inclinations of the length and breadth of the runway (gradient survey),

Check against construction of any new structure in the airport vicinity that can obstruct takeoff and landing of aircraft (obstacle management),

And address the most crucial issues, such as an inclination of the airport terminal building, for safe maintenance management of airport infrastructure.
By linking data from the SAR satellite and AI, it has become possible to manage infrastructure in an optimal and efficient manner.

The results of this experiment suggest a far greater potential.

The tested system can be applied to a whole range of infrastructure facilities other than airports -- including railways, electricity, gas, waterworks, embankments, bridges, expressways, and ports and harbors. More than a few public infrastructure facilities have come under the threat of dilapidation 70 years or so after their construction, posing a challenge to society. The technology combining the SAR satellite and AI is promising as a solution to this challenge.
Monitoring Case II: Forestall Disaster Damage
-- Utilizing SAR Technology to Prevent and Mitigate Natural Disasters, and Support Urban Planning
As mentioned, a SAR satellite comes with all the general advantages that satellites possess: It covers a wide area, transcends boundaries, and moves in cycles. In addition, it has the unique SAR properties of being operable in all weathers as well as at night, measuring the distance between itself and the ground.

The data gathered by this technology can be made visible when they are put into a "interannual displacement map" by using NEC's unique technology of "retrieval-based time-series data analysis." In this way, millimeter-scale interannual changes in widespread targeted areas, facilities, and equipment can be detected in chronological order.

It is practically impossible to inspect and repair - all at once - infrastructure facilities that are spread over a vast area and in great numbers. It is therefore very encouraging if these facilities can be prioritized for inspection through screening in accordance with their degree of urgency to ensure that their safety and security are maintained in a more efficient manner.

This method can be also applied as it is to other initiatives aimed at preventing and mitigating disasters.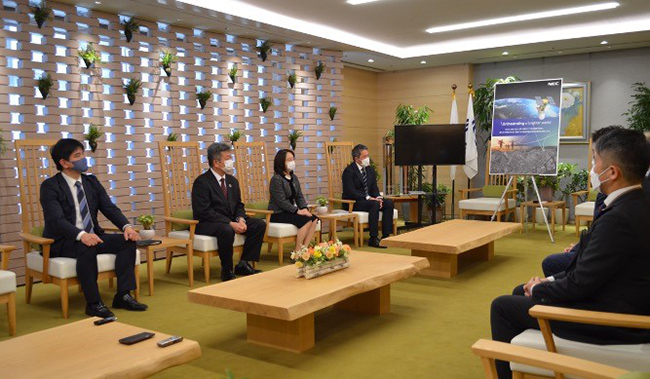 On February 25, 2022, NEC signed an agreement with the City of Kawasaki, Kanagawa Prefecture, regarding their cooperation and partnership in disaster-proof urban development based on digital technology. It was an unprecedented initiative involving a municipality in Japan.

The two are working together to put to practical use the system of continuously monitoring the displacement of cliffs, which abound in the city, by using the cutting-edge technology of widely observing ground deformation on the basis of SAR satellite data. Such an agreement per se is also a first in Japan.

The system makes it possible to observe millimeter-scale ground deformation on an interannual basis. Going forward, it is expected to be also utilized in urban planning by other municipalities around the country to support such activities as coping with landslides in sloping areas and identifying the location of earth mounds.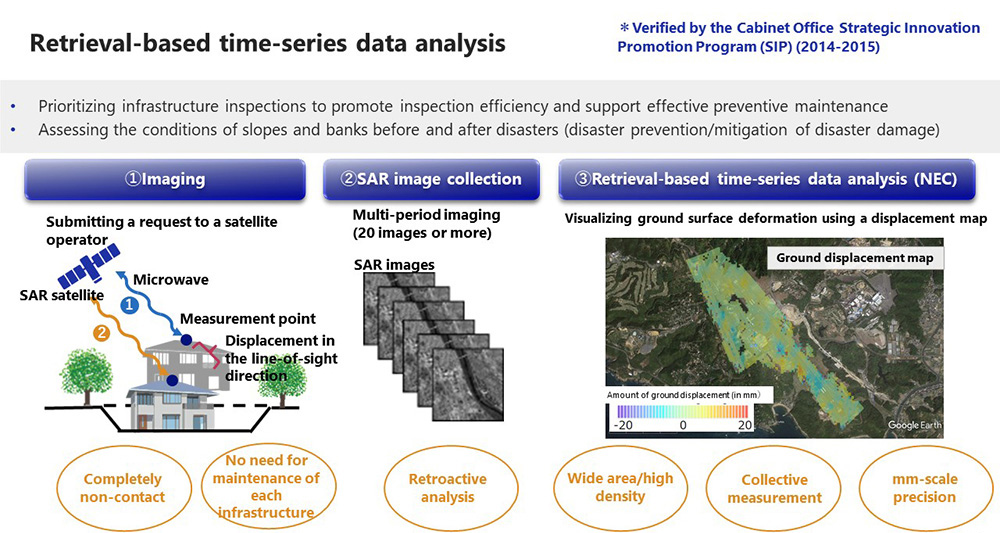 SAR Data: Promising as a Global Business
Now, with their sights set on developing businesses using data from space, a growing number of startups in Japan and abroad have launched earth observation satellites on their own and started operating them. Within about five years, nearly 100 SAR satellites are due to be in orbit. If all goes as planned, high-precision SAR satellite data will be made available within 10 minutes on demand, further enhancing precision of information and enabling near real-time analysis.

Currently, Japan is following Europe's lead in developing next-generation urban areas called "smart cities" and "super cities." It is essential to ensure that this concept is built on the basis of convenience driven by IoT and AI. Moreover, it should be founded on the framework of "disaster prevention and mitigation" or "preventive maintenance."

Such initiatives are expected to spread nationwide hereafter. Business opportunities are presenting themselves not only in Japan but around the world, with NEC ready to consider supplying disaster alert systems in Brazil and Mexico.

The utilization of space data on a global basis is an area that no doubt deserves more attention.