NEC Initiatives for Contributing to the Achievement of the SDGs
NEC contributes to each of the goals outlined in the SDGs by engaging in dialogue and co-creation with various stakeholders and maximizing ICT possibilities.

Message from the President and CEO
Since its establishment in 1899, NEC has been creating valued products and services centered on IT and networks for customers under the motto of "Better Products, Better Services."
We adopted "Orchestrating a brighter world" as our brand statement in 2014, and aim to provide value through our seven themes for social value creation that help to resolve global issues.

In 2005, NEC became a signatory to the United Nations Global Compact (UNGC), a global initiative aimed at sustainable growth for society and companies. In our corporate activities we now observe the compact's 10 principles pertaining to the fields of human rights, labor, the environment, and anti-corruption.

Since information and communications technology (ICT) has the potential for responding to a variety of issues,I believe that we can contribute in various ways to all the goals outlined in the SDGs by engaging in dialogues and co-creation with customers and stakeholders.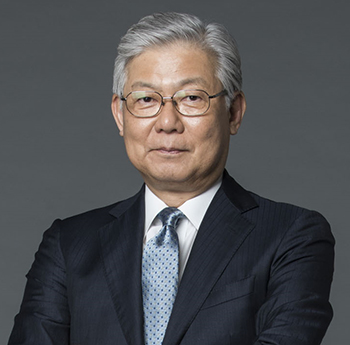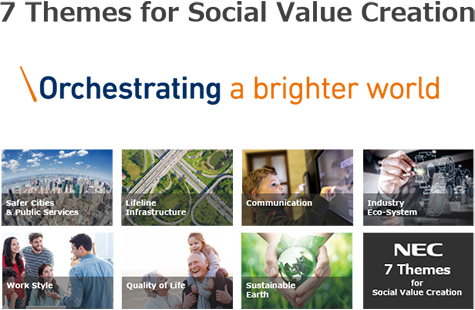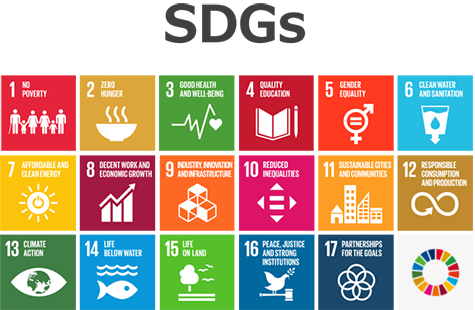 NEC is creating social value by capitalizing on a wide range of advanced assets
under our Seven Themes for Social Value Creation.
Moreover, we aim to solve challenging social issues that contribute to the realization of SDGs
and our goal of "Orchestrating a brighter world" through conscientious business activities.

Co-creation of Digital Hospital with Kitahara Neurosurgical Institute
Transforming hospital management and enabling early patient rehabilitation
Social Issues
Prolonged patient hospitalization
Reducing workload of medical workers
Sustainable hospital management
- Early patient rehabilitation
- Work style reform for medical workers
- Safety and security of medical settings

Supply and Demand Optimization platform
Resolving food waste and disposal issues throughout the value chain
Social Issues
Optimization of inventory and production
Food waste and disposal
Energy waste during transport
Labor shortage
- Reduction of food waste and disposal
- Reduction of energy and resource consumption
- Resolving labor shortage

Landslide Warning Detection Solution in Isahaya City, Nagasaki
Supporting decisions for issuing evacuation advisories
Social Issues
Early detection of signs of landslides
Difficulty in deciding level of danger from disaster
Prompt issuance of evacuation advisories to residents
- Contribution to eliminating fatalities from disasters

Agricultural ICT Solution at Kagome
Providing farming advice and predicting yields and proper harvesting time
Social Issues
Stabilization of yield and harvesting period
- Reduction of food waste and disposal
- Optimized use of resources
- Reduction of CO₂ emissions

Airport Solutions in Brazil
Creating a safe society through efficient airport operations
Social Issues
Safe and efficient airport operations
Reduction of passenger waiting time at customs control
- Ensuring safety at airports, inside airplanes, and in international affairs

Bus Rapid Transit System in Ahmedabad
Improving safety and convenience of public transportation
Social Issues
Monitoring of bus operation status
Cumbersome cash-based payment
Bus delays, traffic congestion
- More comfortable use of public transportation
- Improvement of safety

School Lunch Program in Chile
Nurturing children's health through school lunches
Social Issues
Proper administration of meal program
High obesity rate in children
- Ensuring proper meal distribution
- Curbing the rise in childhood obesity

Electronic coupons in Mozambique
Eradicating poverty by improving agricultural productivity
Social Issues
Low agricultural productivity
Low incomes
- Alleviation of poverty
- Fair distribution of social welfare services
Priority Management Themes from an ESG Perspective — Materiality
To realize our aim of "Orchestrating a brighter world," and to generate both economic value and social value, NEC is focusing attention on ESG (Environment, Social and Governance) perspectives as a priority area, and sets as our strong point the theme "materiality."

NEC Vision for Social Value Creation
NEC focuses on Solutions for Society businesses that utilize the strengths of ICT to create the social value of safety, security, efficiency and equality.