The key players who translate cutting-edge technologies into social implementation:
Research Engineers

Today's world is rapidly changing with growing uncertainty about the future. Speed is in demand more than ever in corporate research and development. A technology developed with much time and care may become obsolete by the time it is commercialized. Amid the risks many enterprises are faced with, the current global trend in research style is to make minimum viable products, or MVPs, to explore customers' potential needs and build them into something more valuable while iterating improvements. In this time of great transformation, what NEC is focusing on and vigorously engaged in is the recruitment of research engineers. What do research engineers do? In this issue, we will cover this in detail.
What is expected of research engineers:
To bridge research and business in order to accelerate social implementation
A research engineer's job is to find a common ground between what engineers want to accomplish and what the society wants, and advise on the direction of research. Furthermore, a research engineer is expected to materialize the ideas created by researchers into something valuable for the customers. Their mission can involve a variety of tasks such as proposing research themes with an interest in social changes, creating code for presentable models or prototypes, improving algorithms while exploring customers' potential needs through LoFi/HiFi* MVPs, improving functions and quality, and achieving higher value by combining technologies. Not only do they need a deep understanding of elemental technologies, but they need good knowledge of quality and value-initiated functional and non-functional requirements—a mastery of both research and business.
Let's think about the implementation of AI analytics for example. Technologies in the basic research phase mostly produce observably high precision only when they handle standard data sets circulating in the research world under a super-high performance experimental environment. However, in the commercialization phase, the technology is required to offer high precision under the conditions provided by the general operating environments actually used by the customers. Furthermore, we need to look in-depth into the customers' issues and potential needs and achieve various requirements such as operation with practical data volumes, completion of analysis during office hours, and long-term continuous operation.
Therefore, in many cases, technologies cannot meet the customers' requirements if they remained in their basic research phase. That's where research engineers come into play, evolving the basic research into an applied research phase, resolving problems through verification with customers. While maintaining the original algorithm as a research achievement, the research engineer may change internal processing to parallel distributed processing, memory-processed parts to be processed by accessing an external database, or part of the processing to approximate processing, all of which is intended to improve run time and scalability, hence build a system that solidly produces high analytical precision in the customer environment. This is how a research engineer's results become the base technology for implementing a product.

A research engineer may also take on the role of technology designing within NEC. In technology design, a research engineer discerns appropriate technologies, including not only a single research result, but multiple research findings and open source materials, and organizes them into one MVP to create a greater value for the customer. To solve a customer's issue with better cost efficiency in terms of the entire scope of operations, technology provision with a single breakthrough point implemented using only one core technology is inefficient. It is important to maximize value by combining necessary related technologies.
*

Lo-Fi MVP (Minimum Viable Product): MVP used for simple verification with speed as priority for the purpose of understanding customer challenges (e.g. paper prototype, storytelling).
Hi-Fi MVP (Minimum Viable Product): MVP with minimum functionality that actually moves or works, used by the customer to verify business viability and feasibility.
The career of a research engineer:
Aiming to be the one-of-a-kind, leading figure in the industry
There are many options as to what a research engineer can seek as his or her career. One way is to have an active career as a research engineering specialist with expertise in a certain technical domain. By learning and keeping up-to-date on the latest technologies and engineering methods at all times, a research engineer can become an expert in swift implementation of large-scale program technologies or extremely recondite algorithms. A research engineer may even take part in publishing research papers through such activities, playing a role in driving applied research.
Another career path is to become a product manager. It is a role that keeps a product growing by constantly updating the technology after the commercialization of the technology as a product. While capturing technological trends in depth, a product manager also needs a solid understanding of the requirements of the business or product. A product manager continues to explore needs with customers and makes decisions as appropriate on what to research and develop while taking costs into consideration. A product manager can aim to be a key figure with great influence over product growth even after transfer to a business division.
Another career closer to the business side is also open to a research engineer. It is a career as a bridge engineer, where you would take on the role of a business developer upon increasing your business knowledge and experience and eventually become the person in charge of the business in which that product is at the core. Such a business developer career path may even allow you to spin out of NEC as a person in charge of business, such as seen in the actual case of dotData.
Whichever career path you may take, you would grow into a key person that other people will seek advice from on both the technological and business aspects.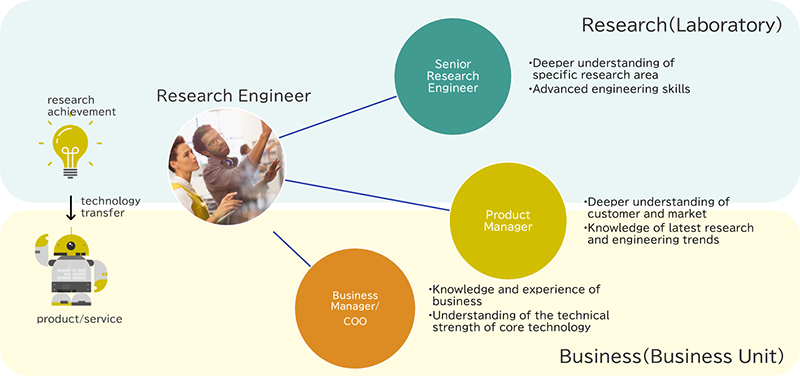 What is important for a research engineer is the ambition to "try it out." In creating new value using new technology, you will inevitably hit many, many walls. You cannot surmount them if you are stopped dead before them. Thomas Edison said, "I'm challenging the one as the person who can succeed with the premise to which I say, 'It's natural for not going to a concerned street to occur'," and many of such people who can grow on adversity with that mindset are currently enjoying active careers at NEC. Being a research engineer at NEC is an opportunity to freely enjoy challenge for motived researchers and engineers.
Research Engineers at NEC