April 1, 2022
(Updated: April 1, 2022)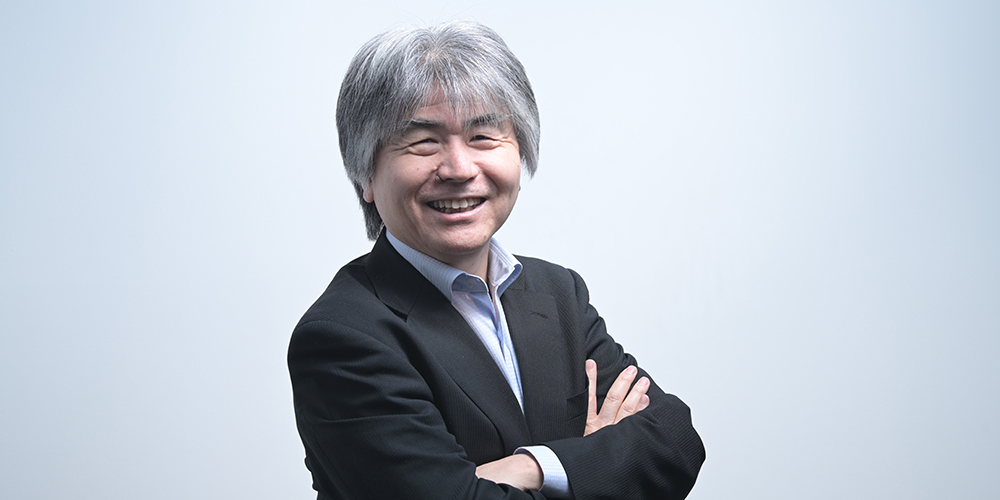 Senior Vice President, NEC Corporation
Akio Yamada

After receiving his Ph.D., Yamada joined NEC in 1993. He is broadly engaged in topics ranging from video recognition to ICT architecture starting with the video compression theory that underlies the digitalization of the media industry. He is also active in international standardization efforts known under the name of JPEG/MPEG. After being stationed twice in North America, Yamada established the Data Science Research Laboratories which integrate NEC's AI related activities, served as the first General Manager, and also served as the Vice President of the Enterprise Business Unit. He has continued to approach society from the perspectives of both research and business.
Pursuing Research that Will Elicit "Gratitude" Instead of "Amazement"
Toward laboratories that lead the way in optimizing the benefits to society overall
Research and Development Division of NEC may be slightly different from what are considered ordinary corporate laboratories. Although they were initially established to produce cutting-edge technologies that would contribute to our businesses, since the 1990s they have focused on tackling the challenges of proposing social solutions that combine multiple technologies and ideas. In recent years, we have designed an unconventional and flexible commercialization flow, which is producing results. For example, in some cases the researchers themselves spin out businesses, and in other cases independent companies are launched together with customers from the initial stages of research and development. Through the proper use of flexible exit paths according to the characteristics of the developed technologies without being caught up in the stereotype of productization through internal business divisions, we have achieved the rapid commercialization of research results. Such endeavors are attracting attention within the world of business administration studies as a new style of corporate research and development.

As our commercialization flow reforms (i.e. exit reforms) are now producing certain results, we have turned our attention to launch of new research themes (i.e. entry reforms). Looking ahead, we are now focused on research and development that leads the way in "total optimization" aimed at solving social problems. For example, regarding environmental problems, the shift toward carbon neutral activities has accelerated in recent years, and various companies and nations are stepping up their efforts. However, to respond to the pressing issue of climate change, it is absolutely essential for a wide variety of business entities and nations to collaborate in a concerted effort, rather than acting individually as companies or organizations. As various institutions and task forces are vying to take the helm, we NEC can also play such a leading role by contributing very smoothly to a diverse range of industries through activities centered around ICT. By engaging with a wide variety of people, companies, and countries, we can pursue ways to ensure the proper functioning overall. You can say that this is one of our great values.

If you think about it, many companies and organizations, including NEC, have conducted development that seeks to maximize the principle of "productivity per cost." However, the global challenges facing the current era cannot be resolved simply by improving the products and processes that one company has in front of it. The pursuit of "productivity per cost" should be eliminated and replaced by other new types of scales, such as "happiness per environmental impact" for example, and we need to think about the optimization of social systems overall. However, there will of course be winners and losers among those who pursue new initiatives. For this reason, we cannot begin solving the fundamental problems unless the overall convenience and profits can be shared.

For this reason, I think the AI technologies and platforms that we produce should be useful. They should visualize the world based on data, and present actions in a form that is comprehensible to us humans. Of course, this should be done with minimal impact on the environment. Using the power of ICT, we would like to take a broader perspective and contribute to the creation of greater security, safety, equality, and efficiency by promoting DX and total optimization of social systems and business. With such a perspective, we are pursuing activities aimed at developing laboratories that lead the way in solving social problems on a global scale.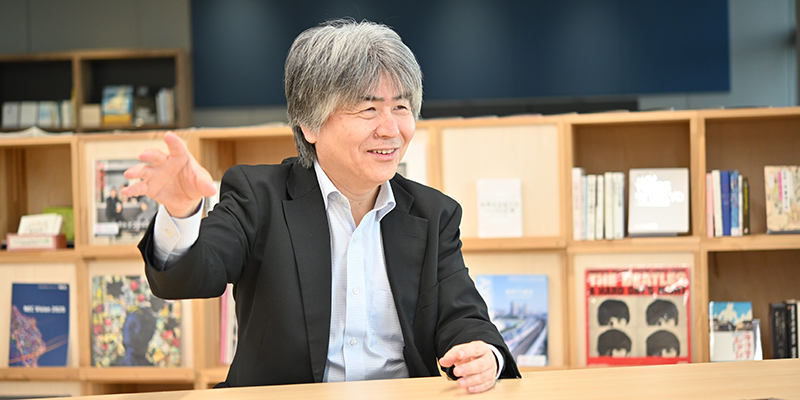 NEC assets built up over many years will lead to cutting-edge AI
To achieve solutions to social problems, the "NEC 2030VISION" incorporates a "Technology Vision" based on the three concepts of "digital twin," "collaborative AI," and "environment friendly platform."

The first element of the vision is "digital twins for co-creation and trials of the future." The actual society in which we live is large and extremely complex, with numerous factors that are interconnected like a net. In such conditions, a small change in one area may cause catastrophic changes in another area where you do not expect. For this reason, before implementing changes in society, it is very meaningful to perform simulations using digital twins in a space that mirrors the real world. NEC has developed technologies that combine world-class high accuracy and robustness in image recognition and video recognition, which include face recognition. By taking advantage of these technologies, we aim to achieve high-accuracy digital twins that sense and analyze the real world and may even be able to forecast the future.

The second element of the vision is "AI that works with people and permeates society." Nowadays, the so-called "black box problem" is considered to be one of the barriers preventing the practical use of AI. Although deep learning presents calculation results from data that is input, the problem is that we humans cannot understand the rationale behind these calculations. As a result, people are not able to use AI with absolute confidence. However, NEC was quick to start focusing on the interpretability of AI around 15 or 16 years ago. It is natural if you think about it, as critical systems that we have dealt with for years such as those involved in the operation of factories and power plants can have a major impact on society. From the beginning, our basic prerequisite has been that people should be able to comprehend the situation and make the final decisions. Due to such circumstances, NEC now possesses many descriptive technologies. Our ability to combine the technologies that are required to suit the situation or level may be a characteristic that is unique to NEC. As I mentioned earlier, to proceed with initiatives that incorporate the perspective of society overall, we will need to convince all people who have competing interests. In that sense as well, AI that works with people will become an important theme.

The third element of the vision is a "platform to support environmental friendliness, high reliability, and high efficiency." To implement technologies such as AI, it is equally important to create a foundation that supports them. For example, when operating AI that is designed to reduce the amount of CO2 generated through social activity by a factor of 10, it would be meaningless to use an ICT system that increases CO2 by a factor of 100. This may sound like a joke, but each update to interactive AI supposedly requires an amount of electricity equivalent to traveling between Tokyo and New York over 100 times. This is a practical and serious theme. NEC is also pursuing initiatives such as research and development of quantum computers, as well as research into Open Radio Area Network (O-RAN) technology that enables open networks, with the aim of realizing flexible and efficient social infrastructure from a long-term perspective.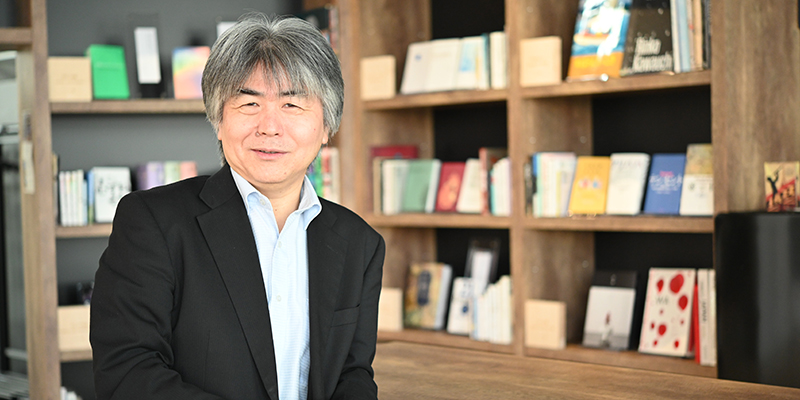 Topics are not found in papers but at customer sites
As I repeatedly say both inside and outside of the company, "Topics are not found in papers (academic research papers) but at customer sites." Issues with a high degree of social value cannot be found no matter how carefully you read cutting-edge academic papers. They can ultimately be found by carefully observing and discussing daily life and business flows, customer activities, and the current state of society.

Under such circumstances, what is required of us researchers is a certain type of consulting ability. You might even call it "facilitation ability." We must dive into the customer's environment to discover what kinds of customer value can be produced by the technologies that we create. One point of difficulty is that the issues are not always apparent to the customers themselves. As such, we should be focused on achieving two-way communication that elicits potential issues and new ideas through dialogue with customers. Also, we should not depend on our internal business divisions for this, as it is extremely meaningful for the researchers themselves to engage in. In fact, there is a real sense that those research teams that have achieved great results have collaborated well with customers.

This ability is also important in the open innovation that we are actively promoting. In various situations such as setting research themes, problem solving, and technology evaluation, we are co-creating with a diverse range of partners, including universities, research institutes, and companies. The reason why we are promoting this initiative under a "collaboration first" approach is because we believe that encounters between different fields create innovation. Opportunities to meet experts in a variety of fields and talk with people that have a wide range of interests can lead to new ideas.

Our goal is social implementation. It is far more important to create value for customers and society than to publish an academic paper announcing that we have increased the performance by a certain percentage. We are pursuing research that will elicit gratitude from a wide range of stakeholders, rather than amazement.

That being said, I must also tell you that papers by NEC researchers continue to be accepted in great numbers by top international conferences. Many creative ideas and technologies originating from customer sites have been recognized worldwide.

Social issues have no national borders and neither do research activities. As a group of researchers representing the world, NEC Laboratories will continue to evolve and contribute to society going forward.