Displaying present location in the site.
WebOTX Portal is a business portal platform product to integrate user interface of business systems. WebOTX Portal combines multiple web system views, and realizes optimization of integration for users business operation.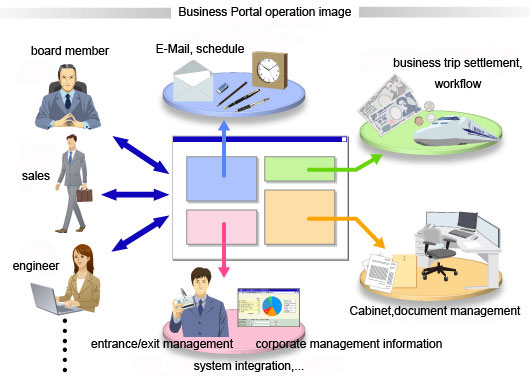 User interface integration
Business portal greatly improves business speed for individuals with single view from mashup of lots of web systems and information. With business portal, several business systems such as operation window of end-user, business information regarding sales data, workflow approval list etc. can be used from single view seamlessly.
Personalized views for individuals
Integrated web window is optimized according to usersf organization / job title / role. For instance, it is easily enabled to create specific page for sales division, and put the manager-only areas for approval purpose on this page. By partially adding authority for GUI setting to specified person, individual / division based customization is realized while information system division still keeps their management.
Front platform with high scalability
As well, WebOTX Portal provides user interface with high flexibility and scalability. Window deployment and its contents can be changed with GUI, and rapidly supports business change. WebOTX Portal is compliant to latest portal standard specification, and flexibly supports new web system view integration.