Displaying present location in the site.
MasterScope MISSION CRITICAL OPERATIONS
End-of-life
Integrated Management software
[IMPORTANT ANNOUNCEMENT]
MISSION CRITICAL OPERATIONS has been stopped shipment since 31st August 2018.
MISSION CRITICAL OPERATIONS has been stopped shipment because the products has been integrated into SystemManager G.
End of the support date is 31st August 2028.
Charge-free version up is available under product support contract.
For further information, please contact to NEC sales person or contact
MasterScope MISSION CRITICAL OPERATIONS used in ANA systems
MasterScope MISSION CRITICAL OPERATIONS, high-availability and an integrated operation monitoring s/w was used for creating common link infrastructure in ANA systems. The infrastructure's operational system provides real time visibility that enables swift detection of performance interruptions and quick diagnoses of the scale and cause of a failure.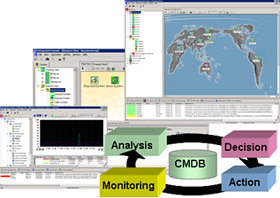 MasterScope MISSION CRITICAL OPERATIONS realizes stable operations of open mission-critical systems through failure monitoring from the business viewpoint and recovery support with the help of the knowledge database.

Integrated monitoring of enterprise-wide systems
Integrates large complex systems and also monitors all the components.

Accumulation and application of expertise using the knowledge database
Accumulates knowledge and shares expertise without relying on certain people.

Rapid and reliable cause determination by failure analysis
Integrated monitoring of all systems enables you to reliably and rapidly determine the causes of the failures.

Reduction in workload through automatic operation
Substantially reduces the burden on the administrator involved in the operation.
Have you encountered these problems?
Easy to implement and use
Easy installation and setup allows you to immediately start the operation.
Ease of use makes operation more efficient.
The GUI has the same layout as other MasterScope products.
Efficient administration is possible because everything can be centrally managed from the MISSION CRITICAL OPERATIONS management screen.
Integrated monitoring of operations categorized by purpose
In the integrated monitor viewer, operations are grouped by purpose for administration and the location of failures can be immediately identified from various point of view.
The extent of the failure impact can also be quickly determined.
Problem-solving administration
In addition to reporting what happened in the operation system, MISSION CRITICAL OPERATIONS navigates you through what should be done to facilitate problem solving by referring to the knowledge database.
This makes it possible to automatically recover work and reduce the recovery time.