Aiming to Create a New, Safe and Delightful Customer Experience Through Face Express, Which Uses Face Recognition
Conversation with Senior Management: Akihiko Tamura, President and CEO of Narita International Airport Corporation and Norihiko Ishiguro, Senior Executive Vice President of NEC


A new boarding procedure system called Face Express, which uses NEC's face recognition technology, is currently being rolled out at Narita International Airport. This system uses face recognition to allow passengers who have registered a photo of their face at check-in to pass through multiple touchpoints including entrance to security checkpoints and boarding gates. With the entire airline industry at a crossroads due to COVID-19, how will Face Express change the way we travel and create new customer experiences? Mr. Akihiko Tamura, President and CEO of Narita International Airport Corporation and Norihiko Ishiguro, Senior Executive Vice President and Member of the Board of NEC discuss this issue.
Face Express is an Evolution of the Fast Travel Program Promoted by the International Air Transport Association (IATA)
— A next-generation boarding procedure called Face Express, which uses NEC's face recognition technology, is being rolled out at Narita International Airport. Can you tell us about what led up to this?

Mr. Tamura:
The International Air Transport Association (IATA) began introducing automated boarding procedures called 'Fast Travel' in 2014. One of the goals of this was to simplify and shorten boarding procedures at airports to reduce congestion caused by growing global demand for air travel prior to the onset of COVID-19.

Automating the boarding process allows airlines and airport operators to save labor and increase productivity, allowing passengers to complete tedious procedures more easily and giving them more freedom in how they spend their time at the airport. We wanted to promote this initiative at Narita International Airport so that we could enjoy these benefits. That's what led to us launching Face Express.

Usually, the boarding systems at the airport are customized for each airline and we allocate space accordingly. However, an internationally standardized system is required when it comes to connecting flights between different airlines and forming alliances. As an airport, we would like to provide a unified system and create an environment that makes it easy for customers to use. That's why we've moved ahead with this innovation.

We believe that Face Express will provide even greater benefits as a result of combining it with NEC's highly accurate face recognition technology. We hope to put Face Express into practice throughout Narita International Airport as soon as possible.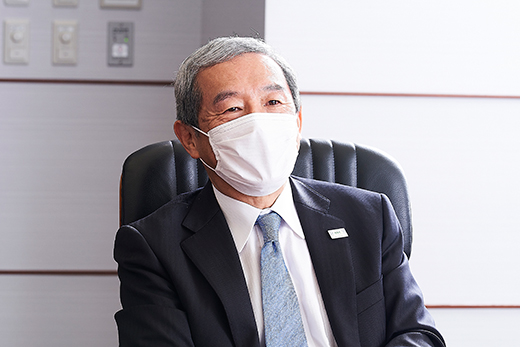 Ishiguro:
NEC's face recognition started out deciphering handwritten postal codes and has evolved its image recognition technology over the past 60 years or so. At first, face recognition was mostly used in the area of public safety. However, now it is seen as being of immense importance in creating new customer value.

Our face recognition technology has been ranked number one in terms of speed and accuracy on five different occasions in benchmarks run by the U.S. National Institute of Standards and Technology (NIST) (*). I believe that this was one of the reasons why we were approached about introducing Face Express on this occasion.

In the U.S., NEC's face recognition is already being used by The Department of Homeland Security's Customs and Border Protection (CBP) and at several airports such as John F. Kennedy International Airport. Now, the Narita International Airport Corporation has praised us for being able to streamline passenger processes while maintaining a high level of security. And that is exactly what our technology excels at. I would like to make full use of this opportunity to show the new face of travel and new customer experiences that Face Express will bring to Narita International Airport.

One point that we paid due consideration to when introducing Face Express to the airport was the issue of privacy. In 2019, NEC established its AI and Human Rights Principles Policy and has been taking the utmost care in protecting privacy. We will continue to give our all in this regard as we continue forward with discussions at this time.
*

Ranked number one on five occasions in the face recognition accuracy evaluations carried out by the U.S. National Institute of Standards and Technology (NIST). The results of the NIST evaluations do not constitute an endorsement by the U.S. government of any specific system, product, service or company.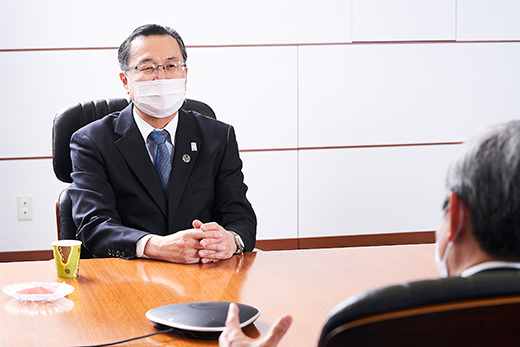 Simply Walking Through Check-in to the Boarding Gate
— In more concrete terms, what will Face Express achieve?

Mr. Tamura:
To give you an example, a passenger traveling overseas on an international flight will be carrying their passport and boarding pass. Registering passport information and face data in the first step of the process, and then using face recognition to check the passenger's face against these in the subsequent steps of the process to verify their identity, makes the rest of the processes at check-in, baggage check-in, security entrance and the boarding gate less stressful for the passenger. In the future, if we can link this to CIQ (Customs, Immigration and Quarantine) screening, it will be even more convenient while also making the screening process more secure. This is the greatest benefit of Face Express.

Another benefit is that it is non-contact and touch-free. In order to prevent the spread of COVID-19, it is necessary to reduce contact between people as much as possible. Face recognition technology is a very effective measure against infection, as it allows procedures to be carried out without contact. This could be a great advantage even after COVID-19 is contained and we return to normal, as there is always the possibility that another form of pandemic may occur in the future.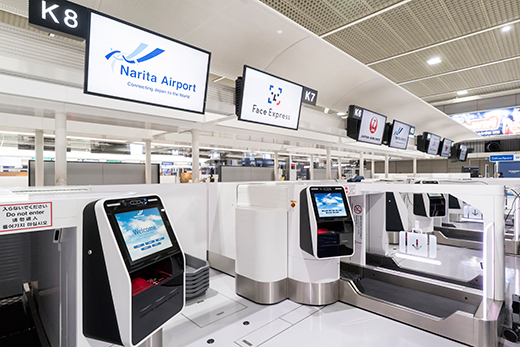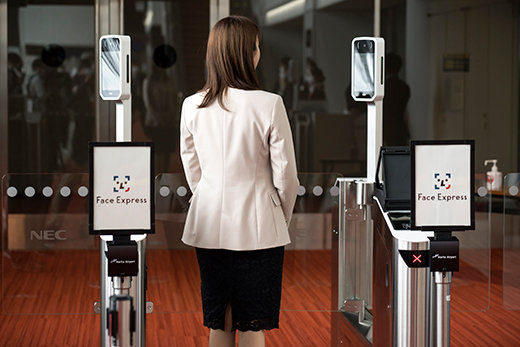 Ishiguro:
COVID-19 has served as another reminder for us of the new kinds of value that face recognition can bring. I believe that contactless technology can bring new added value to our customers.

For instance, at Narita International Airport passengers are required for security reasons to remove their masks when going through the gate. But now face recognition technology has evolved to the point where, once your face is registered, it can recognize a face with over 99% accuracy, even with a mask on.

In fact, at NEC we are currently managing payments and building access control using face recognition while wearing masks. The accuracy of these technologies is also improving steadily, so I would also like to see these technologies put to use as well.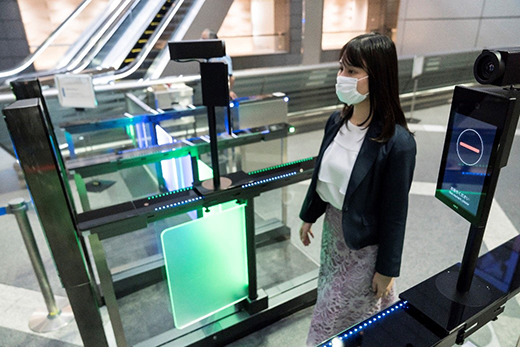 Seamlessly Connecting Flights Between Airlines with Face Recognition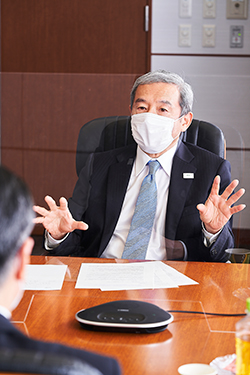 — What are your thoughts on future developments we can expect to see by 2025?

Mr. Tamura:
For the time being, I don't think that demand will recover until we have COVID-19 under control and the general public starts to feel that they can go traveling again. However, we are getting a lot of things lined up now in preparation for when the time comes. Basically, there are three perspectives from which we are approaching future developments.

First of all is expanding the number of airlines that use Face Express. Currently, two airlines, Japan Airlines (JAL) and All Nippon Airways (ANA), are working on introducing Face Express. Going forward, however, it will be important for both passengers and airports that we expand the number of airlines that use it. We believe that ensuring interoperability is incredibly important — we want as many airlines as possible to use Face Express as there are frequent connecting flights within airline alliances.

The second is from the perspective of security. In the near future, linking Face Express to CIQ screening will make it possible to use face recognition to pass throughout the entire airport. I think that this technology will be very effective in the sense that it makes it possible to have both stringent screening as well as convenience, so it has a lot of positives for CIQ authorities, too.

The third is reducing the risk of infection. More recently, passengers traveling on international flights are required to present proof of a negative PCR test result, and information regarding their quarantine is linked in to immigration control, etc. Barriers to international travel could be removed if we were to digitize this information as internationally compatible data and link it into Face Express.
Ishiguro:
Agreed. I think cooperation between airlines will be key. In that sense, we have high expectations for a collaboration with Star Alliance.

Star Alliance members are currently considering a service that would allow passengers to check in after registering an image of their face and their passport information on their airline's mobile phone apps in advance. This would eliminate the need to present passports and boarding passes at airport touchpoints such as boarding gates and VIP lounges, allowing passengers to pass through them using only face recognition to verify their identity. A service started in November 2020 whereby Lufthansa and SWISS airline passengers are able to complete the boarding procedure and go through security at Frankfurt Airport and Munich International Airport without having to present their passport, as long as they have registered in advance.

The more and more widespread these kinds of services become, the more they will be able to make catching connecting flights seamless. We have a data management system in place that encrypts personal information, but customers who are concerned about privacy and security can decide at their own discretion whether or not to use the service.

We have a shared vision that, someday, all boarding procedures will be covered by face recognition alone. Once you have checked in, you will be able to board the plane touch-free. That is the kind of world we want to realize.
Expanding the Use of Face Recognition to Retail Stores and Tourist Spots Around Airports
— How do you think airports will change between now and 2030?

Mr. Tamura:
I think it's important to use Face Express to enable people to do everything in the airport using face recognition. We want to provide an environment in which people can pay for their retail store purchases and meals easily and without delay. We want to roll this service out to not only the airport itself, but also to outside the airport.

For example, as was the case with the Nanki Shirahama trial NEC worked on, being able to use commercial facilities, tourist spots around airports, and public transport combined with MaaS (Mobility as a Service) using solely face recognition holds great promise for the future. In addition, I think a more global development will be the ability to use face recognition for all services before, during, and after traveling.

I also believe that DX (Digital Transformation) can ensure high productivity in areas such as airport runways and ground service equipment from the perspective of maintenance information, and operational status management. Access to the airport was cut off during the typhoon in the fall of 2019, and at least 10,000 passengers were stuck inside the airport. In the event of such disasters, I think NEC's technology could be put to use for a wide variety of applications, such as analyzing crowding and preventing accidents, for instance.

Ishiguro:
As you mentioned, in Nanki Shirahama we are working on this trial to create a new customer experience by connecting hotels, souvenir stores, Adventure World(Theme Park) and the airport, enabling all payments to be made using face recognition.

For Face Express at Narita International Airport, the vision we are creating is one in which passengers who arrive at the airport can go straight to their hotel and check in using face recognition, then wander around the nearby shopping district and use it to pay for purchases as well. That's not to say that this is for 2030, as we would like to make this happen even sooner.

In the future, as 5G and local 5G become more commonplace, I think it will be possibly to automatically manage the operational status of commercial vehicles that are within the airport. As mentioned earlier about MaaS, we are now considering the possibility of a world in which passengers can arrange tickets and travel from Narita International Airport to Tokyo using only face recognition. It is through such efforts that we hope to deliver a truly seamless customer experience.

With advancements in technology comes an increase in the number of things that can be achieved. My hope is that we can use such technologies to create new customer experiences and contribute to creating new businesses.

— Thank you both very much for your time today.