Event Report
NEC Visionary Week
Co-create tomorrow, designing the future

NEC Visionary Week Holds its Inaugural Event Presenting a Bold New Perspective for a DX-Driven Society
NEC Visionary Week recently held its inaugural event online from November 12, 2020 until December 4, 2020 under the theme of "Co-create tomorrow, designing the future." The event included a "Global Week" from December 1st to December 4th, which featured presentations and panel discussions with many key NEC executives, customers, partners, and other global thought leaders. The impact of COVID-19 and how it is driving digital transformation was an overarching theme of the event, as was how new digital technologies such as 5G, biometrics, AI and IoT will help create a safer and more sustainable society.

The following article summarizes some of the many presentations and panel discussions which were a part of NEC Visionary Week.
Zooming Ahead: Shaping of a New World
One of the first sessions, "Zooming Ahead: Shaping of a New World" highlighted and explored the massive shift towards remote working, which has occurred as a result of the COVID-19 pandemic, and what to expect from remote working solutions in the future. The conversation was started by Mr. Yushi Ushijima, who is the CEO of NEC Networks & System Integration Corporation (NESIC). Mr. Ushijima noted that NESIC has been providing remote working solutions for some time before the COVID-19 pandemic and pointed out that the company started a partnership with Zoom Video Communications, Inc. (Zoom) to resell its products in 2017 to better serve its customers.

The conversation then shifted to Mr. Eric S. Yuan, the CEO and founder of Zoom, and Mr. Osamu Kikuchi, the Head of Business Development at NESIC, who was initially responsible for the partnership between the two companies. Mr. Yuan started off by giving a little background of the history of Zoom and explained that he first started the company many years ago as he found that current teleworking solutions were too complicated. He created Zoom with a simple interface and believes that much of its success is due to the fact that it "just works" across all devices and all network environments.

One point that Mr. Yuan emphasized is that one of the key aspects of Zoom's corporate culture from the start was the mission to create a "culture of care" and recognizing the large role that his company is playing amidst COVID-19 the company is engaged in several charitable initiatives at the moment including providing free Zoom use to over 125,000 schools in 25 countries. He also noted that he is constantly seeing the rise of Zoom for new use cases, as activities such as yoga classes and even weddings are now taking place over the service.

Mr. Kikuchi then delved a little deeper into the history of the relationship between Zoom and NESIC, and both panelists agreed that the partnership has been successful as both organizations have been able to create a mutual culture of trust, with transparency and open communications. This has led to a massive uptake of Zoom subscribers in Japan, as the country is now the third largest market in the world for the service behind the United States and the UK. The session was also briefly attended by Mr. Kan Hiroshi Suzuki, former Minister, and professor at the University of Tokyo, who described how Zoom has enabled his students to keep studying amidst the COVID-19 pandemic.

Mr. Yuan concluded the session by talking a bit about what he believes the future has in store for Zoom, and he believes that going forward he aims to create a "people centric platform" which could eventually provide a better user experience compared to traditional face-to-face meetings. He believes it will be important to increasingly integrate new applications into the service to offer more agility, such as payment services, better collaboration tools and eventually even advanced technologies such as AI translation and tactile communications.
Digitalization of the public sector – Learnings from Denmark
The mission to create a smarter and safer society was also a key message delivered at the event and featured a special session "Digitalization of the public sector - Learnings from Denmark". Denmark is often ranked as a global leader in the adoption of e-government solutions, and the nation is often described as being one of the "happiest nations on earth" due to the immense level of citizen services and support that the Danish government avails to its citizens.

KMD, a Denmark-based subsidiary of NEC, has a 40-year history of engaging in public-sector digitization projects in Denmark and its CEO, Ms. Eva Berneke and Ms. Rikke Zeberg, the Director General for the Agency of Digitisation, Ministry of Finance, Denmark met in an online discussion to discuss some of the best-practices and challenges with regards to digitizing the public sector which they have seen over the years.

Ms. Berneke started the conversation by noting that she believes that one of the key factors in the overall success of Denmark's digital government is that there has been a prevailing attitude of putting "digital first" in the country, which led to the rise of services such as e-signatures and self-service government websites, online voting and tax payments, which has driven adoption. The country has been able to develop these services very quickly due to strong governance, which includes setting clear targets for digital citizen services in tandem with legislation to ensure that goals are met. Making data open and available to third parties has also been a key driver of Danish e-government innovation. She also noted that digital literacy is increasing among seniors in the country and non-digital options are still provided to those who opt out. Ms. Zeberg agreed with this assessment, but also mentioned that partnerships have been critical to the development of public digital services in Denmark, both among government bodies and public-private partnerships with institutions such as banks, and building "digital trust" with citizens is also a key point when dealing with sensitive information.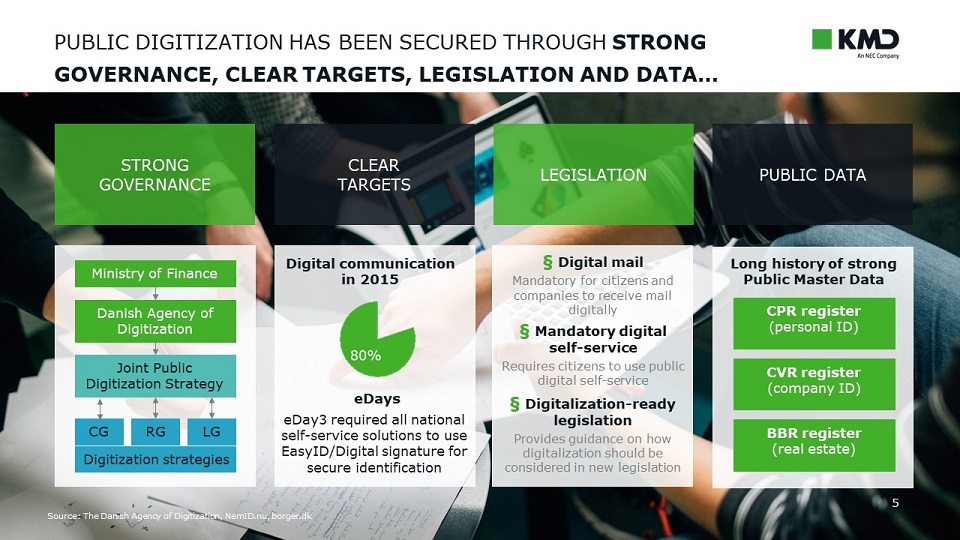 They then spoke of some of the challenges they have faced when introducing to digital public services, and both agreed that integration with legacy IT systems can be a major barrier to adoption. Some of the legacy technology in the country date back to the 1960s and was created without the intention of being interoperable, so updating such systems can be a challenge. They both emphasized that it is important to create a future roadmap for such services in an agile IT environment, and to not hesitate to bring new people into projects who possess the most up-to-date and relevant skillsets.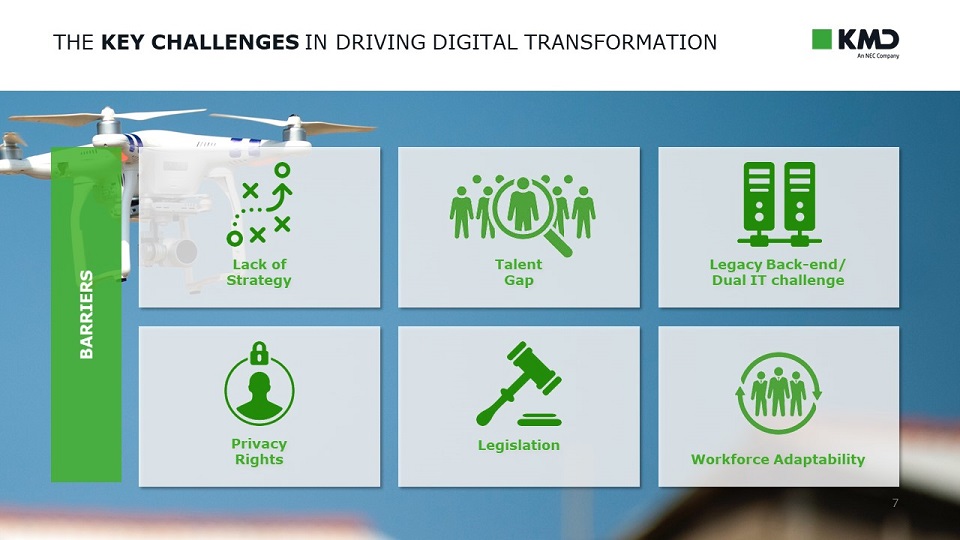 The conversation then turned to how Denmark has performed amidst the COVID-19 pandemic, and both panelists felt that the country performed very well as most of the needed IT systems were in-place before the outbreak. There was, of course, severe strain put on the system, as Ms. Berneke mentioned that KMD has been operating an e-learning platform in the country for many years which suddenly became the main teaching platform used by all students, but that overall, the system was able to perform. On the platform, students can take classes, submit their work, and collaborate in small teams. Ms. Zeberg also mentioned that her colleagues in the government were able to transition to remote working in only 24 hours, and that she hopes that resilient IT systems will be less of an afterthought post COVID-19.
Achieving SDGs with international organizations using the power of digital
The largest session held at the event "Achieving SDGs with International Organizations using the Power of Digital" discussed how the United Nations Sustainable Development Goals (SGDs) can be achieved using digital technologies. The panel featured many guests who are directly providing humanitarian assistance to those in need during the COVID-19 pandemic around the world, with all guests actively working with NEC. The panelist were Ms. Anuradha Gupta Deputy CEO, GAVI, Ms. Enrica Porcari, CIO & Director of Technology, United Nations World Food Programme (WFP), Dr. Hiroshi Kuniyoshi, Deputy to the Director General, United Nations Industrial Development Organization (UNIDO), Ms. Keiko Okada, Deputy Assistant Minister, Ministry of Foreign Affairs of Japan, Dr. Toby Norman, CEO and Founder, Simprints Techonology, and NEC host Dr. Nobuhiro Endo, Chairman, NEC Corporation. The session was moderated by Ms. Mihoko Kashiwakura, Head of Japan, Bill & Melinda Gates Foundation.

The panelists all described how their organizations are working to achieve the SDGs, by leveraging digital technologies. Dr. Endo started the discussion by emphasizing how the SDGs are very important to NEC, and that the brand statement, "Orchestrating a Brighter World" and value creation themes are in fact aligned closely with the SDGs. Dr. Endo also outlined how key NEC technologies, such as AI, biometrics,and security can build platforms with which developing economies can provide services for the designated people and eventually enable the people and nations to be more self-reliant. Ms. Gupta shared some of the recent progress in GAVI's mission to vaccinate all children in the world, and how they are working with both Simprints and NEC to identify infants using NEC's highly advanced algorithms. Ms. Porcari elaborated on the WFP's mission to end world hunger, and how digital platforms play a critical role in distributing food and other supplies to those in need. Mr. Kuniyoshi spoke about UNIDO's mission is to facilitate the transfer of technologies around the world, especially those which can help fight the pandemic, and that NEC has emerged as an important partner, while Ms. Okada spoke about how the Government of Japan also sees the SDGs as a very important undertaking and the expectation of corporate sectors in taking on a more active role in the mission to achieve the SDGs.

All panelists agreed on the importance of partnerships so as to achieve these goals, and that no individual organization is capable of tackling these massive issues alone. Dr. Norman mentioned that his company has found innovative ways to cooperate with organizations, and Ms. Gupta also agreed that partnership must together be larger than the sum of its parts. She concluded by summarizing her viewpoint with an African proverb: "If you want to go fast, go alone. If you want to go far, go together."

In closing, NEC's Dr. Endo expressed his strong commitment to developing partnerships with governments and international organizations, and that private companies have an essential role in driving and shaping a sustainable future, by maintaining business continuity that accelerates changes for the better over the long term.
How Star Alliance Biometrics will significantly improve the travel experience
As the global aviation industry has been one of the sectors most-impacted by the COVID-19 pandemic, NEC Visionary Week 2020 featured an online session "How Star Alliance Biometrics will significantly improve the travel experience" discussing the increased importance of biometric services in the space. The session featured a conversation between Mr. Jeffrey Goh, the CEO of Star Alliance, and Mr. Raffie Beroukhim, the SVP & Chief Experience Officer, NEC Corporation of America. The two discussed how the industry has massively changed as a result of COVID-19, how collaboration between Star Alliance and NEC is helping to fight the pandemic, and what the future holds for future biometric services within the industry.

Mr. Goh started the conversation by expounding on how the aviation industry was among the first to feel the impact of COVID-19 and will be among the last to recover as demand has "fallen off a cliff" which is a shame as passenger volumes had been rapidly increasing over the last several years. He also believes that the industry must prepare for a structural shift as for example, there might be significantly less business travel going forward. Mr. Beroukhim agreed and noted that NEC has already adjusted its biometric service offering for the aviation industry as its service is COVID-19 ready, offering features such as identification while wearing a mask and passenger body temperature detection.

Both panelists discussed how the industry is still continuing to adopt biometric solutions amidst the pandemic, as Lufthansa and SWISS will start offering biometric boarding and security access in Frankfurt using NEC's i:Delight identification platform. Mr. Beroukhim pointed out that the launch of this service represents an important step in the evolution of the industry and was the result of significant investment in R&D, talent, partnerships, and training. He also noted that the opt-in service was built with robust security and privacy features by design and is GDPR-compliant.

The two mentioned that the Star Alliance Biometrics service is just the first step in a journey to creating a safer and seamless passenger experience, and that more work needs to be done. They shared hopes that there will be more work done by regulatory bodies such as the ICAO and IATA on standardization, and that more education and training are needed in the industry. Mr. Goh also mentioned that while funding might be a particular challenge at the moment, he hopes some members of the aviation industry will seize this moment to innovate, as it might be easier to implement new systems when overall passenger levels are low.

The panelists concluded the discussion by presenting their vision for aviation biometric services beyond its current use in areas such as check-in, bag drop, security and boarding as both see massive potential for more use within the airport and even beyond. For example, Mr. Beroukhim believes that biometric systems will eventually be used for duty-free shopping, and eventually in places such as car rental facilities, hotels, restaurants, and other tourist attractions using one biometric ID across all locations. He even predicts that the movement towards cashless travel will gain traction going forward, as for example air miles could be used as payment for various services across sectors and increase overall revenue.
5G Open vRAN: Delivering Innovative Digital Services & Sustainable Social Life
As 5G network deployments and Open vRAN are currently two of the hottest topics in the global telecommunications industry, one of the sessions at the event titled "5G Open vRAN: Delivering Innovative Digital Services & Sustainable Social Life" focused on these two emerging technologies and how they will both contribute to creating innovative future services and a sustainable social life. The discussion consisted of Mr. Enrique Blanco, the Chief Technology & Information Officer at Telefónica, Mr. Akihiko Kumagai, Senior Executive Vice President of NEC Corporation and Mr. Nozomu Watanabe, Senior Vice President of NEC Corporation with moderation from Ms. Mayuko Tatewaki, General Manager of Service Provider Solutions Division, NEC Corporation.

Mr. Blanco started the conversation by presenting on the many achievements of Telefónica over the past several years, as the company has been aggressively expanding its FTTH network in Spain and plans to have 75% 5G NSA population coverage by the end of 2020. He emphasized Telefónica's mission to support a digital lifestyle, especially amid the COVID-19 pandemic, and he sees a massive shift in how telecom networks will be procured and operated going forward. Mr. Blanco noted that there is currently a lack of choice in the market for various reasons and believes that a new ecosystem needs to be created around open standards. As such, he believes that NEC will continue to be an important partner for Telefónica as the company deploys Open vRAN and other new technologies and believes that NEC will play a key role as a system integrator not only in the RAN space but in other areas such as OSS/BSS and eCPRI. Mr. Blanco also mentioned that Telefónica plans to have at least 50% of its mobile infrastructure operating on Open vRAN somewhere between 2022 and 2025.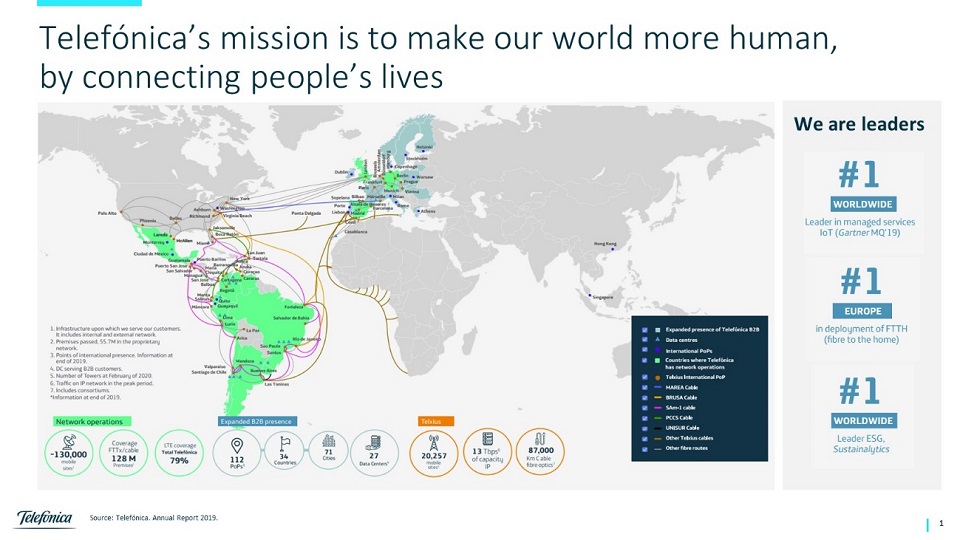 Mr. Watanabe then presented on NEC's history and vision as a telecommunications equipment supplier, noting that the company has more than 40 years of experience in the mobile space and can deliver end-to-end RAN, transport and core networks using a trusted supply chain. He noted that recently NEC has been active in the Open vRAN space in Japan supplying several domestic telcos and even more recently has started to work on a 4G and 5G Open vRAN POC with Telefónica in Germany. NEC has also assembled an ecosystem of over 14 Open vRAN partners who are increasingly working together to design and deliver these next-generation networks.

The conversation then shifted to how these technologies will create innovative services which will benefit society in the future. Mr. Kumagai pointed out that ICT technologies will be one of the key drivers in creating a fairer and more sustainable society and sees social issues such as energy consumption, aging, COVID-19 relief, and food shortages as areas where new communications technologies can play a key role. Mr. Blanco agreed, noting that 5G will usher in a new era of edge computing where "nothing will be impossible", but that privacy and security must be maintained. Mr. Watanabe mentioned that he believes that O-RAN itself will enable new use cases via increased network flexibility and agility, and that an ecosystem of partners will be needed to make this happen.
NTT and NEC speak about the future of advanced network and the world surrounding it
One of the last sessions at NEC Visionary Week 2020 "NTT and NEC speak about the future of advanced network and the world surrounding it " focused on the telecommunications networks of a future and the impact that they will have on society. The discussion was attended by Mr. Naoki Shibutani, Senior Executive Vice President, Representative Member of the Board, NTT Corporation, Mr. Takayuki Morita, Senior Executive Vice President, Chief Financial Officer and Member of the Board, NEC Corporation and moderated by Mr. Kenji Nonaka, Senior Partner, McKinsey & Company as the three discussed how NTT and NEC are working together to bring communication networks into the future.

The first topic discussed was the recently announced cooperation between NEC and NTT, as NTT became a minority investor in NEC in June 2020 in order to deepen collaboration between the two companies. Mr. Shibutani explained that the idea came from NEC CEO Takashi Niino and NTT CEO Jun Sawada, as there is an overall need for Japan to be more competitive in the technology R&D space. He explained that each GAFA company spends over 1 trillion yen per year on R&D and in order to stay competitive there is a need for deeper cooperation domestically.

Mr. Shibutani and Mr. Morita then discussed how telecom networks themselves need to change, as they are very unlikely to keep up with future demand. Telecom network traffic is expected to increase more than 100 times in the next 15 years, and data center power consumption will grow tenfold by 2050. Both executives believe that the industry is approaching the limits of Moore's Law and hence a new breed of network will be needed for the beyond 5G era, which led to the conceptualization of the Innovative Optical and Wireless Network (IOWN) initiated by NTT. The IOWN network is a new concept for future telecommunications networks which will use photoelectric convergence to transmit data, which in theory could enable over 100 times current capacity levels at 1/100th of the current cost.

NTT and NEC have combined research efforts to develop IOWN, as both companies have a long history in developing new telecommunications network infrastructure. However, NTT itself is a telco as opposed to a manufacturer, so it is hoped that NEC will enable the future commercialization of IOWN initiated by NTT via its production expertise. Both companies are working together to attract more partners to the IOWN ecosystem and for example recently launched the IOWN global forum in the United States.

Finally, the executives discussed some of the applications that they believe the IOWN network will enable going forward. Mr. Shibutani and Mr. Morita both agreed that 5G is already starting to disrupt sectors such as transportation, education, and healthcare but they believe that advanced networks will go even further. Eventually, they believe that these networks will enable digital twins for nearly everything, where real-world objects will all have a unique ID and connected sensors will continuously monitor their conditions, and AI/ML will be able to make real-time predictions on the status of objects such as factories, vehicles and even people and will elevate society to the next level under a concept known as Japan's "Society 5.0" Initiatives.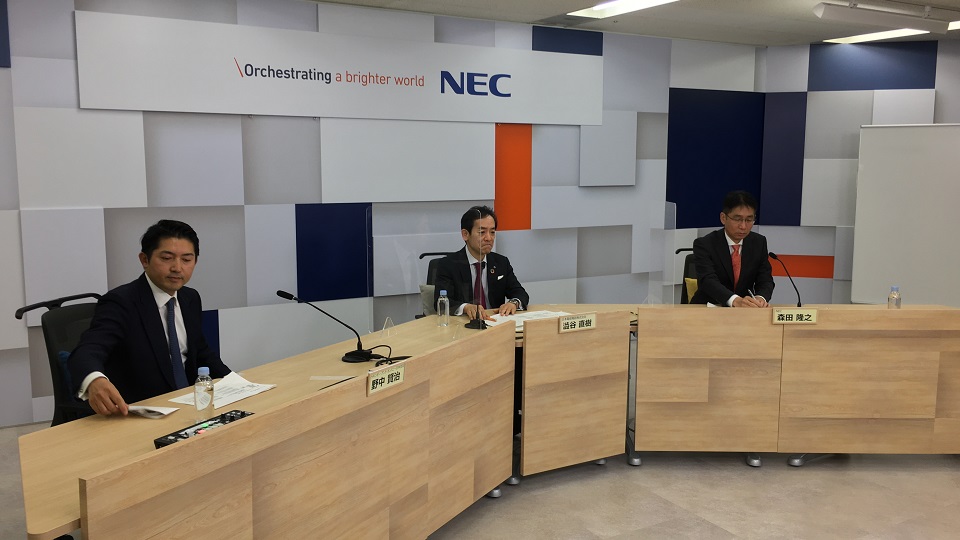 NEC Visionary Week 2020 successfully concluded, and several recurring themes emerged during the sessions. NEC and its partners agreed that the impact of the COVID-19 pandemic has altered the way in most, if not all, industries will operate going forward and the digital transformation will be a key tool going forward in making this happen. There was also a strong theme of sustainability among participants, as many speakers mentioned that the next-generation of ICT tools can enable a brighter future for society and can enable "pandemic-proof" infrastructure, which heavily aligned with NEC's motto of "Orchestrating a brighter world."

Thank you for your interest in NEC Visionary Week.
Both the event and post-event features has now officially ended.
We look forward in greeting you on the next occasion.
- Digitalization of the public sector – Learnings from Denmark
- Achieving SDGs with international organizations using the power of digital
- 5G Open vRAN: Delivering Innovative Digital Services & Sustainable Social Life
- NTT and NEC speak about the future of advanced network and the world surrounding it