Displaying present location in the site.
NEC Teachers Science Laboratory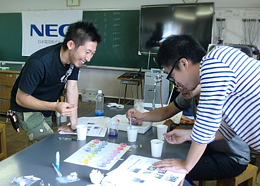 "NEC Teachers Science Laboratory" is a program designed to eliminate teachers' science-is-not-the-favorite-subject feeling.

In collaboration with the Science Education Research Forum (Representative Shizuka Matsunobu), an instructor who performs more than 50 science experiment classes a year mainly at public elementary and junior high schools introduces tips for experiment instrument management, practical experiment ideas and techniques for saving time.
This program targets elementary school teachers being able to feel that "Science is fun!" and perform classes with confidence.
Introduction of Activities
Comments from participants
I always hated science since my childhood and was avoiding being in charge of science subjects ever since I became a teacher. I had to be in charge of science subjects this year and was depressed, however, this training made me interested in science, and kind of addicted.
It made me remember the feeling of "Science is fun!" I felt when I was a kid.
Many demonstrations and equipment were introduced and I want to try them right away. This training was so much fun I shouted "Wow!" Best training I ever had.