Displaying present location in the site.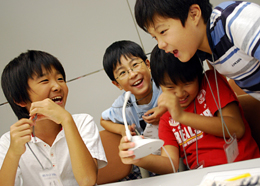 "NEC Kids" is a program to nurture human resources who have abundant creativity and communication abilities for elementary and junior high school students, and has been operated in cooperation with CANVAS, who graduated from NEC Social Entrepreneurship School, since 2009. Workshops using PCs, digital cameras and programming software as tools for playing and learning are held.
Main Workshops
NEC Kids Public Relations Department (Animation Creation)
Workshop to create animation commercial movies with the theme of business operations which NEC is engaged in
Workshop to create animated videos promoting local areas
NEC Kids Development Department (Programming)
Workshop to create original games using Scratch or Viscuit, free programming languages
* Currently, this program is not available
Comments from participants
This workshop was the most interesting one among the ones I've ever participated. I want to get involved again.
I want to learn more about programming and create an amazing game.
The lecture that ignited children's intellectual curiosity was amazing. I think that communications between parent and child can be made through programming.
It was a good opportunity to broaden prospective.
Children worked very happily. I've never seen that expression at home.