Displaying present location in the site.
NEC Working Mothers Salons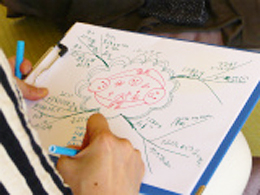 Project to support working mothers in improving the quality of their lives and returning to the workforce while raising children.
This project is conducted in cooperation with Approved Specified Nonprofit Corporation Madre Bonita since FY2009.

Many social issues such as daycare services and working environment must be solved so that women can rejoin the workforce after childbirth.
However, the "uncertain anxiety" regarding working while raising children is not eliminated by the current systems and services.

This project is held nationwide to enable the participants to solve issues by focusing on self empowerment and confronting one's anxiety and issues. Workshops with a small number of participants are held all over the country.

* Currently, this program is not available
Teams are made up of members from the coordinators (9 people) and official supporters (60 people) in each region to conduct this project. Members are recruited from the Madre Bonita members and salon participants each year. All members are volunteers.
Comments from participants
It was a good opportunity to clear my thoughts. Wandering and worrying are not bad things as they are necessary to move forward. (Working mother, 3 years after childbirth)
Now I know that there is much anxiety when returning to the workforce, and sharing the current anxiety with my husband, trying to eliminate them with him, and discussing with him as much as possible is important. (On childcare leave, 9 months after childbirth)
Ms. Mako Yoshioka, Representative of Approved Specified Nonprofit Corporation Madre Bonita

The most distinguishing feature of this program is creating abundant connections with people nationwide through a "place" called "NEC Working Mothers Salon". The door is open for any women regardless of age, profession, marital status, motherhood status and working status so that any women can participate, and the participants have diverse attributes. This program provides the place and processes to find their own way to solve issues through discussions on "working mothers" and the anxiety that cannot be eliminated simply through systems and services. The operators who operate this program are ordinary people and more than 60 volunteers and staff are working for this program making it one of the significant features of this program.