Displaying present location in the site.
NEC Network Safety Classes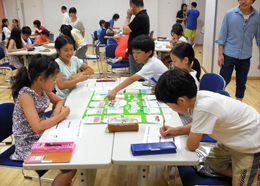 NEC has been holding NEC Internet Safety Classes since 1999 to teach children Internet rules and ethical behavior to prevent them becoming either victims or instigators of Internet crimes.

Since 2012, NEC has been working in cooperation with the non-profit organization "eparts" to bring this program to elementary school students (middle and higher grades), using computers to teach the safe use of the Internet and using board games to raise their awareness of security.

The Internet is now indispensable as a method of acquiring information from around the world and for communications, and can be connected to from a wide range of devices including personal computers, tablets, mobile phones, and smartphones.

Furthermore, as the use of smartphones has increased keeping people almost permanently connected to the Internet, troubles among lower aged children related to the Internet are on the rise and causing social problems.

This program draws children's attention to pitfalls related to the Internet from an early age and provides them with tools to navigate the Internet safely, preventing the occurrence of these social problems.

NEC aims to create an environment where children can effectively and safely utilize the Internet.

* Currently, this program is not available
Comments from Participants
It was very educational to learn Internet rules and conventions that I didn't know before.
I wanted to be aware of what I should keep in mind when using the Internet since it can be a scary place.
I understood the seriousness of computer viruses when I saw a video infected with a real virus for the first time.
I think this lecture is effective because children often don't listen to their parents.
It was very beneficial to let children actually experience the risks of leaking personal information and losing important data, showing them that the Internet was not only a place to collect information.