Displaying present location in the site.
NEC Forest People Training Course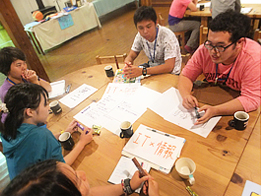 "NEC Forest People Training Course", a four-day, three-night human resource development program, recruits students nationwide who are interested in solving environmental issues, and provides them motivation to become personnel involved in environmental businesses through learning about environmental education, connecting students with forests and experiencing a program developing friendship with other students.
This program has been conducted in cooperation with Japan Environmental Education Forum since FY1995.

This program also concerns reconstruction support by exchanging information via a video conference system with those who provide reconstruction support in Tohoku, and assisting in the transport of acorn nursery plants to disaster sites.
A group discussion on "sustainable society" construction with the theme of "Information Technology (IT)" x "Environmental Education (EE)" is part of the program.

* Currently, this program is not available.
Comments from participants
What I gained is the viewpoint to see the forest and tips on how to enjoy it. I didn't know how to know if the forest is healthy or not. But, this program gave me an opportunity to think about what involving and connecting with forests is and I think now I have an eye for forests.
The main theme of my participation in this program was to learn "how to communicate."Through this program, I realized the joy of communication as well as the difficulties.
I felt it is important not only to learn environmental education knowledge from books and classroom lectures but also to actually experience it to be aware and to think.