Displaying present location in the site.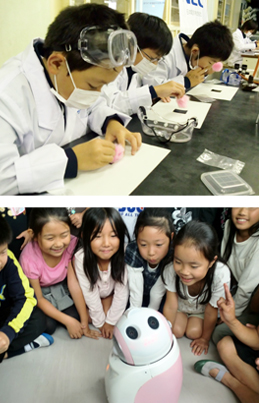 In recent years there has been a growing concern in Japan that children are losing interest in science.
NEC has recruited retired NEC employees to help give children the opportunity to experience the joy and thrill of discovery as well as the fascination of science and the fun of designing and making things. "NEC Galileo Club," the Science and Experiment Classroom, targeting elementary school students and is held at schools and science museums nationwide.
NEC employees also volunteer in the classroom as support staff for teachers.

We want to foster children's intellectual curiosity, expand their creativity, and experience the joy and thrill of discovery as well as their fascination with science.
Comments from participating elementary school students
I don't like science. But, it was fun to question "Why?" and "How?", and it was interesting to think about and predict "why". I want ordinary science classes to be interesting like this.
I learned many things today, but the more I learned the more I don't understand. I want to learn more.
I was not interested in science, but my interest in science grew through today's experience. It was fun to learn many things, and the workshop was also fun. I was surprised that a telephone can be made of paper cups.
Comments from parents and guardians
The children surely enjoyed the experience of seeing, touching and creating. It was our first time to participate, and we want to participate again if there is a science experiment project for kids like this.