Displaying present location in the site.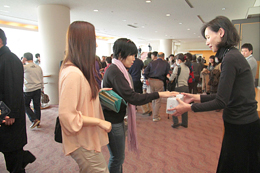 NEC holds the "NEC Charity Concert" once each year since 2002 to provides audiences with wonderful music and also have them increase their understanding of non-profit organizations (NPOs).

There are few opportunities for NPO organizations to announce their activities for solving social problems to the public, thus it is difficult for NPOs to gain supports from the public.

NPOs that are aggressively involved in solving social problems are chosen to receive the funds, and they are given an opportunity to introduce their activities to the visitors.Donations are accepted at the venue, and all funds go to the NPO for use in their activities.

The "NEC Tamagawa Brass Band" that is made up of NEC Group employees and that has won the gold prize for work place bands at the All Japan Brass Band Contest performs at every concert.
This is truly a "home-made" concert that only NEC could pull off because employees are also actively involved in the planning and management.

* Currently, this program is not available
Saturday, January 31, 2015: The 14th NEC Charity Concert (Muza Kawasaki Symphony Hall)
Comments from the audience
Although it wasn't much, I contributed after hearing about the purpose of the charity.
I was very moved by the fact that NEC employees are spending their free time on such cultural activities, uniting their efforts to achieve this concert which was performed so greatly.
I feel that people become hopeful and encouraged by the sight of various people coming together to create beautiful music.