Universal Design
What is Universal Design?
Universal design is a concept used to create products, services and environments that more people can use regardless of age, gender and ability.
Rapid aging and globalization is creating changes in the market. Also, with the increased implementation of domestic and international laws and standards, universal design is being incorporated into many more products. Universal design plays an important role in answering changing social needs.
Necessity of Universal Design
Japan's society is aging more quickly than other countries, with the population of over 65-year-olds exceeding 20% in 2005, and on target to exceed 40% in 2055. The u-Japan concept proposed by Japan's Ministry of Internal Affairs and Communications aims to realize information communication networks that can be easily accessed and used by anyone, anytime, anywhere, regardless of generation or ability. This concept has been formalized as a JIS guideline: "JIS X8341 Series: Design guidelines for older persons and persons with disabilities". The concept of universal design, which is to create easy-to-use products, services and environments for more people regardless of age, gender, race or ability, is becoming even more vital.
Universal design activities are now being carried out by various organizations and companies, and many companies position these activities as an important element of CSR (Corporate Social Responsibility).
Universal Design by NEC
In the NEC Group, we want to ensure that our products are easy to understand, easy to use and can be used in a variety of environments and situations (in a dark room, in a noisy place etc.), taking into account the diverse characteristics of our users (elderly, disabled, children, pregnant women, foreign residents, novices, people who are physically weak, etc.).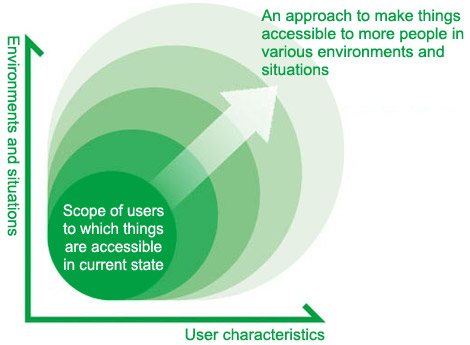 Basic items of UD at NEC
The following have been stipulated as basic items of Universal Design to be remembered when planning and developing products and services in the NEC Group.
Attractive and comfortable design
Flexible in terms of use
Bears in mind the various environments and circumstances in which it may be used
Easy to operate
Essential information is easy to understand intuitively
Minimizes the financial burden
Bears in mind the needs for safety and peace of mind