NEC maintains "Gold" CSR rating by EcoVadis for advanced sustainability performance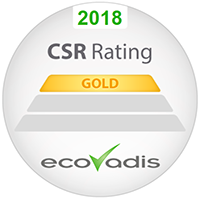 Tokyo, Sep 28, 2018 - NEC Corporation (NEC; TSE: 6701) has been awarded a "Gold" Corporate Social Responsibility (CSR) rating by EcoVadis, a leading evaluator of supplier sustainability. NEC has maintained this position since 2012, and is ranked in the top 1% of all suppliers assessed.

EcoVadis operates the first collaborative platform for rating and monitoring supplier sustainability. EcoVadis assesses the CSR performance of companies with a methodology covering 180 purchasing categories, 150 countries and 21 CSR indicators grouped in four themes ("Environment," "Labor Practices," "Fair Business Practices" and "Sustainable Procurement"). More than 45,000 companies use this platform, including NEC customers who refer to EcoVadis ratings when selecting their suppliers.

This year, NEC's business activities were rated particularly high for the "Environment" and "Labor Practices" themes.

NEC recognizes that maintaining a Gold CSR rating by EcoVadis since 2012 is the result of its continual efforts to ensure the sustainable development of society.

As a social value innovator, NEC improves its sustainable management by engaging with its stakeholders. Going forward, NEC will continue its efforts to solve challenging social issues using state-of-the-art information and communication technologies (ICT) to enable the realization of the United Nations' "Global Goals for Sustainable Development."

NEC's External Ratings and Evaluation
http://www.nec.com/en/global/csr/management/evaluation.html

NEC's Sustainability Website
http://www.nec.com/en/global/csr/index.html
***
Note:
*

The Sustainable Development Goals (SDGs) started in 2015 after they were adopted by 193 member states at the United Nations Summit held in September that year. NEC's seven social value creation themes are similar to the SDGs in that both involve goals rooted in social issues and otherwise have much in common with each other. Since information and communications technology (ICT) has the potential for responding to a variety of issues, we believe that we can contribute in various ways to all the goals outlined in the SDGs by engaging in dialogue and co-creation with customers and stakeholders.
About NEC Corporation
NEC Corporation is a leader in the integration of IT and network technologies that benefit businesses and people around the world. The NEC Group globally provides "Solutions for Society" that promote the safety, security efficiency and fairness of society. Under the company's corporate message of "Orchestrating a brighter world," NEC aims to help solve a wide range of challenging issues and to create new social value for the changing world of tomorrow. For more information, visit NEC at https://www.nec.com.

LinkedIn: https://www.linkedin.com/company/nec/
YouTube: https://www.youtube.com/user/NECglobalOfficial
Facebook: https://www.facebook.com/nec.global/
Twitter: https://twitter.com/NEC_corp

NEC is a registered trademark of NEC Corporation. All Rights Reserved. Other product or service marks mentioned herein are the trademarks of their respective owners. © NEC Corporation.