NEC develops cooling technology for data centers that reduces air conditioning power by 50%
Tokyo, June 29, 2018 - NEC Corporation (NEC; TSE: 6701) today announced the development of a heat removal technology with vapor-compression that uses low-pressure refrigerant to significantly improve the cooling efficiency of servers installed in data centers and reduce air conditioning power by 50% (*1) compared with conventional air conditioners.

This technology represents an advance from NEC's original 'phase-change cooling system' (*2) and capitalizes on sophisticated knowledge of cooling technologies accumulated over many years through the development of electronic equipment, such as PCs and projectors.

Specifically, the flow path design technology that has been applied to this system directly transfers the heat emitted from rack servers to an outdoor environment, even when the outside air temperature is high, by using low-pressure refrigerant that has low Global Warming Potential (GWP). This has been achieved through a combination of technologies that permit low-pressure refrigerant to flow smoothly, including a technology that enables the cooling unit size to be reduced by controlling the flow rate of refrigerant and distributing it evenly by utilizing differences in the length of multiple thin pipes.

"This technology contributes to the improvement of Power Usage Effectiveness (PUE) by enabling datacenter servers to be cooled with higher efficiency simply with the use of NEC's 'phase-change cooling system,' without installing additional air conditioners, which makes it easy to introduce into existing datacenters," said Soichi Tsumura, general manager, System Platform Research Laboratories, NEC Corporation.

This technology has been demonstrated at a datacenter in the south of India using a rack that generates heat of 7.5 kW, twice as high as that of a conventional rack. It has been confirmed that the total power for the entire data center could be reduced by 20% through reduction of air conditioning power by 50% under an outside air temperature of 35 degrees Celsius, compared with the air conditioner already installed.

NEC continues to improve this technology and is aiming for commercialization by FY2020.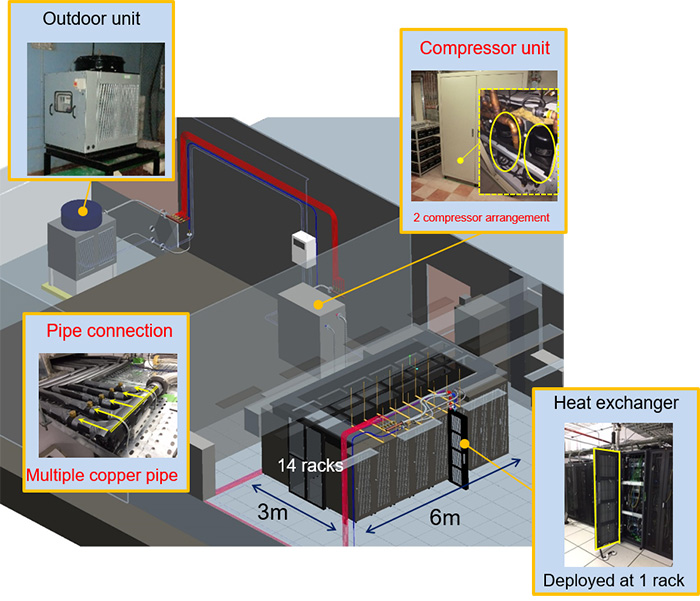 Larger viewHeat Removal System
***
Notes:
*1)

Estimation based on NEC simulation. Comparison between the conventional CRAC (Computer Room Air Conditioner) and the compressing radiation technology using the new low-pressure refrigerant announced today.

*2)

Press Release: NEC Develops Energy Saving Cooling Technology for Data Centers
https://www.nec.com/en/press/201203/global_20120308_02.html
About NEC Corporation
NEC Corporation is a leader in the integration of IT and network technologies that benefit businesses and people around the world. Under the company's corporate message of "Orchestrating a brighter world," NEC aims to help solve a wide range of challenging issues and to create new social value for the changing world of tomorrow.

In the Mid-term Management Plan 2020, NEC positions the safety business as an engine for global growth aiming to realize "NEC Safer Cities" by leveraging biometrics and AI technologies.

For more information, visit NEC at http://www.nec.com and "NEC Safer Cities" at https://www.nec.com/en/global/solutions/safercities/.

LinkedIn: https://www.linkedin.com/company/nec/
YouTube: https://www.youtube.com/user/NECglobalOfficial
Facebook: https://www.facebook.com/nec.global/
Twitter: https://twitter.com/NEC_corp

NEC is a registered trademark of NEC Corporation. All Rights Reserved. Other product or service marks mentioned herein are the trademarks of their respective owners. © NEC Corporation.