NEC develops tamper detection technology to protect IoT devices
Tokyo, April 2, 2018 - NEC Corporation (NEC; TSE: 6701) today announced the development of a tamper detection technology for protecting Internet of Things (IoT) devices against cyberattacks. This technology is expected to help protect industrial robots, machine tools and other IoT devices that have insufficient CPU performance or memory capacity to defend themselves.

In recent years, manufacturing processes have become increasingly optimized through the use of IoT. These changes, however, have been accompanied by an increase in the risk of cyberattacks against not only conventional targets, such as servers and PCs, but also against the IoT-enabled control systems of production lines, as well as robots, machinery tools and other devices. Every year, these attacks have been causing more plant shutdowns, production line glitches and other damages to industrial operations. In order to reliably protect IoT devices against cyberattacks, and to minimize the damages caused by these attacks, security for these devices is critical.

NEC's new technology helps resolve these issues by detecting tampering in approximately 6 milliseconds when inspecting a 2 kilobyte (KB) memory area, without slowing the performance of IoT devices. This is accomplished through its lightweight architecture, which has an execution code of only 4 KB, and a detection technology that helps to identify the areas in need of tamper inspection. Moreover, this technology can perform inspections while IoT devices are first being activated, as well as during their operation, which makes it suitable for use in IoT devices that operate for many hours.

"Early detection of IoT device tampering enables system administrators to quickly separate compromised devices from the system," said Mikiya Tani, general manager, Security Research Laboratories, NEC Corporation. "This technology will contribute to the prevention of secondary damages caused by tampering, such as the shutdown of production lines, defective products and the leakage of product design information."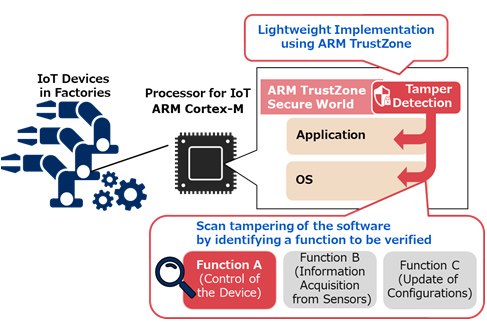 Tamper Detection Technology for IoT Devices
***
About NEC Corporation
NEC Corporation is a leader in the integration of IT and network technologies that benefit businesses and people around the world. The NEC Group globally provides "Solutions for Society" that promote the security, safety, efficiency and fairness of society. Under the company's corporate message of "Orchestrating a brighter world," NEC aims to help solve a wide range of challenging issues and to create new social value for the changing world of tomorrow. For more information, visit NEC at http://www.nec.com.

NEC is a registered trademark of NEC Corporation. All Rights Reserved. Other product or service marks mentioned herein are the trademarks of their respective owners. © NEC Corporation.