NEC provides 10G-EPON system supporting KDDI's "au Hikari Home 10 giga"
Tokyo, March 23, 2018 - NEC Corporation (NEC; TSE: 6701) today announced the provision of a 10 Gigabit Ethernet Passive Optical Network (10G-EPON) system in support of KDDI Corporation's "au Hikari Home 10 giga," an FTTH service for individual subscribers.

"au Hikari Home 10 giga" is a new high-speed service that enables the world's fastest* upstream and downstream speeds of up to 10 Gbps.

NEC's 10G-EPON system consists of an Optical Line Terminal (OLT) installed within KDDI facilities and an Optical Network Unit (ONU) installed inside the homes of individual subscribers.

The small and high-density packaging of an OLT is only the size of a 4U 19-inch rack, yet it houses up to 8,192 ONUs, which helps to minimize the space required for telecommunications carriers to install them.

Moreover, the volume of an ONU has been reduced by about 65% compared to NEC's conventional products, helping to save installation space inside subscribers' homes as well as storage space for telecommunications carriers.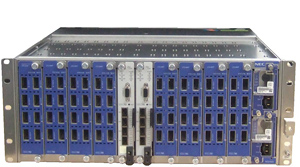 OLT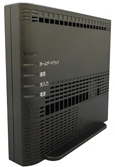 ONU
"The need for high-speed and large-capacity Internet is expected to continue rising with the sophistication and high-definition of content and the increase in mobile data traffic such as Wi-Fi offload. In addition to this 10G-EPON system for KDDI, NEC will continue to work on the development of optical access technologies that support the strengthening of telecommunications carrier services," said Kazuhiro Tagawa, Deputy General Manager, Network Solutions Division, NEC Corporation.

NEC will display its 10G-EPON system at Fiber Optics Expo 2018 (FOE 2018) to be held at Tokyo Big Sight from April 4 to 6, 2018.
***
Note:
*

Based on Ovum's report from January 2018 which stated "as of 15 January 2018, a 10Gbps symmetrical residential mass market FTTH service offering at US$100 or less would represent the fastest and least expensive offering available."
About NEC Corporation
NEC Corporation is a leader in the integration of IT and network technologies that benefit businesses and people around the world. By providing a combination of products and solutions that cross utilize the company's experience and global resources, NEC's advanced technologies meet the complex and ever-changing needs of its customers. NEC brings more than 100 years of expertise in technological innovation to empower people, businesses and society. For more information, visit NEC at https://www.nec.com.

The NEC Group globally provides "Solutions for Society" that promote the safety, security, efficiency and equality of society. Under the company's corporate message of "Orchestrating a brighter world," NEC aims to help solve a wide range of challenging issues and to create new social value for the changing world of tomorrow. For more information, please visit

https://www.nec.com/en/global/about/vision/message.html

NEC is a registered trademark of NEC Corporation. All Rights Reserved. Other product or service marks mentioned herein are the trademarks of their respective owners. © NEC Corporation.