NEC and Japan Weather Association collaborate to help resolve food waste and disposal
- Optimizing supply and demand throughout the value chain -
Tokyo, Japan - February 28, 2018 - NEC Corporation (NEC; TSE: 6701) and Japan Weather Association (JWA) have agreed to a business collaboration aiming to optimize demand and supply throughout the value chain of a wide range of fields, including the manufacturing, wholesale, distribution, and sales industries. The data distribution infrastructure utilized for this business, the "Demand and Supply Optimization Platform," will be built on the "NEC the WISE IoT Platform"(*1) and is expected to be available in July 2018.

This infrastructure will first be used for the optimization of demand and supply for food value chains in order to contribute to the resolution of food waste and disposal. This will be accomplished by sharing information with user companies, such as demand forecasts, inventory information, and sales performance, which will be enabled by NEC's cutting-edge AI technologies "NEC the WISE" (*2) and contribute to the resolution of a wide range of social issues.

This infrastructure allows for the mutual use of weather information and open data that is offered by various data providers as well as owned by companies in the value chain. This improves the accuracy of demand forecasts, which have conventionally been estimated by companies independently. With this infrastructure, NEC aims to optimize the entire food value chain, such as ensuring the appropriate inventory and production among manufacturers, the optimal inventory for wholesalers and distributors, efficient resources, and appropriate orders for sales companies.

With consulting experience regarding product demand forecasts, JWA will provide weather data, which is the basis of data analysis for the Demand and Supply Optimization Platform, and will jointly promote product demand forecast services utilizing that information.

To further improve the accuracy of this infrastructure, both companies have been carrying out a demonstration test to optimize beverage demand and supply since January 2018.

Through demonstration tests like these, in the future, using JWA's weather data and data analysis technology and NEC's AI technology, the companies are discussing the possibility of building a system that links demand forecasts to other business systems such as supply and demand plans, production plans, order plans, and inventory allocation.

Moving forward, for the sustainable growth of companies and the health of the planet, the two companies will create new social value by utilizing advanced ICT with AI and IoT, and through "Value Chain Innovation" to connect people, resources, and processes.

Primary features of the Demand and Supply Optimization Platform are shown below.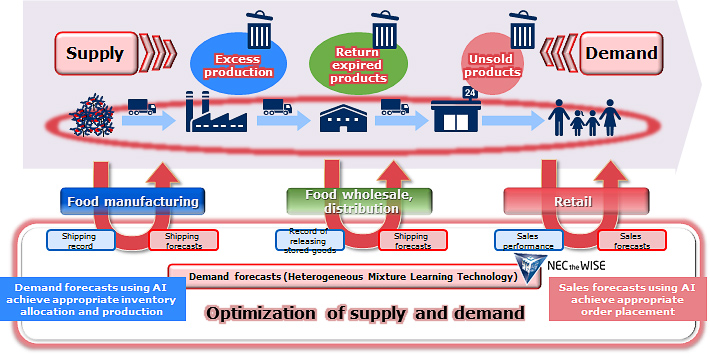 Larger viewOverview of demand and supply optimization
Use of NEC's cutting-edge AI technologies "NEC the WISE"
Smoothly identifies and analyzes necessary data by utilizing AI, such as heterogeneous mixture learning technologies (*3), which can provide insight into business operations and decision making, as well as the "Analysis Model," which contains NEC's domain know-how.
Provision of causal data that increases analysis accuracy
Increases the accuracy of forecast analysis and enables various analysis patterns by supplying data ahead of time to the data lake of the platform, such as weather information, population statistics, and traffic volume, which is necessary for forecast analysis and has an impact on product sales.
Provision of environment that allows secure data connection
Adopts advanced security technologies to enable secure data connection among companies, such as privacy protective data mining methods, including anonymous processing technology and encryption technology, which are also used by financial institutions. This enables a safe and secure environment for the Application Programming Interface (API) economy.
Service Menu
Service name
Scope
Service outline
Coordinator service
Food manufacturers
Food wholesalers
Retailers
- Engineer support in a demonstration test
- Technical support for starting actual operation, etc.
Short-term shipping products service
Food manufacturers
Recent shipment forecast at a food manufacturer
Number of visitors forecasts
(daily)
Retailers
Forecast the number of daily visitors at a store
Sales by category service
Retailers
Forecast of daily sales volume by product category in a store
Sales by single item service
Retailers
Forecast of daily sales volume by item in a store
Proposal of recommended order placement volume service
Retailers
Rough calculation of order placement volume based on demand forecast
"A value chain consists of many companies, and each of them makes an important contribution to the chain. However, it is difficult for an individual company to carry out efficiency enhancement and optimization of an entire value chain when seeking to resolve labor shortages, global food waste and disposal issues. By sharing the data owned by the companies that comprise a value chain, and by improving forecast accuracy with AI, the 'Demand and Supply Optimization Platform' will optimize supply and demand balance throughout the value chain, aiming to resolve food waste," said Hiramasa Nakata, Senior Vice President, Enterprise Business Unit, NEC Corporation.

"The highly accurate demand forecast data and precise consulting proposals provided by Japan Weather Association help contribute to the resolution of a wide range of issues that clients face. With NEC's heterogeneous mixture learning technologies, we can clearly confirm the factors that lead to a forecast, and plainly explain it to customers. Our wish to optimize entire supply chains by eliminating various wastes is reflected in NEC's 'Supply and Demand Optimization Platform' vision. The demand forecasts based on the weather data provided by JWA combined with NEC's AI technology will help prevent food waste and stock from running out, while boosting sales and profit through appropriate sales promotions," said Motohiro Honma, Project Manager, Japan Weather Association.
***
About Japan Weather Association
Since its establishment in 1950 as Japan's first privately-run meteorology company, the Japan Weather Association has been providing timely and highly reliable meteorological information to various regions in Japan. As a pioneer in the meteorological services industry in Japan, we have independently developed general weather prediction systems and information service systems, and have been contributing to the development of various industrial activities and environmental conservation. For more information, visit Japan Weather Association at https://www.jwa.or.jp/english/.

About NEC Corporation
NEC Corporation is a leader in the integration of IT and network technologies that benefit businesses and people around the world. The NEC Group globally provides "Solutions for Society" that promote the security, safety, efficiency and fairness of society. Under the company's corporate message of "Orchestrating a brighter world," NEC aims to help solve a wide range of challenging issues and to create new social value for the changing world of tomorrow. For more information, visit NEC at https://www.nec.com/.

LinkedIn: https://www.linkedin.com/company/nec/
YouTube: https://www.youtube.com/user/NECglobalOfficial
Facebook: https://www.facebook.com/nec.global/
Twitter: https://twitter.com/NEC_corp

NEC is a registered trademark of NEC Corporation. All Rights Reserved. Other product or service marks mentioned herein are the trademarks of their respective owners. © NEC Corporation.