NEC, AIST and Meijo Nano Carbon Develop a Technology for Manufacturing High Purity Semiconducting CNT Ideal for Printed Electronics
- Meijo Nano Carbon to begin marketing semiconducting CNT from FY2018 -
Tokyo, Japan, February 8, 2018 - NEC Corporation (NEC; TSE: 6701), the Nanomaterials Research Institute of the National Institute of Advanced Industrial Science and Technology (AIST), and Meijo Nano Carbon Co., Ltd. have successfully established a manufacturing technology for separating semiconducting single-wall carbon nanotubes (CNTs) (*1) at high purities above 99% using nonionic dispersant (Figure 1). This first-time development (*2) was achieved through a project coordinated by the New Energy and Industrial Technology Development Organization (NEDO). Meijo Nano Carbon aims to begin marketing semiconducting CNTs from FY2018.

These semiconducting CNTs enable fabrication of large area, ultra-thin and flexible, as well as low cost and high-speed transistors when used for Printed Electronics (*3). Such transistors are expected to be applied to sensor devices that function as IoT elements throughout a wide range of fields, including marketing technologies at convenience stores and supermarkets, as well as medical applications.
 
This newly developed single-wall CNT separation technique, the "ELF method" (Figure 2), separates semiconducting and metallic CNTs by electrophoresis of CNT dispersion containing nonionic surfactant. Since the resulting semiconducting CNT dispersion does not contain ionic surfactant, which is likely to inhibit device operations, the technique enables stable manufacturing of high performance transistors (Figure 3).

"Going forward, we aim to introduce this technology to businesses, universities and research institutions throughout the world, as we work together to explore new applications and expand business opportunities," said Mr. Soichi Tsumura, General Manager, IoT Devices Research Laboratories, NEC Corporation.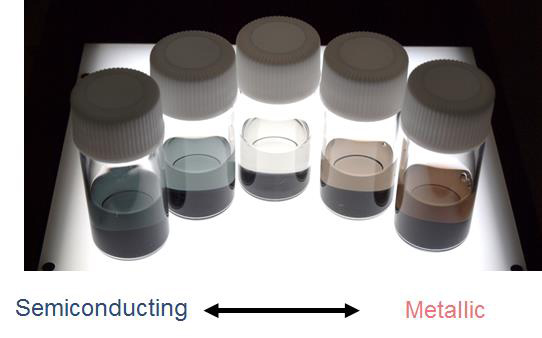 Figure 1. Semiconducting and metallic CNTs in their dispersions are separated at high purities above 99% with the ELF method (The color of the dispersion changes from bluish to reddish as CNTs change from semiconductor to metal).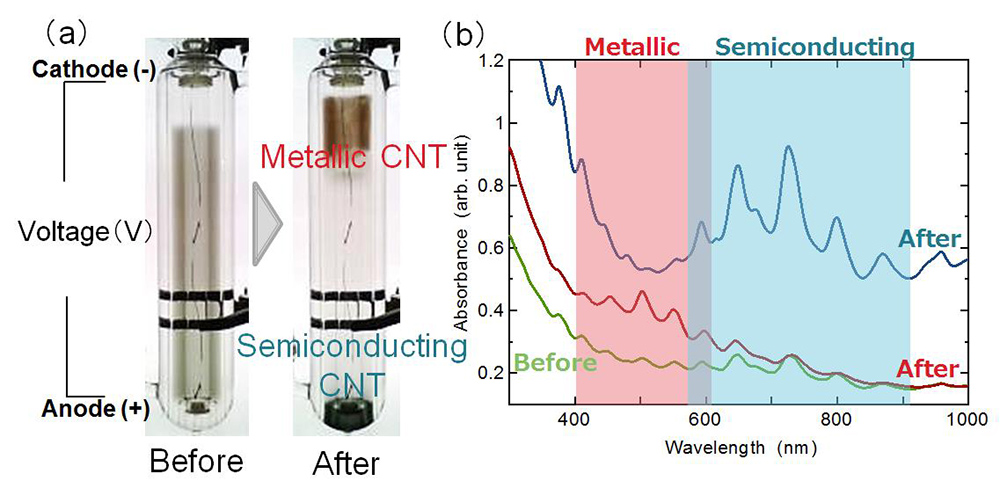 Figure 2. (a) The Single-wall CNT separator using the ELF method (b) Optical absorption spectra of dispersions before and after separation.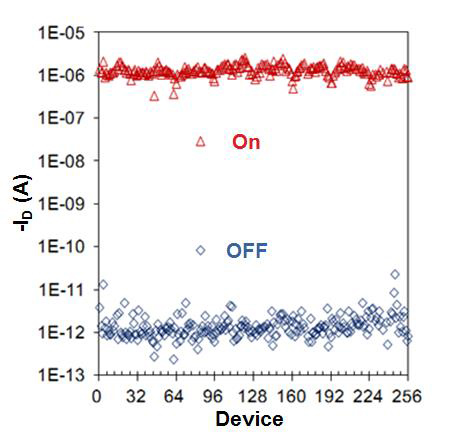 Figure 3. Device characteristics of field-effect transistors (FETs) manufactured with highly functional ink from semiconducting CNTs (16 × 16 FET devices manufactured on a flexible substrate).
***
Notes:
*1

Single-Wall Carbon Nanotube (CNT): Carbon nanotubes are a class of carbon material first discovered by Dr. Sumio Iijima, an NEC research fellow. Single-Wall CNTs have a cylindrical structure with a diameter of 1 nm. They display semiconducting or metallic characteristics depending on differences in the arrangement of hexagons in the wall. Semiconducting and metallic CNTs are generated at a 2:1 ratio.

*2

According to NEC research, as of February 8, 2018

*3

Printed Electronics: Manufacturing technology to produce electronics products, such as electronic circuits, using printing technologies. It is expected to be a next generation technology as a variety of materials can be used as circuit boards by making use of printing technology characteristics. In addition, this process is simpler and more convenient than conventional production methods.
About NEC Corporation
NEC Corporation is a leader in the integration of IT and network technologies that benefit businesses and people around the world. By providing a combination of products and solutions that cross utilize the company's experience and global resources, NEC's advanced technologies meet the complex and ever-changing needs of its customers. NEC brings more than 100 years of expertise in technological innovation to empower people, businesses and society. For more information, visit NEC at http://www.nec.com.

The NEC Group globally provides "Solutions for Society" that promote the safety, security, efficiency and equality of society. Under the company's corporate message of "Orchestrating a brighter world," NEC aims to help solve a wide range of challenging issues and to create new social value for the changing world of tomorrow. For more information, please visit

http://www.nec.com/en/global/about/vision/message.html

NEC is a registered trademark of NEC Corporation. All Rights Reserved. Other product or service marks mentioned herein are the trademarks of their respective owners. © NEC Corporation.