NEC develops ARmKeypad Air, a contact-free virtual keyboard for a user's arm
Tokyo, July 13, 2016 - NEC Corporation (NEC; TSE: 6701) today announced the development of the new ARmKeypad Air, where "smart glasses" are used to turn the arm of a wearer into a virtual keyboard, allowing for contact-free operation.

In recent years, smart glasses have been introduced that enable users to perform operations at sites without using their hands. In November 2015, NEC introduced a trial model of the ARmKeypad, which uses smart glasses together with a modified watch to turn the arm of a wearer into a virtual keyboard by recognizing contact (vibration) operations.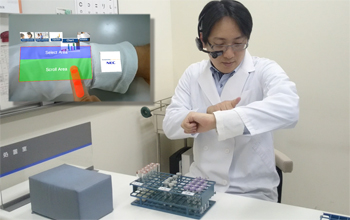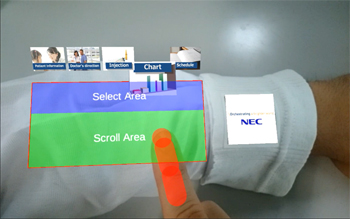 ArmKeypad Air in use (demonstration model)
The new ARmKeypad Air, however, enables contact-free operation through the movement of a wearer's finger using Augmented Reality (AR) to create the image of a virtual keyboard on the forearm of a wearer. Unlike the existing ARmKeypad, which recognizes contact (vibration) operations, this new technology enables contact-free operation, which is ideal for sites where operations must be performed under sterilized conditions, free of direct contact with objects and clothes etc. In addition, because there is no need for users to wear a watch, the ARmKeypad Air is ideal for professions where wearing devices on the arm is not advisable, such as those carrying out medical procedures.

Yukio Maruyama, Assistant General Manager, System Integration & Services Market Development Division, NEC Corporation said, "Moving forward, NEC will use the ARmKeypad and ARmKeypad Air to help improve workplace efficiency in sectors where hands-free operation is required, such as manufacturing, medicine, security, and distribution."

NEC will exhibit the ARmKeypad Air at the International Modern Hospital Show 2016 from July 13 to 15 at Tokyo Big Site, Tokyo.
http://noma-hs.jp/hs/2016/en/
***
About NEC Corporation
NEC Corporation is a leader in the integration of IT and network technologies that benefit businesses and people around the world. By providing a combination of products and solutions that cross utilize the company's experience and global resources, NEC's advanced technologies meet the complex and ever-changing needs of its customers. NEC brings more than 100 years of expertise in technological innovation to empower people, businesses and society. For more information, visit NEC at http://www.nec.com.

The NEC Group globally provides "Solutions for Society" that promote the safety, security, efficiency and equality of society. Under the company's corporate message of "Orchestrating a brighter world," NEC aims to help solve a wide range of challenging issues and to create new social value for the changing world of tomorrow. For more information, please visit

http://www.nec.com/en/global/about/vision/message.html

NEC is a registered trademark of NEC Corporation. All Rights Reserved. Other product or service marks mentioned herein are the trademarks of their respective owners. © NEC Corporation.