Displaying present location in the site.
Special 30th Anniversary of "Obbligato"
30 years of playing the "sub melody" across 1,000 Japanese manufacturing companies, and a new vision for PLM from Japan
* This article is a reprint of an article published in ITmedia's MONOist/TechFactory Special.
The environment surrounding Japan's manufacturing industry has changed dramatically over the past 30 years. NEC's PLM software "Obbligato" series has continued to accompany the Japanese manufacturing industry, which has had to face severe changes at times, and will celebrate its 30th anniversary in 2021. At the milestone of the 30th anniversary of "Obbligato", Mr. Kazutaka Mishima, Editor-in-Chief of MONOist, and Motohiko Yamashita, Manager of NEC Manufacturing and Process Industries Systems Division, had a talk.
30 years of continuous evolution to meet the needs of the manufacturing industry
Mr. Mishima: Congratulations on the 30th anniversary of "Obbligato". How do you see the progress you have made so far?
Yamashita: "Obbligato" was first sold as a software package in 1991 for the common parts of systems supporting manufacturing, which had previously been implemented through scratch development. In the manufacturing industry in Europe and the U.S., business operations are clearly classified, and people adapt to the organization and software. On the other hand, as the term "genba-ryoku" (on-site strength) suggests, Japanese manufacturers often create new value through "suriawase" (integral type) centered on people at the manufacturing and engineering sites. At the time, there were not many business software packages that could take advantage of these strengths of Japanese manufacturing. Therefore, we developed this software to promote the management of engineering data and the use of data in manufacturing, while maintaining the flexibility to leverage the strengths of the Japanese manufacturing industry.
The name "Obbligato" symbolizes these thoughts. "Obbligato" is originally a musical term meaning "sub melody". While engineering, manufacturing, and other actual manufacturing operations are the "main melody," "Obbligato" is the "sub melody" that supports and complements the main melody. This is our wish. Our goal is to enhance and maximize the value of the main melody while accompanying the changes in the main melody as a sub melody.

Mr. Mishima: So "Obbligato" has been upgraded as a product as it continues to accompany the changes as a sub melody.
Yamashita: In the early days, the main functions of "Obbligato" included the management of BOMs and design deliverables. In 1998, "Obbligato II" was released, which introduced the idea of an integrated BOM, a concept that is still relevant today. At that time, the number of overseas factories began to increase, and the environment in which "Engineering is done in Japan and manufacturing is done overseas" was expanding, making it difficult to ensure productivity and quality with only real communication on the shop floor. To address this situation, we developed the integrated BOM, which integrates and manages the BOM of each department, including engineering and manufacturing, so that information can be linked in engineering and manufacturing, in collaboration with a Japanese manufacturing customer company. The integrated BOM also allows for flexible manufacturing response to engineering changes. In addition, a security function was released to prevent the leakage of technical information against the increase in distributed development with overseas manufacturing sites. It also supports management of specific chemical substances such as RoHS and REACH, which were being increasingly regulated at the time.

In 2010, "Obbligato III" was released based on the concept of "evolution from PDM (Product Data Management) to PLM", and it incorporates BOP (Bill of Process), which is data-based management of even the manufacturing process. By going beyond material management to the process, the entire manufacturing process can now be reproduced as data. We have also enhanced functions specific to the business axis, as functions tailored to the type of industry within the manufacturing industry are required. As a result, the number of companies that have adopted the system has expanded from discreate industry such as automobile parts and machinery manufacturers to process industry.

And for the fourth generation, released in 2019, we are removing a version number to signify a return to our roots and are once again developing the name "Obbligato". The fourth generation "Obbligato" has been enhanced on the basis of user experience (ease of use), easy to build an ecosystem, easy to connect, etc., and has also been equipped with more flexible specifications that can respond to uncertain changes in the future. In addition to incorporating a search function that utilizes AI, the development tools have been strengthened so that users can easily link and customize the system.

In this way, "Obbligato" has grown with the Japanese manufacturing industry as it has adapted to their operations from time to time, while incorporating the latest technology. "Obbligato" has been well received and has been introduced to more than 1,000 companies over the past 30 years and has held the top market share* in terms of the number of installations for 26 years in Japan.
(*) Techno Systems Research, Co., Ltd. "Market Analysis for Mechanical CAD/PLM related business in FY2021 (Japanese Market)" (August 2021)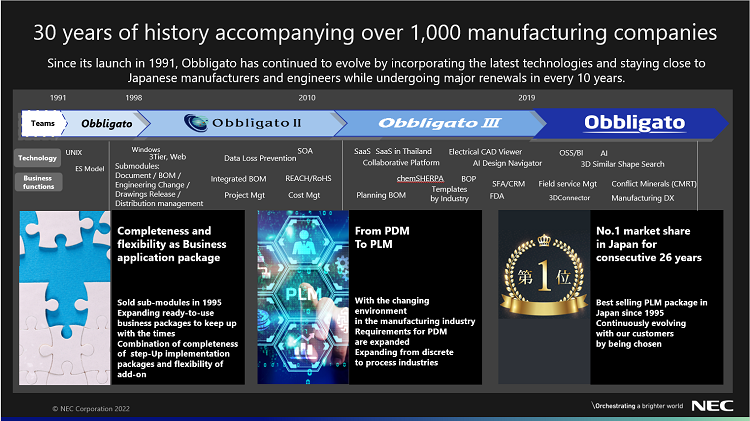 Unrivaled strengths in "achievements," "business functions," and "reliability"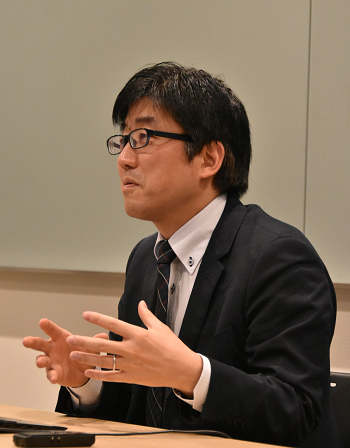 Mr. Mishima: Again, what do you think is the reason why "Obbligato" has been supported by the manufacturing industry in Japan?

Yamashita: I believe there are three main success factors. The first is "achievements and know-how". NEC is not only an IT vendor but also a manufacturer, and we believe that our ability to brush up our software by incorporating our manufacturing know-how has been a major strength of ours. In fact, "Obbligato" has been used in the development platform of all NEC Group companies since 2015, with approximately 17,000 users. The NEC Group, which is engaged in a wide range of businesses from submarine cables to space, has unified more than 10 PLMs that had been operated in multiple ways by each business entity into "Obbligato" and is contributing to the standardization of design processes for various business categories, from mass-produced products to individually ordered products. Our strength lies in the fact that it can also provide its expertise in how to promote manufacturing innovation and PLM implementation for standardization of such processes. We believe that our ability to utilize the know-how we have gained from the more than 1,000 Japanese manufacturing companies that have adopted our services in this way is what sets us apart from our competitors.
The second is "business functionality" that can be used in a realistic manner in line with business operations. unlike CAD and ERP, the PLM domain is characterized by the fact that the content of business operations varies greatly from company to company, making standardization difficult. In this context, Obbligato has developed in a way that is adapted to the various operations of the Japanese manufacturing industries. In addition, we have enhanced the functions that can be used practically in each of these operations in the Japanese style of manufacturing. In future manufacturing, various BOMs will be used according to the purpose and application, not only in engineering and manufacturing, but also in planning, design, procurement, production, and maintenance. The strength of "Obbligato" is that it can freely define and integrate these changing BOM flows while linking them together, and manage them on a single axis called PLM.

Third is the "reliability and stability" of one-stop support. As mentioned earlier, we are in the unique position of being an IT vendor that develops packages while also manufacturing products as a manufacturer. In addition, as an IT vendor, we also provide a full range of implementation services, from development to sales, delivery, and maintenance services. There are few companies in Japan that can offer this kind of integrated involvement, and we see this as a good match for the Japanese manufacturing industry.

Underlying these three strengths is the idea of "adapting to the business" rather than demanding "adapting to the system". As the name "Obbligato" comes from, it is characterized by being able to play a sub melody that makes the best use of it while being close to the main melody of business. In fact, we have received many comments from our customers that "Obbligato" has done a great job of "accompanying them," and we believe this is a value that only PLM software from Japan can provide.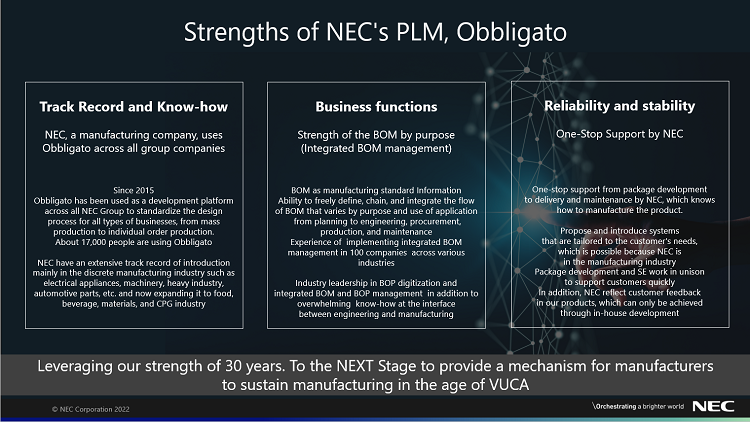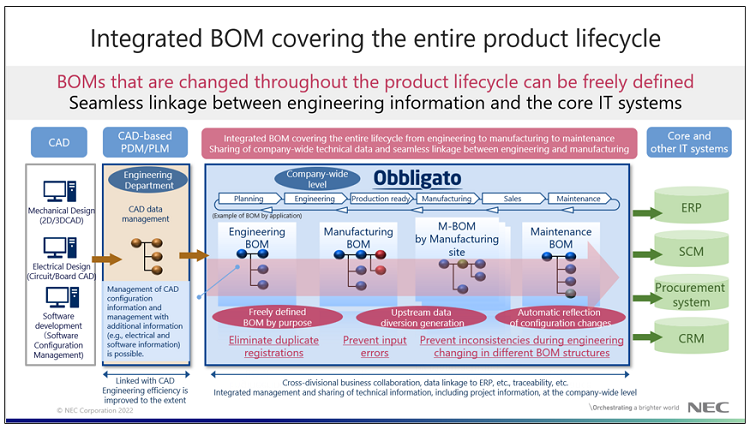 At the core of the "connected manufacturing industry" in the 10 years to come
Mr. Mishima: The environment surrounding the Japanese manufacturing industry is still undergoing major changes. How do you think the manufacturing site will change 10 years from now?

Yamashita: I believe that the ideal world of manufacturing, where everything is connected not only within the company but also to suppliers and beyond, has been partially realized. As the environment surrounding the manufacturing industry becomes more complex, there is a need for a system that can flexibly sustain manufacturing while quickly responding to various situations. To achieve this, everything inside and outside the company must be connected as information and be able to work together, so that the world of "Connected Manufacturing" can expand to quickly respond to any situation. To achieve this, it is necessary to connect the entire "manufacturing chain" that spans multiple companies, including the engineering chain and supply chain.

It is said that Japanese MONOZUKURI has been in decline, but because of the uncertain environment, we believe that Japanese MONOZUKURI, which is based on integral and co-creation, is a form of MONOZUKURI that matches the needs of this era.
In order to realize such a world, NEC intends to provide a variety of "connected" mechanisms, both internally and externally. "Obbligato" will serve as the node between the engineering chain and the supply chain, and will play the role of a backbone that links everything from planning to maintenance. Obbligato's ability to freely expand and integrate "BOMs and BOPs by purpose" makes it possible to connect a variety of things, and as a result, we believe it will bring us closer to the realization of "Connected Manufacturing".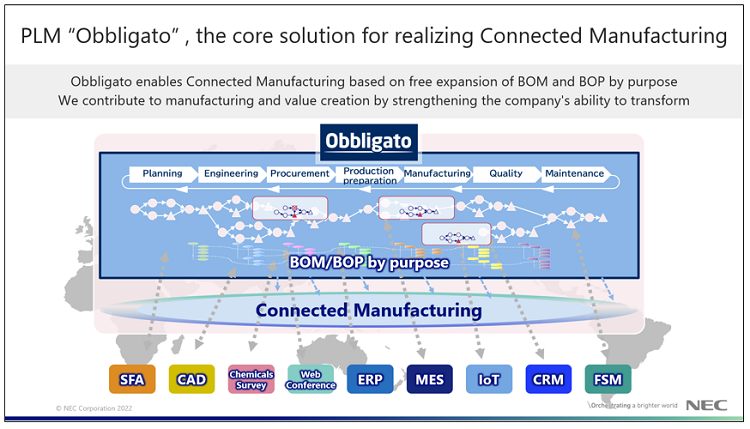 Obbligato's four challenges for the future
Mr. Mishima: What do you think about the direction of further development of "Obbligato"?

Yamashita: "Obbligato" has built the top market share for 26 years by staying close to the Japanese manufacturing industry, and we plan to leverage these strengths for further development while keeping an eye on changes in the manufacturing industry and technology. We will further strengthen our functions and systems in a way that anticipates changes in the manufacturing industry. Specifically, we will strengthen four areas: "Connected," "Global," "Partner," and "Customer Success".

Connected" is the enhancement of "connected" functions to realize "Connected Manufacturing. Currently, most of the initiatives are based on BOM and BOP, which promote the data integration of internal operations, and BOP is still in the process of spreading, but mechanisms to expand the use of BOP to strengthen traceability and to expand the area of automation among automotive parts manufacturers are also spreading. In order to make these "connected" easier, we will continue to enhance the functionality of linkage with other software.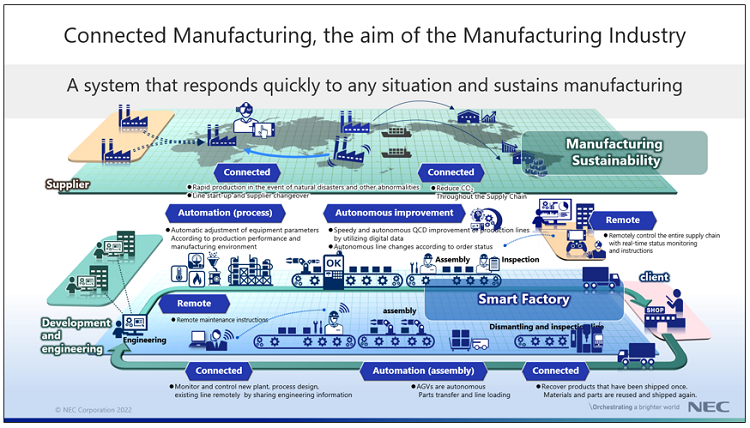 In addition, although we have a high market share in Japan and Asia, there is still room for growth globally, so we will continue to strengthen our "partners" with a view to developing the global market. In 2020, NEC began working with Capgemini, an influential French company in the U.S. and European markets. Going forward, NEC will continue to increase the number of local partners in each country while growing the Obbligato business. To this end, we are also working to create a framework for technical support.

Furthermore, we would like to develop "customer support," which assists customers only with software installation and operation, and promote efforts toward "customer success," which leads customers to success itself. We will continue to follow up with customers after the introduction and stable operation of "Obbligato," including interviews about how the software is being used, advice on how to make the software take root, and introduction of new solutions. In the future, we will continue to work with customers to further enhance their competitiveness by further establishing the system, expanding the scope of its use, proposing value ahead of time, and transforming to a new business environment. To this end, we plan to establish an internal structure in which customer success will be a role.

Mr. Mishima: Finally, what are your aspirations for the next 30 years?

Yamashita: "Obbligato" will continue to support manufacturing that can flexibly respond to uncertain times, with a focus on BOM/BOP by purpose. We will continue to support the development of the manufacturing industry for the next 30, 50, and even 100 years as a "secondary melody" that will accompany the industry's operations.

Mr. Mishima: Thank you very much for your time today.