Displaying present location in the site.
Warehouse Product Inspection System
Streamlined pre-shipment inspection and secure shipment quality via world-leading technology
This solution streamlines pre-shipment inspection for the logistics, distribution and warehouse industries. By preregistering product image and weight information, items and quantities can be instantly identified through automatic verification. The system also improves shipment quality by eliminating human error.
1 High accuracy and fast adaptability to satisfy on-site logistics demands
Our solution utilizes world-leading NEC image recognition technology so that no barcodes or product IDs are necessary for inspection. Objects can be recognized even if they are partially concealed, sticking out, reflecting light, slanted or bent in the image. Moreover, wide-ranging products — such as food, beverages, pharmaceutical products, pamphlets and manuals — can be inspected by the same unit.
NEC's state-of-the-art matching process enables fast inspection in a matter of seconds. So operational flow is not disrupted and operators have less stress.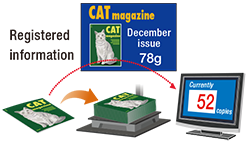 2 Identification of item quantitie by weight
A camera and weight scale in the inspection line shoot and weigh the product, respectively. The photo and weight are then compared with pre-registered product data. High-speed, high-accuracy image recognition technology, in combination with weight data, enables instant confirmation of the number of items. Conventional checking by experienced operators is no longer necessary.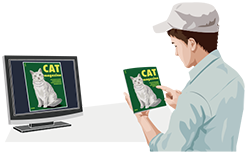 3 Support for visual inspection of products that cannot be automatically recognized
Products that lack sufficient details for automatic image recognition can be visually inspected by operators with assistance from displayed images of the articles that clearly indicate checkpoints
based on registered product master data. This feature contributes to more accurate and efficient visual inspection.
The system is comprised of inspection units that combine a camera and scale, a control terminal, a server for the database and an interface for exchanging data with the customer's warehouse management system.
The main features are automatic inspection via image recognition and automatic weight inspection via scale. These and other features are included to benefit both administrators and operators.
Automatic inspection by image and weight
Visual inspection support features
Touch-panel inspection unit
WMS linkage feature
Work status check feature
Two-dimensional objects
Three-dimensional objects
Item
Classification
Content
Content
Items to be auto-inspected
Kind

Pamphlets, catalogs, brochures (manuals, etc.), posters, newspapers, CDs, DVDs, etc.

Boxed foodstuff, cosmetics and medical products, pouched foods, plastic bottles, etc.

Size

Product size: Minimum: 50mm vertical x 150mm horizontal Maximum: 210mm vertical x 420mm horizontal (A3 size)

Product height: 0.1mm to 50mm
* Thinner than 50mm when piled up.

Product height: 0.1mm to 300mm

Weight

2g to 5000g
* If multiple items, total weight should be less than 5000g.

Product condition

If covered by plastic, * Surface should be free of creases and bumps * Content should be fixed inside package
Item should not be covered by bubble wrap

Product design (recommended)

There should be over 20 geometric patterns. Or over 50% of the total area should be covered by non-simple patterns.

The contrast of letters or patterns should be distinctive.
* For example, blue letters on a black background is not recommended.

Products with the same product code should share the same design.

Letter size: Minimum height of 2mm

If the product is wrapped by a band, the band should not cover distinctive features or letters of the product.

Installation conditions
Temperature/humidity

Temperature: 10 – 35°C / Humidity: 20 – 80% (with no condensation)

Recommended illuminance

Illuminance: 400 – 1500 lux
* No direct sunlight * No reflection off the product by lighting

Other

No vibration, no wind

The equipment should not be moved (if moved, reconfiguration may become necessary).