NEC Cloud IaaS Features
Feature 1: High cost efficiency, performance and reliability
NEC Cloud IaaS offers Standard (STD) and High Availability (HA) services. Customers can choose to employ one or both services depending on their business requirements and purposes.

Standard (STD)
OpenStack OSS* serves as cloud infrastructure software. High-density, energy-saving servers dedicated to datacenters greatly improve cost performance. This service is highly suitable for web server groups, systems that require massively parallel processing, fixed-term development and assessment environments, and application servers with light loads per transaction.

High Availability (HA)
Comprised of NEC products with a proven track record, this service offers extremely high performance and reliability suitable for mission-critical systems and heavy-load-per-transaction processing.
*

OSS (Open Source Software) is chiefly developed in developer communities and the source code can be copied, modified and redistributed under license.
Two services of NEC Cloud IaaS


Standard (STD)
High Availability (HA)
Features
High cost performance
High performance and reliability
Availability objective
99.95%
99.99%
CPU performance range
Xeon 0.25 – 2-core equivalent
Xeon 0.5 – 8 core equivalent (to be extended in the future)
Resource provision time
From 5 minutes (after portal application)
From 15 minutes (after portal application)
Rates
From ¥6,700/month*1 (Charge unit: By month or hour)
From ¥10,900/month*2 (Charge unit: By month or hour)
Suitable for

Web server group
Large-scale parallel processing server group
Fixed-term use (development and assessment environment)
App server group with light load per transaction

Mission-critical systems demand the highest possible reliability
High-performance search server
App server group with heavy load per transaction

Cloud Infrastructure:
software/hardware
OSS (OpenStack, etc.) / A high-density, energy-saving server dedicated to datacenters (Micro Modular Server)
NEC products (WebSAM, etc.) / NEC Products (Express server, iStorage)
Guest OS
CentOS 6.4, Ubuntu 12.04, Windows Server 2012 SE
Red Hat Enterprise Linux 6.4, Windows Server 2012 SE
Windows Server 2008 R2 SE/EE
*1

Minimum configuration: 1.4 NCU × 1 vCPU, 4GB memory, 100GB system disk

*2

Minimum configuration: 2 NCU × 1 vCPU, 2GB memory, 100GB system disk
[NCU (NEC Cloud IaaS Compute Unit): CPU performance index of NEC Cloud IaaS (1 NCU is equivalent to one quarter of a one-core Xeon <2013 performance base>.)]
[vCPU (Virtual CPU): A single-core CPU observed from a virtual OS.]
Feature 2: Security services and organizations realize safety and security
NEC Cloud IaaS is provided by a highly safe and secure datacenter. NEC's unique security services and organizations support solid customer system security.

Our security services address both external attacks and internal fraud. We shield customer's systems from external Internet-based attacks through IDS(Intrusion Detection System) Measures and employ specialized personnel to monitor and report incidents via Security Monitoring Service.

To help prevent internal fraud, we provide ID and Access Management Service that manages server access by worker, time and project so information leakage can be promptly detected and swiftly dealt with.

These services can greatly improve the security of customers' systems.

NEC's security is backed up by NEC's specialized NEC CSIRT and Cyber Security Factory security organizations.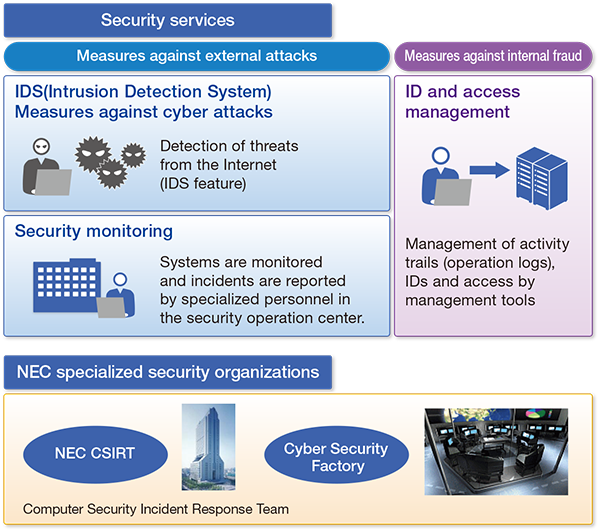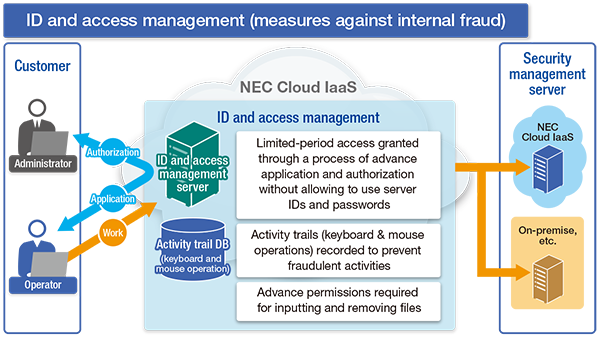 Feature 3: Streamlined utilization of hybrid cloud environments
NEC Cloud IaaS lets customers use provisioning features and integrated operation and management features on a "self-service portal" interface.

(Provisioning)
Customers can quickly and flexibly create and modify resources for servers, storage and networks. Both the STD and HA services of NEC Cloud IaaS meet changing business needs.

(Integrated operation and management)
A unified interface lets customers comprehensively operate and manage their ICT environments, including the NEC Cloud IaaS, housing environments, customers' own on-premise environments, and cloud services provided by third-party vendors.

For example, customers can configure monitoring setting configurations, register and reference incidents, reference resource utilization status, and register and reference configuration information. All this contributes to streamlining administrators' daily operation and management routines and facilitating faster troubleshooting