Smart farming
management

CropScope innovates agricultural operations with digital agriculture utilizing AI and data analytics
Optimize the entire value chain players in food and agriculture

Consolidate crop growth and farming environment data in one platform, Users can share variable information in real-time with all stakeholders
Sharing information through real-time communication between producers and agronomists
Identify field problems and effective measures and share knowledge
Compare between farms and a review of the season, consider measures for improvement for the next season.
Aiming to further improve productivity by supplementing know-how with AI.
CropScope solution overview

CropScope provides necessary functions for farming in one service, so data is not separate into different place. A variety of data can be aggregated into one service and linked with each field information for management. Users can keep track of field-specific information without using multiple devices or apps, and share work records and insights among stakeholders by instantly linking them to the each field. Furthermore, the accumulated farming data will be used to provide functions such as farming recommendations and automatic irrigation control.
Visualization and Sharing Use Cases
CropScope value delivers globally for various crops
Share field problems in real time

Alert messages with abnormally location brings you exact point in large area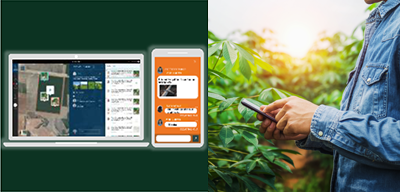 Field monitoring into farming suggestions

Field environ data by remote sensing, satellite imagery and disease alert which you can utilize for making certain decision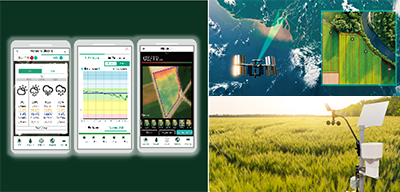 Field-to-field data comparison for crop growth and yield improvement

By comparing differences in planting dates and different varieties based on the data, improvement measures can be considered for the next cultivation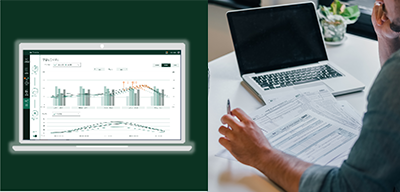 Automates irrigation and fertilizer application in conjunction with irrigation equipment

Supports irrigation decision making with AI-based recommendations


Automatically creates low-volume, high-frequency pulse irrigation schedules to reduce irrigation and increase yields


Remotely control irrigation and fertilization equipment through integration with irrigation and fertilization systems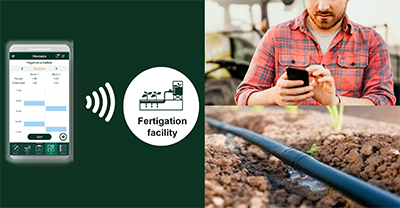 Enhancing AI farming for Tomatoes which require precise farm management
Utilizing the accumulated farming data,
NEC's AI provides optimized farming support
By utilizing accumulated farming from Satellite imagery, sensors, farming activity data, CropScope simulate crop growth and field environment in the virtual field. NEC's AI can provides optimized farming recommendations for each variable crop and field.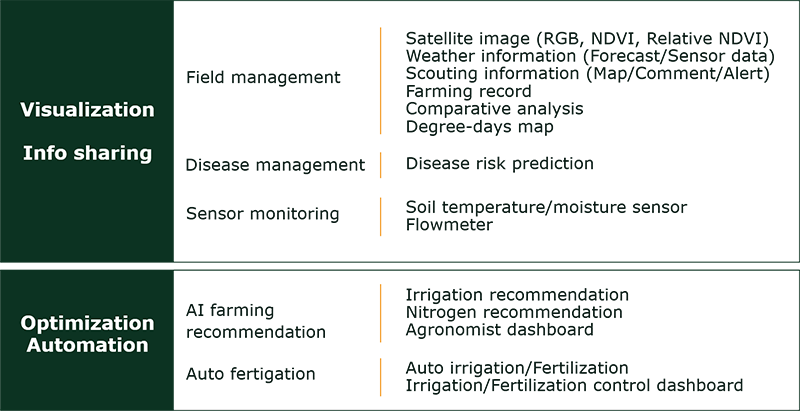 We are providing Cropscope service mainly to processing companies which manage and operate large-scale crop fields. Solving their challenges at both the crop production and the processing factory, from crop growing to harvesting.
Result:

Spain A company
Visualization of about 2,000 ha fields of 60 farmers, helping agronomists and producers to share the same data in real-time and day-to-day making efficient farming decisions.
Australia B company
We visualized about 1,000 ha fields of a multi crop processing company, by using sensor information to help their making decisions on daily farming activity.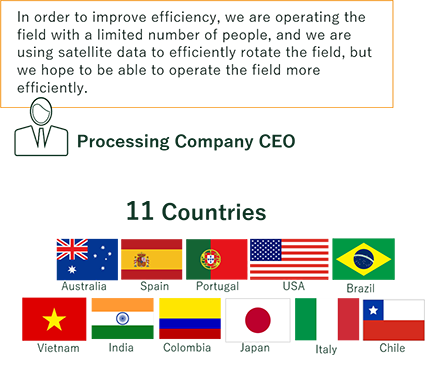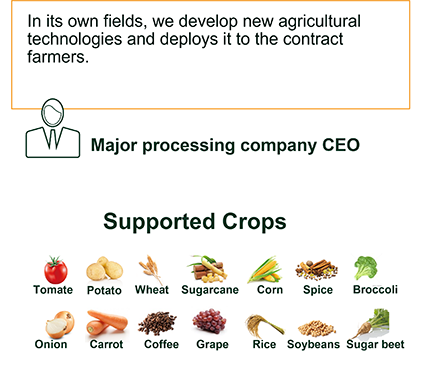 NEC's Agri-Tech Solution achieves higher harvest with less input of fertilizers and water. [2:15]