LEAVE NO ONE BEHIND:INCLUSIVITY THROUGH DIGITALIZATION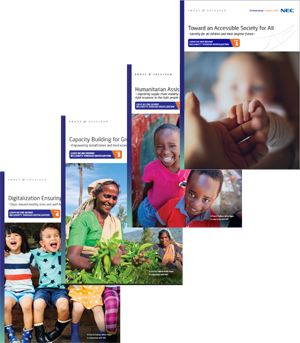 Developing countries face many challenges: poverty, hunger, health issues, natural and man-made disasters, political conflict, and other socio-economic barriers to equity. How can society ensure that everyone has the chance to reach their full potential?

This white paper series "Leave No One Behind: Inclusivity through Digitalization" shows NEC's thoughts on how digital technologies help local governments and international organizations move a step closer to the goal in SDGs.

Each white paper volume 1, 2 and 3, examines crucial components of developing countries' successful growth: (1) biometrics and digital identification for universal health coverage, (2) aid supply chain for humanitarian aid provisioning, and (3) capacity building to empower beneficiaries and local economies. Volume 4, as a wrapup of this white paper series, presents the growth journey toward an accessible society to ensure that everyone has the chance to reach their full potential.

Please take a look at our white papers.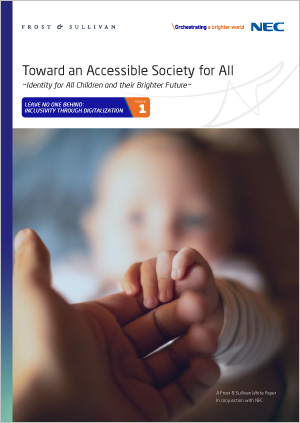 Volume 1
Toward an Accessible Society for All
~Identity for All Children and their Brighter Future~

According to statistics from UNICEF, in 2019, 7.4 million children and young people died, many from preventable illnesses. Almost half of the 5.2 million children (2.4 million) who died before age 5 were newborns.

Invisible communities, especially their vulnerable children, account for a significant portion of low birth registration rates in developing countries.

This white paper examine the challenges related to identification and biometric technologies to realize a society where every individual is properly represented to access essential public services they need to live safely and healthily throughout their entire lifetime.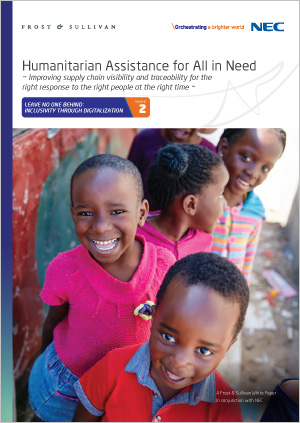 Volume 2
Humanitarian Assistance for All in Need
~ Improving supply chain visibility and traceability for the right response to the right people at the right time ~

The United Nations reports that during the past few decades, both the amount and scale of humanitarian crises have increased significantly.

Supply chain management underpins efficient aid operations, which is essential to reduce waste and potentially save more lives during humanitarian operations.

This white paper will analyze the challenges facing the global humanitarian and development aid landscape from a supply chain perspective.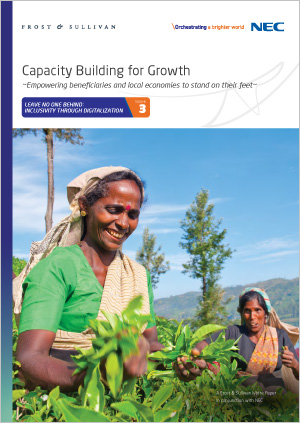 Volume 3
Capacity Building for Growth
~Empowering beneficiaries and local economies to stand on their feet~

In 2020, global poverty increased for the first time since the Asian financial crisis of the late 1990s because of the effects the COVID-19 pandemic.

To help the poor effectively break free from the poverty trap, capacity-building efforts at the individual and community level are necessary to empower the poor with the skills and tools they need to better their circumstances.

This white paper will examine the broader impacts of the poverty cycle, the crucial need for capacity building within affected communities, and how leveraging digital technologies can help grow strong and sustainable communities.
Volume 4
Digitalization Ensuring Sustainable Growth
~Steps toward healthy lives and well-being for all~

Developing countries face many challenges, including widespread poverty, increasing inequality, climate crises, malnutrition, and other health problems. Aside from addressing these issues, developing countries must plan for a sustainable future that allows everyone to advance equally.

Volume 1 of this white paper series examined the importance of universal identification in ensuring equitable access to basic services, which creates a foundation for the digitalization. Subsequent volumes examined the visibility of aid supply chains and capacity building to ensure independent, sustainable economic growth. These white papers form the basis of developing countries' growth journey.

As a wrap-up of the white paper series, this volume presents NEC's thoughts including the growth journey made of positive steps toward an accessible society to ensure that everyone has the chance to reach their full potential, leaving no one behind.